The Philippine Government's Distrust of Fact-Checkers
Fact-checkers are a vital bulwark against the wave of election-related misinformation. But such efforts are coming under attack.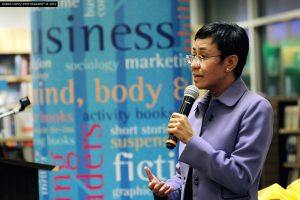 The Philippines' Office of the Solicitor General has threatened to file a case in the court if the Commission on Elections (Comelec) does not unilaterally revoke its Memorandum of Agreement with news website Rappler on pursuing voter awareness and fact-checking campaigns ahead of the national and local elections scheduled for May 9. Meanwhile, the government's anti-communist task force said it plans to file charges against Rappler over an article that fact-checked the agency's statement against Leftist legislators.
Solicitor General Jose Calida revived past accusations against Rappler about being a "foreign entity" to call for the withdrawal of its agreement with Comelec. "(This) will unwittingly grant Rappler, a foreign-funded entity, the monopoly of truths arising from its claimed fact-checking accreditation from international entities," he said in a statement addressed to the government's poll body.
He questioned the Comelec's decision to grant Rappler "unbridled discretion on what information it may post regarding a candidate" in a microsite providing election-related data.  He claimed that Rappler has a "history of disseminating unverified and, sometimes, false claims." He expressed worries that confidential data of registered voters would be shared with Rappler, which he said would be extremely vulnerable to data breaches since it is often targeted by cyberattacks.
Rappler hit back at Calida by describing his statement as "fraught with falsehoods, innuendos, and hallucinations." Indeed, the Securities and Exchange Commission revoked Rappler's Certificate of Incorporation in 2018, though the case is still under appeal.
For its part, Comelec reiterated that it is an independent constitutional commission, aside from clarifying that the body is also partnering with other media organizations. It added that Rappler has been its partner since 2013 and that no special treatment is given to any particular media entity.
"Access to information is critical. It is just as critical that we immediately quash false, misleading, and harmful election-related information on social media. To help us on this front, Rappler has further committed to mobilize its network of fact-checkers," Comelec said in a statement. The network of fact-checkers refers to #FactsFirstPH initiative, a collaboration among 14 newsgroups and over 100 civil society organizations.
Meanwhile, the spokesperson of the National Task Force to End Local Communist Armed Conflict (NTF-ELCAC) has vowed to pursue legal charges against Rappler for publishing an article that flagged a government statement accusing Leftist legislators of being "urban operatives" of the Communist Party as false. The spokesperson had previously falsely accused Rappler of being "a friend and ally" and "mouthpiece" of armed communist rebels.
The statements of Calida and the NTF-ELCAC spokesperson both reflect the decline of press freedom under the presidency of Rodrigo Duterte, whose term will end this June.
Opposition Senator Leila M. de Lima dismissed Calida's actions as "the last desperate acts of a regime whose time is about to run out." Rappler noted that it was Calida who initiated a government probe against the news company. Calida also moved to force the closure of ABS-CBN, the country's biggest media broadcaster. Congress would subsequently reject ABS-CBN's bid for a franchise renewal in 2020.
Nobel Laureate and Rappler founder Maria Ressa has warned that the threats could be part of a sinister aim to undermine the independence of Comelec, which is crucial in conducting a clean and fair presidential election.
The Committee to Protect Journalists expressed solidarity with Rappler and urged Philippine authorities to "drop their frivolous legal threat against Rappler and stop harassing the independent news group and its employees."
A network of several lawyers, journalists, and civil society groups has affirmed the role of fact-checking in countering election-related disinformation. Calling itself The Movement Against Disinformation, it condemned the NTF-ELCAC spokesperson for threatening journalists who are merely doing their work.
"We should never allow this public official to abuse the powers of her office in the guise of protecting the interests of the citizens," it said in a statement. "This kind of behavior shatters public trust in fact-checkers and creates an enabling environment for their persecution and prosecution."
A month has passed since the start of the election campaign period and voters have been bombarded with competing narratives, some of which are tainted with misleading information. It is expected that disinformation operations will intensify in the next two months as candidates become more desperate to win public support. This underpins the role of fact-checkers in providing verified information to voters while exposing those who peddle lies at the campaign trail. Unfortunately, the threats made against Rappler and their network of fact-checkers highlighted a troubling trend about the government being the consistent source of disinformation.