Kazakhstan: Diplomatic Blitz in Europe Amid War in Ukraine
If Kazakhstan can deftly maneuver between Russia and Europe, it stands to benefit economically and politically.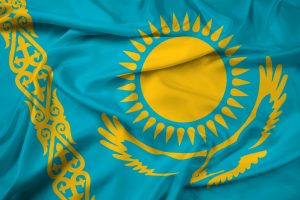 Ahead of the annual meeting of the EU-Kazakhstan Cooperation Council in Brussels last week, and surrounding meetings between top Kazakh and European officials, Timur Suleimenov, the first deputy chief of staff to President Kassym-Jomart Tokayev, did a number of interviews. Those interviews served to further clarify Nur-Sultan's position between Europe and Russia amid the war in Ukraine. Kazakh officials have strived to walk a delicate line that on the one hand strongly affirms Ukrainian territorial integrity and sovereignty but on the other hand seeks to maintain relations and trade ties with Russia. 
Of course, every crisis is also an opportunity. If Kazakhstan can maneuver between Russia and Europe successfully, it stands to benefit economically. There are also potential political benefits, with Kazakhstan's utility to Europe translating to less pressure over its own authoritarian tendencies.
Among the officials on a diplomatic blitz in Europe were Minister of Foreign Affairs Mukhtar Tileuberdi and his deputy, Roman Vassilenko; Suleimenov and his deputy, Erzhan Kazykhan; Kazakhstan's Commissioner for Human Rights Elvira Azimova, and other top officials. Suleimenov did a number of high-profile interviews, clarifying Kazakhstan's position on the war in Ukraine.
In a March 29 interview, with Euractiv, Suleimenov stated that Kazakhstan would not "be a tool to circumvent the sanctions on Russia by the US and the EU." Suleimenov acknowledged that Kazakhstan is in an economic union with Russia, the Eurasian Economic Union (EAEU), but, he continued, "we are also part of the international community. Therefore the last thing we want is secondary sanctions of the US and the EU to be applied to Kazakhstan."
Suleimenov noted that that Kazakhstan would, naturally, continue trading with Russia but would "do our best" to control sanctioned goods. The Russia-Kazakhstan border is 7,644 kilometers (4,750 miles) long, and the EAEU simplifies transit of trade between them, meaning enforcement of sanctions will require extra effort and legislative changes.
In early March, the Kazakh Foreign Ministry summoned the British ambassador for a conversation after a member of parliament, Margaret Hodge, asked British Foreign Secretary Liz Truss if sanctions could be imposed on countries, like Kazakhstan, for supporting Russia's policies. (We'll return to Hodge in a moment).
In a March 30 interview with POLITICO, Suleimenov suggested that European companies under pressure by sanctions on Russia could relocate to Kazakhstan. "They want to be somewhere in the neighborhood, and we would like to be that neighbor," he told POLITICO. "Commerce is commerce. Trade is trade and those companies would like to share the Russian consumer market." Suleimenov said, after meeting with EU trade chief Valdis Dombrovskis, that the European Commission had given its blessing for Kazakhstan to seize upon the "opportunities" generated by the war to attract European companies.
Toward the end of the Euractiv interview, Suleimenov emphasized the unique position of Kazakhstan, which he called the "most westernised country in Central Asia." He noted that 300,000 square kilometers of Kazakhstan is actually in Europe, more territory than some European nations. The interviewer, Georgi Gotev, replied with: "Come to replace Russia in the Council of Europe!" to which Suleimenov reportedly laughed and then said: 
We need to discuss that. We share a lot, we are right between Asian and Western civilisation, and we share pieces and features of both. The reforms that the president has put forward are pro-European, pro-democratic, and hopefully, in three to five years, you will find much more resemblance between us and countries like the Netherlands, France, Poland or other countries of the EU rather than authoritarian Asia.
In a mid-March state of the nation speech, Tokayev had outlined a bevvy of reforms to achieve a "new Kazakhstan." In the wake of the January events, which Nur-Sultan continues to blame on "terrorists," there has been pressure on the network of First President Nursultan Nazarbayev — sons-in-law departing cushy posts, some arrests on corruption and treason charges. It's impossible to say whether the suggested reforms will be carried through, but this is not the first time a Kazakh president has promised movement toward a more democratic state, while ultimately maintaining an autocratic status quo. The reality of the much-ballyhooed reforms of the country's protest laws do not inspire much hope.
Hodge, the British MP who had asked in early March about sanctioning Kazakhstan, a month earlier had opened a debate in the British Parliament on corruption in Kazakhstan and the role of U.K. in aiding and abetting that corruption. In December 2021, Chatham House had released a report on "The UK's kleptocracy problem" which highlighted how servicing post-Soviet elite has eroded the rule of law in the country, not to mention the effects of corruption on the former Soviet states themselves. An early January report in openDemocracy — which came out as Kazakhstan was in the midst of protests and chaos — expanded upon the Kazakhstan angle, noting that "The Central Asian state's elite owns at least £530.4m of luxury property in London and the southeast."
In her February 3 speech to parliament, Hodge said: "We have opened our borders, our property market and our financial structures to the Kazakh ruling class, enabling them to launder their illicit wealth and spend it. Worse, we do not even enforce our existing laws against any of this wrongdoing."
The Nazarbayevs are a clear target for both Hodge and the Kazakh state, but the real question is whether the Kazakh political system writ large can be reformed. That messy question sits under much of Kazakh politicking in Europe at the moment, with Nur-Sultan hoping to gloss over its domestic problems with deft diplomacy vis-a-vis Ukraine. There are other motives too, including concerns about the country's own territorial integrity in the face of a ravenous Vladimir Putin and worries about the economic (and sociopolitical) repercussions of Europe potentially turning away from gas imported via Russia. Around 90 percent of Kazakhstan's gas exports transit through Russia.