China Pledges Support for Myanmar's Junta, 'No Matter How the Situation Changes'
Foreign Minister Wang Yi's comments mark the strongest sign of support for the Myanmar military since last year's coup.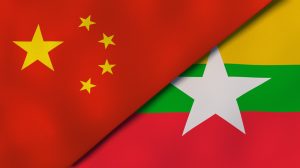 On Friday, China's government said that it will support Myanmar's military government "no matter how the situation changes" in the country over the coming months and years. According to the Associated Press, Chinese Foreign Minister Wang Yi told his Myanmar counterpart Wunna Maung Lwin on Friday that Beijing "has always placed Myanmar in an important position in its neighborly diplomacy" and wants to "deepen exchanges and cooperation."
Wang's statement marks the latest and most unambiguous signal of support for Myanmar's military, which overthrew Aung San Suu Kyi's civilian government in February 2021 and has continued to face fierce resistance from a broad coalition of civilian militia groups, pro-democracy activists, and ethnic armed organizations.
Wang's supportive remark seems to reflect Beijing's assessment that the military junta will eventually prevail by force against the anti-coup resistance, that outside support for the resistance will only prolong the inevitable, and that this is the most likely route toward stability necessary for the advancement of its key economic and strategic interests in the country. These center around the creation of overland transport and communications corridor running from Yunnan province to Myanmar's Indian Ocean coast, which are grouped together under the China-Myanmar Economic Corridor (CMEC), a sub-pillar of the Belt and Road Initiative.
During his meeting with Wunna Maung Lwin on Friday, Wang said that the two sides should accelerate work on CMEC, step up construction of "major landmark projects" and "deepen solidarity in the fight against the COVID-19 pandemic."
"No matter how the situation changes, China will support Myanmar in safeguarding its sovereignty, independence, and territorial integrity, and in exploring a development path suited to its national conditions," Wang said.
This return to full "business as usual" caps off 14 months in which China has gradually moved toward acceptance of the coup government. Senior Gen. Min Aung Hlaing's takeover was initially a headache for Beijing. Having invested a considerable diplomatic capital in building a constructive relationship with Aung San Suu Kyi's government, with which it signed the CMEC agreement in 2017, it once again was forced to deal with the Myanmar institution that is most congenitally suspicious of China.
By mid-2021, however, after the military junta employed extreme force to flatten the wave of public protests that followed the military coup, China began stepping toward recognition of the self-claimed  government. In a June 2021 meeting, Wang met with Wunna Maung Lwin and employed similar language as he did in Friday's meeting. "In the past, present, and future," he said, "China supports Myanmar to independently choose a development path that suits its national conditions."
As Thompson Chau and John Liu noted in a comprehensive survey of China-Myanmar relations published by Nikkei Asia early this year, by August 2021, the same month that Min Aung Hlaing crowned himself prime minister, Chinese national and provincial officials began to restore ties with the military administration. Chinese authorities and business lobbies in Rangoon also began to engage publicly with junta officials and promote commercial opportunities. In December, China delivered to Myanmar's navy a refurbished Ming-class submarine, renamed the UMS Minye Kyaw Htin, making Myanmar the first country in Southeast Asia to take delivery of a China-manufactured submarine.
China "needs Myanmar to be a relatively normal and stable country," Yun Sun of the Stimson Center in Washington, D.C. told my colleague Shannon Tiezzi shortly immediately after the coup. "If Myanmar is once again turning into the pariah of the international community, then what will [Chinese-invested] international connectivity projects lead to?"
Myanmar is currently very far from being "relatively normal and stable." But there are degrees of dysfunction, and from Beijing's perspective, the iron fist of the junta may be preferable to years of generalized civil war. Whether the military ultimately prevails in a way that fosters the limited stability that the Chinese government, however, wants remains to be seen.