Chinese FM Pledges 'Closer' Ties with Myanmar's Military Government
Wang Yi's visit to Myanmar for an LMC summit was the first stop on a five-nation tour of Southeast Asia.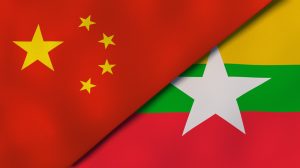 Chinese Foreign Minister Wang Yi vowed to "build a closer relationship" with military-ruled Myanmar on Sunday, as he became the highest ranking Chinese official to visit the country since last February's coup.
Wang traveled to Myanmar to attend a meeting of the China-sponsored Lancang-Mekong Cooperation (LMC) group in the central city of Bagan, the first stop on a five-nation diplomatic tour of Southeast Asia. After vowing to "enhance" and "build a closer relationship" with the LMC countries – Myanmar, Cambodia, Laos, Vietnam, and Thailand – Wang held a sideline meeting with Wunna Maung Lwin, the foreign minister of Myanmar's military government.
A read-out from China's Ministry of Foreign Affairs contained all of the usual catch-phrases. Wang said that China "supports the people of Myanmar in exploring a development path in line with their national conditions." Wunna Maung Lwin said that Myanmar was committed to "building of a Myanmar-China community with a shared future."
According to the Chinese Foreign Ministry statement, both officials praised their nations' "pauk-phaw" friendship, a special phrase that is used to characterize relations between China and Myanmar. They effused that relations have "always remained rock-solid and unbreakable without being affected by domestic changes in each other's country" – diplomatic code for the turmoil that has engulfed Myanmar since the military coup of 2021.
Wang last visited Myanmar in January of that year, just weeks before the coup, during which he met with State Counselor Aung San Suu Kyi, the country's de facto leader, as well as its titular head, President Win Myint. He also met with military chief and later coup leader Senior Gen. Min Aung Hlaing, prompting later rumors that he knew of, or even gave Beijing's blessing to, the military's seizure of power.
Since then, China has, however reluctantly, come to accept the coup as a fait accompli. During his last meeting with Wunna Maung Lwin in China's Anhui province in April, Wang made this unambiguous, pledging China's support "no matter how the situation changes" inside Myanmar over the coming months and years.
During this weekend's meeting, Wang did appear to express concerns about the conflict that has engulfed Myanmar since the coup, which has seen a broad coalition of civilian militia groups, pro-democracy activists, and ethnic armed organizations launch an armed uprising against the junta.
Wang said that Beijing expected "all parties" in Myanmar to "to prioritize the big picture and the interests of the people, adhere to rational consultation, and realize political reconciliation." Wang also told Wunna Maung Lwin that "China sincerely hopes that Myanmar will be politically and socially stable."
The phrase "all parties" also appears in the Five-Point Consensus, a peace plan laid out by the Association of Southeast Asian Nations (ASEAN) in April 2021, which calls for an immediate cessation of violence and inclusive political dialogue. Despite pledging to implement the consensus, the military junta has mostly ignored it, refusing to negotiate with or cease its attacks on resistance groups that it has repeatedly branded "terrorists."
However, while some media outlets interpreted this as a call for the junta to compromise with its opponents, in reality it is an iteration of China's longstanding position: namely, that Myanmar restore the sort of stable normalcy that would best facilitate the advancement of China's economic and strategic interests in the country. This centers around the construction of an infrastructure corridor and land bridge linking China's landlocked southwest with the Indian Ocean, via Myanmar.
While the Chinese foreign minister called for Myanmar to engage in discussions with "all parties," Beijing has so far done little to pressure it into doing so. So far there is little indication that the Chinese government will do anything more than use the Five-Point Consensus as a fig-leaf for its return to "business as usual" in Myanmar.
Wang's visit to Myanmar was just the first in a planned five-nation tour of Southeast Asia, Beijing's latest bid to woo its neighbors and counter the United States' recent diplomatic and economic outreach in the region. Wang Yi will later head to Bali to attend the G-20 Foreign Ministers' Meeting on July 6-7, before making stops in Thailand, the Philippines, and Malaysia.
The tour can be seen as Beijing's response to the unveiling of the U.S. government's Indo-Pacific Economic Framework (IPEF), which seeks to counter China's growing economic influence in the region. As with his diplomatic tours at the height of the COVID-19 pandemic in 2020 and 2021, Wang will no doubt take the opportunity to contrast China's geographically proximate economic and diplomatic engagement with the episodic and patchy pattern of U.S. engagement with the region, especially in the economic realm.