Japan Commissions the Name-ship of New Mogami-Class Multirole Frigate
Notably, the Mogami class will boast the first unmanned underwater vehicle (UUV) and unmanned surface vehicle (USV) deployed on a Japanese frigate.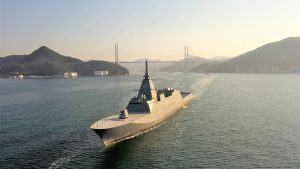 The Japan Maritime Self-Defense Force (JMSDF) commissioned into service the name-ship of a planned fleet of 22 Mogami-class multirole frigates in a ceremony held on April 28 in Nagasaki City in western Japan.
Named Mogami (with pennant number FFM-1), the 133 meter-long vessel was inducted into the Mine Warfare Force, whose headquarters is located at the Yokosuka naval base in Kanagawa Prefecture, shortly after being handed over by shipbuilder Mitsubishi Heavy Industries (MHI) at its facility in Nagasaki.
As neighboring China expands the activities and capabilities of its naval forces, Japan plans to defend the southwestern Nansei Islands, including the disputed Senkaku/Diaoyu Islands in the East China Sea, by increasing surveillance missions in Japanese coastal waters. The Senkakau/Diaoyu Islands are controlled by Japan but also claimed by China and Taiwan.
Equipped with compact hulls, JS Mogami was built for about 46 billion yen ($352 million) under a contract awarded in October 2018, according to the JMSDF. As with the other ships of the class, the 3,900-tonne vessel will have a crew complement of about 90, a beam of 16.3 meters, and a hull draught of 9 m.
JS Mogami is the first vessel of the class to be ordered by the JMSDF, although MHI's subsidiary Maritime Systems already commissioned the Mogami-class frigate JS Kumano (pennant number FFM-2) last month at its facility in Tamano City of Okayama Prefecture.
JS Mogami was launched by the MHI in March 2021 and also originally scheduled to be commissioned last month, just like JS Kumano, but construction of the ship at the MHI's facility in Nagasaki was delayed due to an issue with the frigate's gas turbine engine. Despite the status of the name-ship of the class, the JS Mogami thus became the second to the commissioned.
Powered by a combined diesel and gas (CODAG) propulsion system featuring two MAN 12V28/33D STC diesel engines and one Rolls-Royce MT30 gas turbine, the ships are expected to be capable of attaining a top speed of at least 30 kt.
Armament on the frigates include a BAE Systems 5-inch (127 mm)/62-caliber naval gun in the foredeck of the ship, two missile canisters for a total of eight MHI Type 17 anti-ship missiles, and a Raytheon 11-cell SeaRAM close-in weapon system (CIWS) that can deploy RIM-116C Block 2 Rolling Airframe Missiles (RAMs).
The frigates will also be equipped with variable depth sonar and towed array sonar systems for anti-submarine warfare (ASW) operations.
Besides anti-air, anti-surface and ASW capabilities, the Mogami class has also been designed to undertake operations as a "mother ship" for an unmanned underwater vehicle (UUV) and an unmanned surface vehicle (USV), both of which will see the first installment on any Japanese frigate ever. This aims to enhance the UUV's mine countermeasure (MCM) functions.
A spokesman at the Japanese Ministry of Defense's Acquisition, Technology, and Logistics Agency (ATLA) has confirmed to The Diplomat that the Mogami class will be equipped with MHI's OZZ-5 MCM autonomous underwater vehicle (AUV), used for MCM operations as a UUV.
French defense and electronics group Thales has supplied MHI with its SAMDIS Synthetic Aperture Sonar (SAS) for integration on the OZZ-5 UUV. It is being supplied by MHI to the JMSDF as part of the defense cooperation agreement between Direction Générale de l'Armement (France's defense procurement agency) and Japan's ATLA.
SAMDIS is a high-frequency, high-resolution SAS payload designed specifically to perform detection, classification, and localization of mine threats at sea.
The system serves an automatic detection and classification function to alleviate operator workload in processing collected data.
The OZZ-5 UUV, which measures 4 m long and 0.5 m wide with a displacement of 950 kg, is equipped with Japan's NEC-made low-frequency SAS and France's Thales-made high-frequency SAS combinedly, which is designed to ensure a robust MCM capability for the detection and classification of different mine threats in a range of environments.
The UUV is powered by a lithium-ion rechargeable battery.