Japan Maritime Self-Defense Force Commissions First Yard Oil Tanker
The JMSDF has relied on civilian ships to transport fuel from oil refineries to bases. Now it has its own oil tanker, the first of two.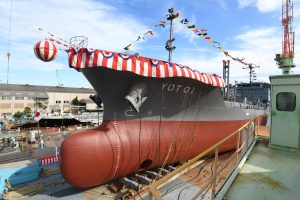 The Japan Maritime Self-Defense Force (JMSDF) has commissioned into service the first of two 4,900-tonne oil tankers, marking the first time that the JMSDF owns an oil tanker.
With pennant number YOT-01, the 105-meter-long vessel was inducted into the service's Area Guard Group at Kure base in Hiroshima prefecture on April 22. It has a beam of 16 m, a depth of 8.8 m, and a crew complement of 14. It can carry a maximum of about 6,000 tons of oil.
The Ministry of Defense (MoD) allocated 5.7 billion Japanese yen ($44.6 million) for the construction of the two oil tankers, YOT-01 and YOT-02. Japanese shipbuilding company Shin Kurushima Hashihama Dockyard, located in Imabari City of Ehime prefecture, was awarded a contract to build both ships in fiscal year 2019.
The second tanker is expected to be delivered to the JMSDF in July 2022.
The JMSDF already has replenishment vessels for refuel at sea, but it has not had its own oil tankers. It has relied on civilian ships to transport fuel from oil refineries to JMSDF bases as well as to transport oil between bases.
Although the JMSDF had provided little information about the mission of these ships, military experts in Tokyo believe that these auxiliaries will be used to transport fuel from oil refineries to key JMSDF facilities – most notably to Okinawa Naval Base – as the service increases monitoring and surveillance of Chinese vessels near Japan.
In an emergency, these new ships could also be used to transport fuel to front-line bases, especially in Japan's southwestern Nansei island chain, which spans about 1,200 km from Kagoshima to Okinawa, stretching southwest toward Taiwan. The chain includes the disputed Senkaku/Diaoyu Islands, which are controlled by Japan but also claimed by China and Taiwan.