Japan's Constitution at 75
How does Japan's post-war constitution hold up in an era of increasing great power competition and unexpected emergencies?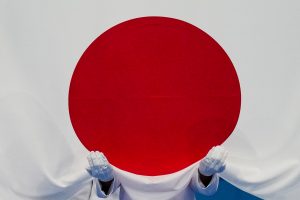 2022 marks the 75th anniversary of Japan's remarkable constitution. It is Japan's second, preceded by the Meiji Constitution of 1889 that heralded a similar overhaul of Japan's social and political institutions. Both documents reflected a conscious effort to transform Japan to keep pace with global dynamics. The Meiji Constitution signaled an embrace of modernity by Japanese elites as the industrializing nations of Europe and the United States began to set their sights on Asia's resources. Under the leadership of the emperor, Japan would compete rather than capitulate to Western imperialism.
The 1947 Constitution was a harbinger of a different Japan.
After being defeated in World War II, Japan was occupied by Supreme Commander of Allied Powers General Douglas MacArthur. The aim of the new constitution was deliberate: to democratize and demilitarize Japan. Once promulgated, the Japanese people once more faced social reforms at home. No more would the emperor be head of state. No more would aristocrats claim political and economic privilege. And no more would Japan's modern military hold sway over the state and the fate of the nation. These were MacArthur's aims, but these goals were also embraced by many in Japan.
In the years since, Japan emerged once more as a formidable global power. The new constitution's Article 9 included a promise: "The Japanese people forever renounce war… as a means of settling international disputes." Legislators interpreted their constitution to allow for self-defense, and a new force was armed and deployed on Japanese territory for that purpose. By the 1980s, it was Japan's economic power that propelled it to world prominence, ranking second in the world behind only the economy of the United States. Its global influence earned it the status of a "civilian power" and "economic superpower," and contrary to many a realist's expectations, the Japanese people had no desire to translate this affluence into military might. Instead, Tokyo increased its financial contributions to the Japan-U.S. alliance, continued to work on repairing its relations with its neighbors, and focused on contributing to multilateralism in Asia and globally. Japan's constitution and the post-war identity that emerged from it was the foundation of Japan's post-war success.
Seventy-five years later, Japan faces a different world. Yet despite shifts in the regional security balance, the 1947 Constitution continues to frame Japan's strategic intentions. Within the premise of self-defense, however, the Japanese government will be taking significant steps to improve its readiness should a crisis erupt. With the Russian invasion of Ukraine, Japan will need to consider what it has long sought to avoid: a major power conflict in Asia.