Uzbekistan, Kazakhstan Dispatch Humanitarian Aid to Ukraine
Kazakhstan and Uzbekistan have both sent planeloads of humanitarian aid — largely medicine and food — to Ukraine.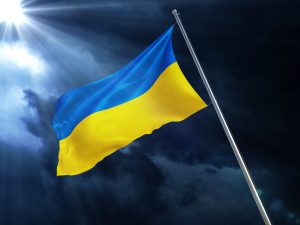 On April 8, more than 34 tons of humanitarian aid — primarily medicines, first aid kits, and food — arrived in western Ukraine's Zakarpatska region, also referred to as Transcarpathia, from Uzbekistan. The aid from Uzbekistan joins a flow of assistance funneled into Ukraine from a number of humanitarian aid hubs established by the European Union in countries on Ukraine's western frontier.
The head of the Zakarpatska region, Viktor Mikita,  thanked the Uzbek government and the Ukrainian ambassador in Tashkent, Mykola Doroshenko, for making the aid possible. Doroshenko became ambassador in Uzbekistan in 2020, after serving as ambassador to Kyrgyzstan.
As the war in Ukraine approaches its seventh week, pledges and shipments of aid continue to flow from around the world. The countries of Central Asia have largely strived to maintain a neutral stance at the official diplomatic level, for example abstaining from (or avoiding) the early March vote to condemn the Russian invasion and voting against expelling Russia from the U.N. Human Rights Council last week. But at the same time, Kazakhstan and Uzbekistan most stridently have uttered support for Ukraine's territorial integrity. The humanitarian aid that both countries have dispatched further underscores sympathy for Ukraine's plight.
Kazakhstan's first batch of humanitarian aid was sent in mid-March, with a government press release noting that Nur-Sultan intended to send 82 tons of medical aid. On March 14 and 15, two planes carrying just over 28 tons landed in Katowice, Poland, from Almaty. Additional planes arrived later in March, including on one March 28 which carried 17 tons of bedding and food supplies. Kazakh planes that arrived with aid in Poland typically returned to Almaty with repatriated Kazakhs evacuated from Ukraine. 
The most prominent transfers of aid from Kazakhstan have come with clear government stamps, while the aid from Uzbekistan is reportedly a public initiative with government support. Aid coming from Kyrgyzstan, meanwhile, appears to be more clearly rooted in civil society, with domestic NGOs and aid groups collecting aid to be sent to Ukraine and individual citizens sending money to the besieged country.
Meanwhile, much of Europe and the United States are sending various kinds of military aid. According to Politico, more than 25 countries have joined the effort to fund Ukraine's war effort, through purchasing and delivering weapons. This ranges from Stinger anti-aircraft missile systems and Javelin anti-tank missiles from the United States to thousands of rounds of ammunition from Spain, Canada, Germany, and so on. The countries providing military aid are largely confined to Europe and North America (with the exceptions of Australia, South Korea, Japan, and Turkey), while those sending humanitarian aid span the globe.
Humanitarian aid — medicines, food, and clothing — is critical, but makes a different political statement than sending bullets.