Imran Khan's Political Career Far From Over
Within a month of his ouster, the former Pakistani PM has been able to revive his support base substantially, prompting many to believe that he could win an election today.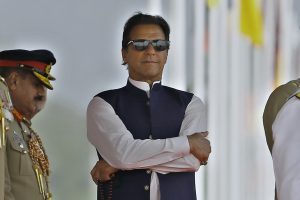 Former Prime Minister Imran Khan is planning a long march toward Islamabad later this month to force the government into announcing fresh elections.
Since his ouster from office through a no-confidence motion in the parliament last month, Khan has augmented pressure on the government and other state institutions not only to delegitimize the new ruling coalition but also to paint them as conspirators. In this regard, Khan has used the issue of alleged "foreign conspiracy" against his regime very skillfully to mobilize his support base.
When Khan was removed from office last month, people were of the view that his time in Pakistan's politics was over. However, Khan had other plans.
Within a month of his ouster, Khan has revived his support base to such an extent that it is now widely believed that if free and fair elections are conducted, the Pakistan Tehreek-e-Insaf (PTI) will emerge triumphant.
One of the key reasons that Khan's political career may not have ended yet is because of overwhelming support for his party within the state institutions. He has shown that if you have support within the state institutions and can make the leadership of these institutions appear controversial, your chances of a return to power could gain impetus.
Moreover, Khan's current relevance in Pakistan's politics shows that if a party supported and brought to power by the country's national security institutions turns its back on the latter, the security institutions may not consider a crackdown on the party.
Over the last few weeks, Khan has relentlessly targeted the military's leadership, but the military has not taken any action against him or PTI leadership. Khan's supporters among the retired and serving ranks of the military have made it difficult for the military to launch a crackdown against the PTI.
A few months ago, no one would have imagined that the PTI, known as the military's party, would become an anti-establishment party. One cannot even imagine a political party from Balochistan or Sindh saying or doing what Khan and his party have been saying and doing.
To an extent, Khan's drive to put pressure on institutions has been made easier by his push to involve religion in the current crisis. In his rallies, he has frequently called his campaign a jihad. While addressing party workers on Monday, he said that his campaign against the government was jihad and not a political move.
Moreover, over the last few weeks, Khan has been meeting different religious leaders to win their support for the upcoming long march. So far, several religious leaders have offered support to Khan in his campaign against the current government. Reportedly, Tahir-ul-Qadri, the head of the Minhaj-ul-Quran International (MQI) has also announced support for Khan's campaign.
The worsening economic situation is working to Khan's benefit, providing fodder for PTI's drive against the Shehbaz Sharif government and other state institutions. Over the last month, inflation in Pakistan has increased substantially. The country has foreign currency reserves to cover just a few weeks of imports. So far, the current government has failed to revive the ongoing bailout package with the International Monetary Fund. To do so, it would need to withdraw the existing subsidy on petroleum products, a decision that would have political costs.
A month ago, it was widely perceived that Khan's political party would disintegrate in the coming weeks and months and that his supporters would abandon him. However, this has not happened as Khan has been able to exploit the circumstances involving his ouster skillfully, meaning that the new government now seems like a bigger crisis. It is unclear how Pakistan will get out of this political mess and that too at a time when the country faces an acute financial crisis and badly needs political stability.
Regardless of what happens in the coming weeks, Khan's political career is far from over.