The Language of the China-Russia Soft Power Rivalry in Uzbekistan
The China-Russia soft power rivalry in Uzbekistan plays out most clearly via language and education programs.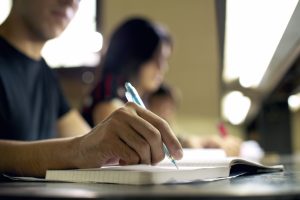 Russia's and China's soft power gambits in Uzbekistan are best observed via language promotion and education opportunities. While Russia targets the masses, Beijing's focus is on the future elites. 
Russia included the notion of "soft power" in its 2013 foreign policy concept alongside promotion of the Russian language. Language and education have become instruments to generate influence under the rule of Russian President Vladimir Putin. Russia's soft power in Central Asia is seen as a "given," rather than the result of planned strategy, due to the former Russian Empire and later Soviet Union's occupation of the region. Yet, with other players such as China and Turkey entering the game, Moscow has found itself unintentionally rivaling them in the "soft power" arena. 
The Russian language has deep roots in Uzbekistan. The country's 1989 law "On the State Language" referred to Russian as a language of "inter-ethnic communication." Its post-independence amendment in 1995, however, scrapped this status and left it up to citizens to choose a language for inter-ethnic communications. Although ethnic Russians in Uzbekistan have decreased in number  since independence (from 1,593,800 in 1991 to 750,000 in 2017), almost a third of the population speaks Russian, according to the Tashkent branch of Rossotrudnichestvo, the Russian Federal Agency for the Commonwealth of Independent States Affairs, Compatriots Living Abroad, and International Humanitarian Cooperation. This number may be an overestimation. Many people in Uzbekistan can communicate in Russian, but are not necessarily fluent, especially outside of urban centers.
For decades after independence, there was not any need to promote the Russian language in Uzbekistan. Learning Russian has always been a part of compulsory education in the country. It is taught as a foreign language starting from primary school until graduation from secondary school. Apart from that, there are 88 schools (with over 636,463 students) where the whole curriculum is taught in Russian. And most public schools have Russian language groups. Many parents insist their children go to Russian schools or groups – the quality of education is considered better than in Uzbek schools. 
Despite the evident high demand for Russian language education, there is some local resistance to the prominence of the Russian language. This resistance, importantly, aims to promote the native Uzbek language rather than simply eradicate Russian.   
In 2018, the issue received renewed attention. Russian media started talking a lot about "increasing attention to the Russian language" in the countries formerly occupied by the Soviet Union. When Uzbekistan's Ministry of Public Education noted that there was a shortage of teachers at Russian secondary schools, Russia's Ministry of Science and Higher Education proposed sending qualified Russian language teachers to Uzbek schools and paying their salaries. The same year, the quota for Russian groups at pedagogical universities  in Uzbekistan was increased up to 30 percent. 
This focus on the Russian language has not faded. In 2020, the Russian Ministry of Education and the charitable foundation of Russian businessman Alisher Usmanov (born in the  Uzbek SSR) "Art, Science, Sports" pledged 75 million rubles (around $1 million at that time) for project "Klass!" which aimed to promote the Russian language in Uzbekistan. Within the framework of the project, Russia has sent 150 Russian language teachers and dozens of specialists to Uzbekistan. The project is envisioned to continue to 2030, with 100,000 Russian language textbooks published and another set of 600,000 textbooks in the works. 
Russia is also investing in higher education to attract more Uzbeks. As per an agreement between Russia and Uzbekistan, graduates of Uzbek schools can apply to Russian universities without the usual bureaucratic hurdles, such as confirmation of education documents. Last year alone 48,700 Uzbek citizens were studying at higher education institutions in Russia. The number of funded places at Russian universities for Uzbek citizens is also on the rise – from 228 in 2020 to 430 in 2021 (the number is expected to increase to 750). A 2018 agreement between Uzbekistan's Ministry of Higher and Secondary Specialized Education and Russia's Ministry of Science and Higher Education granted Russian universities with tax benefits, simplified registration procedure, and more in Uzbekistan. Since then the number of branches of Russian universities has skyrocketed – as of today 14 Russian universities have branches in Uzbekistan (in 2018 there were only four), and nine more are being planned. Russian universities also closely cooperate with local universities – 115 Russian and Uzbek universities collaborate in organizing joint conferences and projects. 
China is a bit late to the game of language and education in Central Asia. Its strategy focuses on establishing education institutions in other countries and attracting more students to Chinese universities. The first Confucius Institute was opened in Tashkent in 2004, as per an agreement between Uzbekistan's Ministry of Higher and Secondary Specialized Education and China's Ministry of Education, at the Tashkent State Institute of Oriental Studies. Initially, only 30-50 students enrolled annually to learn Chinese language and culture. The number reached 800 in recent years. The second Confucius Institute in Uzbekistan was established a decade later, in 2014, on the basis of a partnership between Samarkand State Institute of Foreign Languages and Shanghai International Studies University.
For comparison, in neighboring Kyrgyzstan, four Confucius Institutes and 21 Confucius classes help around 4,000 Kyrgyz people learn Chinese each year. In Kazakhstan there are five Confucius Institutes and over 14,000 Kazakhs study at Chinese universities. The numbers are relatively small for Uzbeks – 6,500 Uzbeks were studying in China in 2019. Reportedly, around 30 percent of them have funding from Chinese universities. There are no branches of Chinese universities in Uzbekistan either, but at least three local universities offer Chinese language classes in Tashkent.
In 2014, Tashkent State University of Oriental Studies became the first in Central Asia to launch a faculty of Chinese studies and occasionally receives material and technical equipment support from China. Recently, the Chinese embassy also funded the establishment of the Center of Chinese language and culture at Tashkent State University of Uzbek Language and Literature and plans to organize a student exchange program. To target young learners, China also held talks about launching Chinese language classes at public kindergartens in Uzbekistan in 2020.
From the perspective of Uzbeks, learning Mandarin is much harder and more time consuming than learning Russian – not everyone, especially the poor, can afford it. But fluency pays off as jobs with Chinese businesses can be particularly lucrative. As of May, 2022, 1,984 companies backed by Chinese investment are registered in Uzbekistan. The  Russian language, meanwhile, is pursued for its practicality. Office workers and those in the service sector in urban areas especially require Russian fluency. Even branches of international organizations require knowing Russian, while speaking Uzbek remains an "asset" or "desirable" but not mandatory quality. There are 2,471 enterprises and organizations with Russian capital – 210 of them launched in 2022 alone.
Russian is especially useful for the millions of Uzbek labor migrants who work in Russia each year. Reportedly, only one in five Uzbek migrants in Russia knows the language. Due to this, in 2020, free language courses for Uzbek migrants (paid for by Tashkent) were launched in five cities in Russia. According to Russian government statistics, 4.5 million citizens of Uzbekistan were working in Russia in 2021 and 31,900 Uzbeks became Russian citizens that year.
Moscow's main aim is to retain the existing legacy status of the Russian language among locals. To this end, Russia targets every Uzbek as a potential Russian speaker. At the same time, the importance and prestige of fluency in Mandarin and diplomas from Chinese universities will keep increasing along with the bilateral relationship between Tashkent and Beijing. Knowing Russian may provide access to a seasonal job in construction sites or in the service sector in Russia, but investing in the Chinese language provides bigger opportunities – and locals know the difference.