Where Is China-US Technology Competition Going?
The case of Huawei shows the extent — and limits — of U.S. attempts to curtail China's technology industry.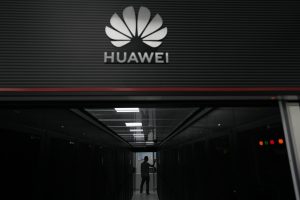 In recent years, as part of its strategy to contain or delay the rise of China, the U.S. government has taken a series of measures and sanctions against Chinese technology companies. According to a study by the China Development Institute, from January 2017, when the Trump administration took office, to June 2021, when the Biden administration passed the United States Innovation and Competition Act of 2021 (USICA), the U.S. Congress, the government, and key think tanks have released 209 bills, policies, and reports concerning science and technology policies toward China. Such policies include sanctions on China's high-tech companies, regulations over key cutting-edge technologies, and restrictions on the training of STEM talents.
As one of China's most prominent communications equipment manufacturers, Huawei bears the brunt. It's one of the biggest targets of U.S. sanctions to influence technology competition through trade policy. Huawei's name is among the buzzwords in those documents, alongside general terms like artificial intelligence, innovation, technology, and Cold War.
U.S. Sanctions Against Huawei Keep Escalating
The United States has been cracking down on Huawei for over a decade since its proposed acquisition of 3Com Corporation failed to pass review by the Committee on Foreign Investment in the United States (CFIUS) in 2008. Since then, Huawei's equipment sales contracts or R&D partnerships with several U.S. companies, including AT&T and Google, have been terminated. Starting in 2018, the U.S. government's crackdown on Huawei escalated abruptly. In addition to introducing various restrictive policies itself, the U.S. government has also called on Western countries, including Australia, Japan, and European Union countries, to remove Huawei from 5G network construction projects and stop buying its equipment.
In May 2019, the U.S. Department of Commerce decided to place Huawei on the Entity List for export controls. Huawei began to receive comprehensive sanctions from the United States. After that, the U.S. Department of Commerce expanded the scope of export restrictions on Huawei, requiring foreign semiconductor chip producers that rely on U.S. equipment and software to obtain U.S. approval before exporting chips to Huawei in May 2020. Three months later, the U.S. Department of Commerce revised its ban on Huawei, further restricting Huawei's products made with U.S. technology and software and adding 38 of Huawei's subsidiaries in 21 countries to the Entity List. Ultimately, the ban had been escalated on September 15, 2020, with a new regulation that prohibited any entity from supplying chips with U.S. technology components to Huawei.
So far, the Biden administration has primarily followed the series of punitive measures taken against China under the Trump administration. The United States Innovation and Competition Act of 2021 (USICA), which has been passed by the Senate, includes a provision that prohibits the Department of Commerce from removing Huawei from the Entity List without demonstrating that it no longer poses a threat. Craig Singleton, a senior fellow at the Foundation for Defense of Democracies, also said the U.S. Congress might reintroduce the Neutralizing Emerging Threats from Wireless OEMs Receiving direction from Kleptocracies and Surveillance states Act (NETWORKS Act) to impose additional sanctions or export controls on Chinese entities.
Furthermore, the intensifying geopolitical conflict also leaves Huawei in a difficult circumstance, along with all multinational companies. In the case of the Russia-Ukraine conflict, if Huawei does not impose sanctions on Russia, Washington would most likely impose sanctions on Huawei. Matthew Borman, an official of the U.S. Department of Commerce, warned that Chinese companies circumventing sanctions against Russia could suffer a similar fate to ZTE, which was on the receiving end of a "Denial Order" barring it from buying U.S.-made components and technology.
New Business, New Strategy, Bright Future
How is Huawei doing now given the sanctions and other restrictions placed on its operations? According to Huawei's 2021 Annual Report, released on March 28, Huawei achieved sales revenue of 636.8 billion renminbi in 2021, down nearly 30 percent from 2020 (891.4 billion RMB), but achieved profits of 113.7 billion RMB, up more than 70 percent from 2020 (64.6 billion RMB), with a net profit margin of 17.9 percent. And Huawei's cash stock was sufficient, with operating cash flow increasing by 69.4 percent. Meanwhile, its gearing ratio also dropped from 62.3 percent to 57.8 percent, further improving its capital structure.
Decades of U.S. restrictions and sanctions have indeed left a negative impact on Huawei to a certain extent, as evidenced by the decline in revenue. However, the steady growth in profits shows that the United States has not been able to completely suppress Huawei's rapid development worldwide, which is inextricably linked to Huawei's significant investment in research and development. Huawei invested 142.7 billion RMB in R&D in 2021, accounting for 22.4 percent of its sales revenue, which hit a record high both in rate and ratio in the past decade. And Huawei has jumped from fifth place in 2018 to second place in 2021 in R&D investment among global companies, with its performance in 5G applications and Huawei Cloud particularly impressive.
In terms of 5G applications, by the end of 2021, Huawei had signed more than 3,000 commercial contracts for 5G industry applications in manufacturing, mining, steel, ports, healthcare, and other industries. According to all the Telecommunications Infrastructure programs covered at Dell'Oro Group in the third quarter of 2021, Huawei accounted for 28.7 percent of the global market share, the highest in the globe. And for the share of 5G equipment, the China Academy of Information and Communications Technology (CAICT) has shown that Huawei ranked first with a 35.2 percent market share in the first half of 2021. Huawei Cloud is also beginning to take off under Huawei's focused development in recent years. As of September 2021, Huawei Cloud has launched over 220 cloud services and 210 solutions, and operates 61 availability zones with partners in 27 geographic regions around the world, covering more than 170 countries and regions. In 2021, Omdia Universe ranked Huawei Cloud as the Top 1 Chinese vendor. In the "Market Share: I.T. Services, Worldwide 2020" report released by Gartner, Huawei Cloud rose to the top five in the global Infrastructure as a Service (IaaS) market, becoming one of the five global clouds.
In other business segments, more than 700 cities and 267 Fortune 500 companies worldwide chose Huawei to operate their digital transformation. The number of Huawei's service and operation partners grew to more than 6,000, with the business achieving sales revenue of 243.4 billion RMB around the globe. And more than 8 million developers have adopted Huawei's open-platform, open-source software and development tools, such as openEuler, MindSpore, and HarmonyOS, to explore innovative business scenarios and business models. Currently, since 220 million Huawei devices are equipped with HarmonyOS, HarmonyOS has become the fastest growing mobile terminal operating system globally.
In addition, Huawei is also actively expanding its business segments, such as inverters and automobiles, where Huawei can produce or procure chips on its own, thus minimizing the impact of high-end chip restrictions on Huawei. Now, as the world's leading inverter supplier, Huawei plans to launch more photovoltaic inverters in response to the government's call for a carbon peak. Its inverter sales have steadily increased. And Huawei is transferring engineers from other business units to its self-driving car sensors and electric vehicle power units to develop its automobile business. To better circumvent the areas covered by the current U.S. technology sanctions against China, Huawei has also developed cloud computing, digital energy, terminal, and automobile businesses, aside from its targeted ICT infrastructure business.
Thus, Huawei continues to generate revenue despite U.S. sanctions. The diversity of this business environment reflects the complexity and resilience of the China-U.S. economic and trade relationship. On the one hand, China and the United States are interdependent and cannot completely decouple in various fields, and economic and trade sanctions will bring huge losses to both sides. On the other hand, the U.S. has defined China as an economic competitor, and based on this rivalry perception, decoupling in specific fields will definitely exist.
The Complexity and Resilience of China-U.S. Trade Relations
According to Chinese customs data, since the U.S. imposed tariffs on China in July 2018, the overall China-U.S. trade amount has risen every year except 2019, when it fell 10.7 percent year-on-year. In particular, the rebound has increased after the outbreak of COVID-19, with Chinese trade in goods and services toward the U.S. rising by nearly 30 percent year-on-year to $755.6 billion in 2021, reaching a record high. On the U.S. side, U.S. goods exports to China also grew 21 percent in 2021, rising to $149.2 billion. China continues to lock in its position as the third-largest exporter of goods to the United States, behind Canada and Mexico, the two USMCA partners. Despite the trade frictions between China and the U.S. that continue to this day, the China-U.S. trade sector in general still exhibits strong interdependence. China-U.S. economic and trade relations, especially in science and technology, are decoupling but not completely decoupled.
The U.S. Department of Commerce has banned the export of cutting-edge semiconductors while saying it would "make individual judgments" on products that do not support 5G. Due to the export control policies having caused greater damage to suppliers' interests, there has been a significant industry diffusion effect in the supplier industry, and other companies have suffered negative impacts. As a result, suppliers and industry associations have lobbied to prevent the government from implementing the Export Control Reform Act (ECRA), which restricts exports of technology-based products. At the same time, lifting sanctions on China's "emerging technologies" and "basic technologies" would help U.S. suppliers and create more jobs. According to the 2022 U.S. Export Report released by the U.S.-China Business Council (USCBC), Oregon, the nation's largest chip-exporting state, created 33,782 jobs in 2020, increasing nearly 7,000 jobs over the previous year.
Therefore, the U.S. Department of Commerce has extended Huawei's Temporary General License (TGL) from time to time since the U.S. announced the inclusion of Huawei on the Entity List, authorizing U.S. entities and individuals to engage in certain transactions with Huawei and its subsidiaries. And to better guarantee the interest of the U.S. company, the U.S. government has also issued a large number of export licenses for foreign suppliers that allow continued shipments to Huawei. Filings with the SEC by 16 U.S. semiconductor and related industry companies, including Qualcomm, Nvidia, Intel, and AMD, show that the 16 companies exported $32 billion more to China in 2021 than in 2019, an increase of 46 percent.
Anticipation of the Future U.S. Science and Technology Policy Toward China
Unlike the Trump administration, the Biden administration attaches particular importance to the development of science and technology. For the first time, the Biden administration has elevated the assistant to the president for science and technology to the cabinet-level. Most of the President's Council of Advisors on Science and Technology (PCAST) are executives from high-tech companies in Silicon Valley. The America Creating Opportunities for Manufacturing Pre-Eminence in Technology and Economic Strength (America COMPETES) Act of 2022, passed in February 2022, allocates nearly $300 billion for scientific research and development. Of that amount, $52 billion in grants and subsidies are available to semiconductor manufacturers. The Biden administration's efforts to unite U.S. technology companies to compete with Chinese companies for markets will increase.
James A. Lewis, senior vice president at the Center for Strategic and International Studies (CSIS), noted that science and technology would be the main battleground for China-U.S. rivalry during the Biden administration. The focus of the rivalry between China and the U.S. will shift from trade issues to technology issues, and the trade conflict will become a U.S. crackdown on Chinese technology companies. Therefore, when assessing the future U.S. science and technology policy toward China, both institutional and technological dimensions should be taken into consideration. The U.S. will continue to maintain a partial decoupling policy to safeguard its interests and may make a new round of upgrading of its science and technology policy toward China in the following three aspects.
Establish a Sanctions Mechanism That Is Both Comprehensive and Targeted
Ostensibly, the Biden administration seems to have adopted a more moderate stance on China's science and technology policy, but discriminatory enforcement against Chinese technology companies will continue. This contradiction reflects the Biden administration's willingness to engage, discuss, and cooperate with China, but the ideology of strategic confrontation and antagonism remains. Compared to the Trump administration, the establishment Biden administration is bound to be more refined and specific in its science technology policy toward China. On the one hand, restrictions will be imposed on companies, corporate executives, and other entities and individuals as key enforcement targets. On the other hand, some regulatory policies will be lifted to minimize the damage to the interests of U.S. companies.
At present, U.S. science and technology sanctions against China are mainly derived from the lists of entities established by various departments of the United States government. In late 2020, the U.S. Department of Commerce created a Military End User List (MEU List) in the Export Administration Regulations (EAR). In June 2021, the U.S. Department of the Treasury overhauled sanctions and introduced the Chinese Military-Industrial Complex Companies List (CMIC List), which includes 59 Chinese entities. And it has released the Office of Foreign Assets Control List (OFAC List). In addition, the U.S. Department of Defense maintains the Chinese Military Companies List (CMC List) and the Communist Chinese Military Companies List (CCMC List).
It is clear that the U.S. is further expanding the coverage of companies sanctioned against China while at the same time differentiating the scope of sanctions between companies through these lists to address the comprehensive challenge of China's rise to the U.S. in the political, economic, military, scientific and technological, diplomatic, and humanistic fields.
Rebuild an International Anti-Chinese Alliance to Limit China's Development and Access to High-end Technologies
In February 2021, the China Strategy Group (CSG) published "Asymmetric Competition: A strategy for China and Technology," advising the Biden administration to avoid a situation where "China wins the Internet." It recommended a "T-12" forum consisting of the United States, Japan, Germany, France, the United Kingdom, Canada, the Netherlands, South Korea, Finland, Sweden, India, Israel, and Australia should be established to promote norms and values in technology development.
Compared with the high-profile sanctions announced directly and unilaterally against China under the Trump administration, the Biden administration hopes to bring allies together to take sanctions against China in the name of democracy in science and technology. At present, the U.S. has made the "Five Eyes" countries and European countries stand at its side against China in the science and technology field. These countries have continued to attack Chinese companies in the arena of international public opinion on human rights and cybersecurity issues, which has impacted the reputation of Chinese technology companies and created a business environment where isolating Chinese technology companies is justice.
From the G-7 to the D-10, the U.S. wants to establish an international anti-China democracy under the name of democracy. The U.S. government has cleverly used the Halo Effect proposed by international relations scholar Glenn Snyder to intervene in its allies' political games based on perceptions of mutual reliability. The U.S. has made its allies realize that using equipment or technology from Chinese technology companies such as Huawei would undermine valuable intelligence or military support provided by the United States. The U.S.-EU Trade and Technology Council (TTC), established in June 2021, is a complement to these efforts. The Council defines the U.S.-EU relationship as a partnership dedicated to advancing digital transformation and new technology cooperation based on shared democratic values. The goal is to strengthen U.S.-EU leadership in technology and industry.
The Biden administration could join forces with other countries, either by continuing to extend the scope of the Foreign Investment Risk Review Modernization Act of 2018 (FIRRMA) or by using agreements such as the Wassenaar Agreement to form a strategic technology partnership mechanism by pressuring other countries to accept overseas investment review standards similar to those adopted by the U.S. The above is intended to create barriers to China's export of its technology and equipment while using government means to develop overseas markets through interstate investment and trade agreements and support the asymmetrical competitive behavior of U.S.-led technology companies against Chinese technology companies.
Integrating China Into a U.S.-led New World Order
China has explicitly placed the strengthening of national strategic science and technology forces at the forefront of its efforts in 2021 in the "Proposal of the Central Committee of the Chinese Communist Party on Drawing Up the 14th Five-Year Plan for National Economic and Social Development and Long-Range Objectives for 2035." Under the premise that China and the U.S. now see each other as rivals, competition for the dominance of science and technology between China and the U.S. is inevitable. The endpoint of all U.S. science and technology policies toward China is to bring China into a new U.S.-led regulatory order.
In the internet era, technology is becoming a rallying point for all fields, with manufacturing, finance, agriculture, education, communication, transportation, etc., all ushering in significant upgrades and changes under the role of technology. In the post-World War II era, the world order constructed by the United States based on traditional security domains is falling apart as regional powers rise. Frequent geopolitical conflicts have also exacerbated this process. Therefore, in the new round of world order construction, the U.S. will undoubtedly hope to set up new regulations on the global industrial chain through technology to hinder China's rise. Rebuilding the U.S.-led world order will be a long-term goal for the U.S., and it comes with various uncertainties in the China-U.S. tech rivalry. Whether or not this will succeed will remain to be seen.