From Europe, Yoon Suk Yeol Calls for International Cooperation on North Korea's Nuclear and Missile Threats
As China opposed Yoon's attendance at the NATO meetings, Seoul will likely face more complicated obstacles to deter North Korea's nuclear and missile developments.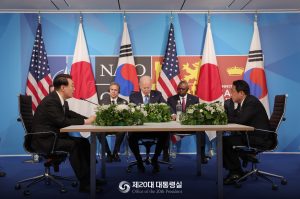 The leaders of the United States, South Korea, and Japan met in Madrid on Wednesday. Held on the sidelines of the North Atlantic Treaty Organization (NATO) meetings this week, the trilateral summit meeting was the first of its kind since September 2017.
As Pyongyang prepares to conduct its seventh nuclear test, the three leaders agreed to respond to North Korea's nuclear and missile threats through trilateral cooperation.
"Our trilateral cooperation, in my view, is essential to achieving our shared objective, including a complete denuclearization of the Korean Peninsula and a free and open Indo-Pacific," U.S. President Joe Biden, who hosted the meeting, said in his opening remarks.
Since Biden took office, Washington has consistently made clear that it has "no hostile intent" toward North Korea in a bid to overcome the so-called "hostile policy" framing initiated by Pyongyang. In order to restore the deadlocked dialogue, Washington has expressed willingness to sit down with Pyongyang "anytime, anywhere, with no preconditions." Pyongyang has not responded to its messages but instead demanded that Washington make concessions. In North Korea's view, the United States – and specifically then-U.S. President Donald Trump – bears responsibility for the failure of the 2019 Hanoi summit, so Washington must make the first move to restart dialogue again.
Before the trilateral meeting, Biden said he remains "deeply concerned at the DPRK's continued escalatory ballistic missiles and tests and potential to conduct a nuclear test." (DPRK is the acronym of North Korea's official name: the Democratic People's Republic of Korea.) However, he did not come up with new messages on the ways to tackle the issue, implying that he has not changed his precondition for meeting the North's supreme leader, Kim Jong Un.
Seoul and Washington have closely coordinated new stronger sanctions to follow the North's seventh nuclear test, if it happens. However, it was not discussed during the trilateral summit meeting, according to South Korea government officials.
Expressing "sincere appreciation" to Biden for hosting the 25-minute trilateral meeting, South Korean President Yoon Suk Yeol also said he was "delighted" to meet with the Japanese Prime Minister Kishida Fumio. Yoon was reportedly eager to have a meeting with Kishida while both leaders were in Madrid for the NATO summit.
"The DPRK's nuclear and missile threats continue to evolve, and the global landscape is facing increased uncertainties, thereby rendering our trilateral partnership all the more significant," Yoon said.
To cope with Pyongyang's nuclear and missile threats, Yoon, a hawkish conservative on North Korea, has emphasized the importance of strengthening extended deterrence by building up relations with South Korea's allies since he took office in May. He has criticized his predecessor's North Korea policy as appeasement. One of Yoon's initiatives to approach the North's missile threats differently is restoring bilateral relations with Japan.
Seoul sought to hold a bilateral summit meeting with Tokyo but failed to arrange it as the two countries still have different views over the unresolved historical disputes.
However, Yoon publicly expressed his hope to develop bilateral ties with Kishida and pursue rapprochement, saying he is confident that Kishida will "become a partner in resolving issues between South Korea and Japan" after a four-way meeting of the four Indo-Pacific Partners – South Korea, Japan, Australia, and New Zealand – invited for the NATO meetings.
Following the trilateral summit meeting, Yoon attended the NATO summit, marking the first debut of a South Korean president at the top NATO meeting. During his short address, Yoon urged the international community to shows its strong will to "pull North Korea onto the path of denuclearization." He called the North's nuclear and missile programs "a clear violation of the U.N. Security Council resolutions" and "a serious challenge" to peace and security of the Korean Peninsula and the international community, according to the official from the presidential office.
Yoon's predecessor, President Moon Jae-in, used dovish overtures to try to denuclearize the Korean Peninsula under his peace process centered on dialogue. Moon also adopted a stance of "strategic ambiguity" toward the China-U.S. rivalry, given Beijing's importance in the North Korea issue, as well as for South Korea's economy. In this context, Moon had been accused of being pro-China by some conservatives in South Korea, as Seoul did not fully engage with U.S.-led working groups such as Quad while he was in office.
With Yoon's attendance at the NATO meeting, South Korea has explicitly demonstrated that it is now formally a part of the U.S.-led anti-China movement, meaning it would likely face further criticism and antagonism not only from North Korea but also from China and Russia. The Madrid Summit Declaration had strong language on China, which was named as a country "who challenge[s] our interests, security, and values and seek[s] to undermine the rules-based international order."
China has already opposed South Korea's decision to attend the NATO meeting. Chinese state media, Global Times, published a story criticizing both Yoon and Kishida's attendance at the NATO meeting.
In the wake of Russia's invasion of Ukraine, Beijing and Moscow have vetoed Washington's efforts to impose additional sanctions over North Korea's missile tests in the U.N. Security Council. As long as China and Russia exercise their vetoes as permanent members of the U.N. Security Council, no new U.N. sanctions can be imposed against North Korea.
In NATO's 2022 strategic concept, the first update since 2010, North Korea's continued development of its nuclear and missile programs is mentioned as having "negatively impacted strategic stability." The strategic concept also mentions increased cooperation with Indo-Pacific partners to "tackle cross-regional challenges and shared security interests."
As raising South Korea's voice on international issues as a rising middle-power country is one of Yoon's initiatives, such specific mentions of North Korea and cooperation between NATO and the Indo-Pacific partners might be considered an achievement in itself by the Yoon administration.
However, questions remain over the effectiveness of cooperation with NATO on North Korea issues.
North Korea deems the United States as the only counterpart it can negotiate with over the denuclearization of the Korean Peninsula. Pyongyang has always had questions over Seoul's role in the denuclearization of the Korean Peninsula, including while negotiating with the Trump administration from 2018 to 2019.
Under the U.S.-centered international order, NATO and its allies in the Indo-Pacific will strengthen ties to cope with broader issues. However, since the denuclearization of the Korean Peninsula cannot be achieved without China's support, Seoul's decision to attend the NATO meeting, strengthen ties with its partners in Europe, and raising a clear voice on the international issues linked with China would explicitly enhance ties between North Korea, China, and Russia. If things come to this stage, the Korean Peninsula will be the main battleground of the new Cold War – which would lead to an arms race among the countries in the region.