At Inauguration, Yoon Suk-yeol Shows Old-School Approach to North Korea
During his inauguration speech, South Korea's new president floated the possibility of providing economic packages to Pyongyang in return for denuclearization.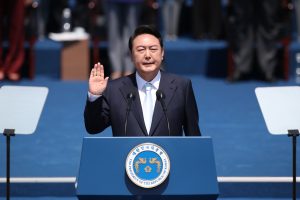 Yoon Suk-yeol, a former prosecutor-general for the Moon administration, was inaugurated as the 20th president of South Korea on Tuesday. That completed Yoon's dramatic transformation over the past two years, from former President Moon Jae-in's top prosecutor leading corruption investigations against two past conservative presidents – Lee Myung-bak and Park Geun-hye – to a presidential candidate who regained political power for the conservative camp.
Yoon, an inexperienced politician who has no experience in diplomacy, showed a hawkish stance on North Korea during his presidential campaign to garner support from conservatives. However, in his first appearance as president, Yoon offered relatively friendly overtures to North Korea during his speech.
"While North Korea's nuclear weapon programs are a threat not only to our security and that of Northeast Asia, the door to dialogue will remain open so that we can peacefully resolve this threat," Yoon said.
Yoon has in the past denounced Moon's efforts at dialogue with North Korea and accused him of being "submissive" to Pyongyang. During his campaign, Yoon signaled a return to an old school North Korea policy, which was adopted under the conservative governments: Yoon emphasized South Korea's self-defense capabilities and the ironclad military alliance with the U.S. to deter North Korea's missile threats. Among his most eye-catching remarks during the presidential campaign, Yoon spoke of preemptively striking North Korea should there be any sign of a missile launch toward the South's soil and also advocated for expanding the Terminal High Altitude Area Defense (THAAD) anti-ballistic missile system.
After Seoul's then-Defense Minister Suh Wook underscored the country's preemptive strike capabilities, Kim Yo Jong, the powerful sister of the North Korean leader, directly threatened Seoul, saying that it "may face a serious threat."
Yoon demonstrated his conservative approach to North Korea with his past remarks emphasizing North Korea's nuclear threat and the necessity of strengthening ties with the United States, while claiming that Moon's peace process damaged the South Korea-U.S. alliance. During his inauguration speech, however, he did not rule out the possibility of taking a dovish approach to North Korea if Pyongyang gives up its security guarantee – nuclear weapons.
"If North Korea genuinely embarks on a process to complete denuclearization, we are prepared to work with the international community to present an audacious plan that will vastly strengthen North Korea's economy and improve the quality of life for its people," Yoon said.
This is how previous South Korean conservative presidents tried to resolve North Korea issues. In contrast to the progressive presidents' preemptive measures to entice Pyongyang to sit down at the negotiating table from the late 1990s to mid-2000s, conservative presidents had consistently demanded Pyongyang to denuclearize the country first before moving on to the next steps. Their approach seems reasonable, as Pyongyang's nuclear weapons are the major cause of escalating tensions on the Korean Peninsula. However, such a cliched approach to North Korea quickly demonstrated its limits. Pyongyang did not take steps toward denuclearization but instead strengthened its nuclear and missile capabilities to confront what it perceived as a hostile policy. Yoon's short message toward Pyongyang during his speech suggested that there is no upgraded version of North Korea policy on the conservative side.
Yoon sent another subtle signal in his remarks. Conservatives frequently criticized the Moon administration for speaking of the "denuclearization of the Korean Peninsula" rather than denuclearization of North Korea, specifically. Washington also uses the phrase "the denuclearization of the Korean Peninsula" to emphasize that nuclear weapons cannot be deployed on the South's soil, either. But Yoon publicly took the opposite stance on this issue, saying that "North Korea's denuclearization will greatly contribute to bringing lasting peace and prosperity on the Korean Peninsula and beyond."
There is growing support in South Korea for developing an indigenous nuclear weapon capability in response to North Korea's own growing nuclear program.
North Korea conducted its 15th missile test of 2022 on Saturday. With Pyongyang's clear moves in the Punggye-ri nuclear site to prepare for conducting its seventh nuclear test, Yoon's policy on North Korea will possibly provoke not only an intensified arms race on the Korean Peninsula but also a new Cold War in the region.