North Korea Launches 8 Ballistic Missiles 
A day after South Korea concluded joint navy drills with the United States, North Korea fired eight ballistic missiles toward the waters off its east coast.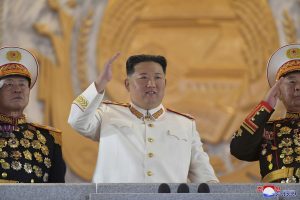 North Korea launched eight short-range ballistic missiles (SRBMs) toward its east coast on Sunday, South Korea's Joint Chiefs of Staff (JCS) said.
The individual missiles flew 110 km to 670 km at a max altitude of 25 km to 90 km. JCS said the missile launches were detected from four different areas including Sunan, near Pyongyang, where North Korea had tested ballistic missiles, including an intercontinental ballistic missile (ICBM), last month.
Sunday's round of launches is North Korea's 18th missile test this year and the third missile launch since South Korean President Yoon Suk Yeol took office on May 10. It was the largest number of ballistic missiles North Korea has tested in a single day.
In a response to the North's flurry of missiles tested on Sunday, South Korea and the U.S. military launched eight ground-to-ground Army Tactical Missile System missiles (ATACMS) in a combined live-fire exercise on Monday. Under Seoul's new approach to North Korea's missile threats, South Korea and the U.S. military have taken corresponding measures against the North's missile launches since last month.
After convening a National Security Council meeting in response to the North's missile launch, Yoon urged the North Korean regime to realize that it cannot achieve anything with nuclear and missile threats and come to the path of dialogue and cooperation. He also ordered his military to firmly maintain its readiness posture and continue strengthening the South Korea-U.S. extended deterrence and combined defense posture, including missile defense exercises between the two countries.
The North's missile launch came a day after the South Korean navy concluded a three-day joint military drill with the United States. The USS Ronald Reagan, a nuclear-powered aircraft carrier, was also mobilized during the combined exercises as North Korea is believed to be planning to conduct a seventh nuclear test in the near future. The joint military drill last week was the first of its kind deploying U.S. aircraft since November 2017, demonstrating Yoon's strong will to strengthen the combined military capabilities in a bid to deter North Korea's nuclear and missile threats.
Pyongyang has consistently denounced the South Korea-U.S. joint military drills as one of the so-called "hostile policies." Sunday's missile test, with eight ballistic missiles launched from four different areas, was a direct response to the South Korean-U.S. military exercises.
U.S. Indo Pacific Command published a statement on Saturday saying that "these missile launches highlight the destabilizing impact of the DPRK's illicit weapons program" even though "this event does not pose an immediate threat to U.S. personnel or territory, or to our allies." (DPRK is an acronym of North Korea's official name, Democratic People's Republic of Korea.)
Kim Gunn, the South Korean special representative for North Korea issues, held an emergency meeting with his U.S. counterpart, Sung Kim, hours after the missile launch on Sunday.
The special representatives of South Korea, the United States, and Japan held trilateral talks last week in Seoul to discuss North Korea issues. The three countries reaffirmed trilateral cooperation for the complete denuclearization of the Korean Peninsula during the meeting.
Delivering the U.S. assessment that the North is preparing for a nuclear test at its Punggye-ri nuclear site, Kim, the U.S. special representative to North Korea, said, "We are preparing for all contingencies in close coordination with our Japanese and ROK allies." (ROK is an acronym of South Korea's official name, Republic of Korea.)
U.S. Deputy Secretary of State Wendy Sherman arrived in Seoul on Monday to meet with her South Korean and Japanese counterparts to discuss regional issues, including North Korea.
As of Monday, North Korea state media had not reported on the eight missile launches. North Korea's official media have not reported on any of its missile tests since May, even though Pyongyang normally used such reports as a means to boost the country's morale and the loyalty among its people.
China used its position as a permanent member of the U.N. Security Council to oppose new sanctions against North Korea when Pyongyang's ICBMs tests were detected in March and May.
However, Beijing might have pressured Pyongyang not to conduct the nuclear test, observers said. A North Korean nuclear test could be a major trigger for Seoul and Washington to deploy more strategic assets in the region to deter North Korea's nuclear and missile threats, which would not be in China's interests.