Opinion Poll Reveals Australian Public's Collapsing Trust in China
The latest Lowy Institute public opinion survey found that the public feels less safe in 2022, due to China's growing power and the Russian invasion of Ukraine.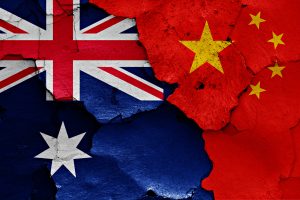 Australian attitudes toward China have sharply deteriorated over the past year amid the public's rising anxiety about the state of the world, according to the latest public opinion poll conducted by Sydney-based Lowy Institute.
The survey report, which surveyed just over 2,000 Australian adults in the second half of March, found the vast majority of Australians say China will soon pose as a military threat to Australia, and trust in China and confidence President Xi Jinping continue to sit at record lows.
"Australians see China's foreign policy as a critical threat," states the introduction to the report, which was written by Michael Fullilove, the executive director of the Lowy Institute. "Their trust in China continues to fall, and in a dramatic shift, three-quarters of Australians see China as posing a military threat to Australia in the years to come."
Lowy's Natasha Kassam, the author of the report, found that trust in China sat at just 12 percent, down from 16 percent last year and 52 percent as recently as 2018. According to the poll, three-quarters of respondents said it was "likely" or "very likely" that China would pose a military threat to Australia within 20 years, up from 45 percent in 2018.
The poll also saw that more Australians continue to view China more as a potential military threat (64 percent) than an economic partner (33 percent). Just two years ago, the equation was reversed, with 55 percent of respondents viewing China primarily as an economic partner and 41 percent primarily as a potential military threat.
The logical explanation for this is the campaign of punitive tariffs and import controls that China has waged on Australia since the early months of the COVID-19 pandemic, when then-Prime Minister Scott Morrison called publicly for an international investigation into the origins of the virus.
Public views were likely reinforced by the apocalyptic rhetoric that the Morrison government deployed in response. Former Defense Minister and current opposition leader Peter Dutton said last year that Australia needed to "prepare for war," while Morrison and Dutton's Liberal Party hyped up the China threat in an attempt to smear their Labor opponent Anthony Albanese at last month's federal election.
The dim attitudes toward China reflected a broader mood of threat that was captured by the poll. Only 53 percent of respondents said that they felt either "safe" or "very safe," down from 69 percent last year and a striking diminution from the 92 percent recorded in 2010.
In addition to growing concerns about China, a large part of this is a result of Russia's invasion of Ukraine and the ensuing geopolitical aftershocks. The Lowy Institute poll found that 92 percent of respondents were "very concerned" or "somewhat concerned" about the invasion, while Australian public confidence in Russian President Vladimir Putin has fallen to the same levels as that placed in North Korea's Kim Jong Un. A further 87 percent said they were concerned about cooperation between China and Russia in the wake of the Ukraine invasion.
As this might suggest, the report showed public support for Australia's alliance with the United States touching a record high, with 86 percent of respondents saying that the alliance was either "very" (60 percent) or "somewhat important" (26 percent). The poll showed relatively positive views toward the AUKUS security partnership created between Australia, the U.S., and the United Kingdom last year. Some 52 percent of those polled said the arrangement, which is set to equip Australia with a nuclear-powered submarine fleet, would make Australia more safe, while 22 percent said it would make no difference. Only 7 percent said it would make Australia less safe. Perhaps most surprisingly, a majority of respondents also said they would support the involvement of the Australian Defense Force if Taiwan were invaded by China and Washington went to Taiwan's defense.
The nations that rated most highly among the Australian public were Japan and the United Kingdom, which 87 percent of respondents trusted "somewhat" or "a great deal" to act responsibly in the world, followed by France (82 percent), the U.S. (65 percent), and India (56 percent).