Sri Lanka Overestimates its Importance to China
India is a massive market that has great potential. If letting go of Sri Lanka allows China to improve its relationship with India, it will.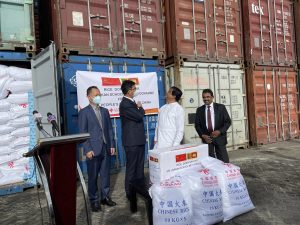 In an interview with Bloomberg earlier this month, Sri Lankan President Gotabaya Rajapaksa said that China appears to have shifted its strategic focus toward Southeast Asia and Africa. China is no longer attentive to South Asian countries in financial trouble as before, he added.
Sri Lanka couldn't secure a $1.5 billion credit line from Beijing, Rajapaksa said. Besides, China has not got back to him on a request to President Xi Jinping for a $1 billion loan to buy essential products.
The following day, China reassured Sri Lanka that it remained committed to helping the island resolve its financial difficulties. But almost a month later, nothing much has come in the form of aid from China.
In fact, former minister and independent parliamentarian Patali Champika Ranawaka told the media this week after a meeting with Chinese ambassador Qi Zhenhong that China is unhappy with certain actions taken by the Rajapaksa administration, especially its cancellation of projects to several Chinese companies, which had won the projects through competitive bidding under the previous administration.
These developments have led many to assert that China is not an all-weather friend it claimed to be. Contrary to popular belief that China has designs for Sri Lanka, it seems that Beijing is unperturbed by India and the U.S. strengthening their hold over Sri Lanka.
In fact, China went on to commend India for its assistance to Sri Lanka, aid that China knows would place Sri Lanka under Indian influence, and most of its humanitarian assistance has come through with collaborations of civil society organizations and international organizations. It appears that China has no interest in contesting India and the U.S.
However, this development should not come as a surprise for anyone who knows the history of the Peoples Republic of China (PRC) and the evolution of its policies.
The PRC – The One to Opt Out First
Not many remember this but in the first few decades of its existence, the PRC like the U.S. and the Soviet Union got itself entangled in nation-building in several countries in the Third World. In the 1950s and 1960s, Chairman Mao preached armed struggle, as opposed to the USSR's appeals for peaceful coexistence and détente. Chinese troops fought on the side of nationalists and socialists in the Global South.
However, in the 1970s, Beijing turned away from its vision of world revolution altogether. Its current position in the world reflects its willingness to withdraw from the project of world and nation-building earlier than its adversaries in the Cold War.
After Mao hosted Nixon in 1972, Beijing toned down its fiery rhetoric and supported an eclectic range of regimes in the Global South, often despite their opposition to socialism as it rebuilt its own economy at home. For example, China supported Sri Lankan Prime Minister Sirimavo Bandaranaike, put down the Communist insurgency of the Janatha Vimukthi Peramuna in 1971, recognized the Pinochet regime in Chile and opposed the People's Movement for the Liberation of Angola.
However, there was no effort to transform the Global South into a simulacra of itself. Chinese support to any government was never deep enough to prevent it from cutting losses when the occasion demanded it. Even now as it advances rapidly to becoming the world's predominant economic power, its relationship with partners, perhaps with the exception of Russia and Iran, is purely in the realm of commerce.
BRI and a Serendipitous Union
China overcame the 2008 financial crisis relatively unscathed through its construction sector. Once it was done building all kinds of infrastructure at home, it realized that it could use its excess capacity to build infrastructure in Asian and African countries.
At the end of the 30-year-old civil war in Sri Lanka, the Rajapaksa government saw infrastructure development as a surefire way to kickstart the Sri Lankan economy, which had been adversely impacted by the war. Indeed, by 2009, the country needed to rebuild the war-torn North and the East and to build roads, ports, and expressways to improve connectivity. But also, building infrastructure was also seen by the Rajapaksas as a way of boosting their prestige and a great way of enriching themselves. Chinese companies operating in the periphery had no scruples over building whatever the Rajapaksas wanted – so long as they were paid. Thus began a spree of projects with China between 2009 and 2014.
China Applies Brakes
These were also times when China was giving loans to almost anyone who asked for them. Chinese companies, state-owned or otherwise, had little experience in commercial lending to the Global South and adhered to a high risk– high volume paradigm, and ended up with a pile of debt. In 2022, it has become evident that most of this debt is unsustainable. Recent attempts to restructure debt in Zambia showed how inexperienced and unprepared Chinese lenders are.
While some critics of Chinese lending insist that China could seize strategic assets due to default, for example in Uganda, Kenya and Zambia,  in no case has this happened. In fact, recent developments in Zambia and Sri Lanka have shown that there is very little China can do when countries choose to default.
In response, Chinese lenders, including China EXIM Bank and China Development Bank, have adopted more cautious lending approaches. For example, in November 2021, addressing the triennial Forum of China-Africa Cooperation held in Senegal, President Xi Jinping said that China would cut the headline amount of money it supplies to Africa by a third. It will also focus on SMEs, green projects, and private investment flows, instead of large infrastructure projects.
This redirection from the high-volume, high-risk paradigm to one where deals are struck on their own merit, at a smaller and more manageable scale was the reality Gotabaya Rajapaksa must face now.
Overestimating Sri Lanka's importance
There is a widely held belief that Sri Lanka is coveted by all major powers in the world due to its strategic location. Sri Lanka is close to major sea routes and would be invaluable for a maritime power, and throughout the centuries, the great maritime powers have attempted to colonize the country.
Most Sri Lankan political parties, academics and journalists were under the impression that Sri Lanka was vital for China's future economic and defense interests. Thus, the Rajapaksa administration, led by a leader with no previous political background and manned by rookie politicians and businessmen, took Chinese aid for granted. There was a belief among both Sinophobes and Sinophiles that China would come to Sri Lanka's aid during the current economic crisis.
However, they have so far failed to realize that China is not a maritime power, and that it also has no interest in debt trapping Sri Lanka. Yes, it will dominate the South and East China Seas and parts of the Pacific Ocean in the coming years. Moreover, it has three aircraft carriers. A perusal of its proposed military buildup shows that it has no intention of challenging American or Indian naval power in the Indian Ocean. China is in no position, and probably will never be able, to protect its investments in Sri Lanka, if India deems China's presence problematic to its interests.
In fact, China has been attempting to improve its relationship with India for some time. Given that Beijing and New Delhi have similar stances regarding Russia, China sees this as an opportunity to ramp up its efforts to improve relations with India.
China will not get rich by doing business with Sri Lanka. By contrast, India is a massive market that has great potential. If letting go of Sri Lanka allows China to improve its relationship with India, it will.