Timor-Leste Signs Four Cooperation Agreements With China
But like many of its Southeast Asian neighbors, Dili will seek to maintain a judicious balance between dueling hegemons.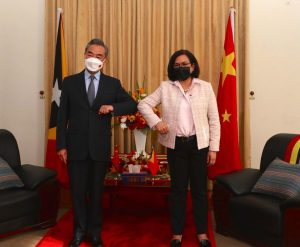 China and Timor-Leste signed a series of agreements aimed at boosting economic ties, on the final day of Chinese Foreign Minister Wang Yi's 10-day sojourn through the South Pacific on Friday.
The agreements were signed in a meeting between Wang and his Timorese counterpart Adaljiza Magno, during which the two diplomats "held extensive talks on promoting bilateral friendship and cooperation," and "expressed their strong commitments to further enhance and expand the bilateral economic cooperation," Timor-Leste's Ministry of Foreign Affairs said in a statement.
The four agreements covered agriculture, media partnerships, economic and technical cooperation, and the dispatch of a Chinese medical team to Timor-Leste, AFP reported. During his stop, Wang also met with newly inaugurated President Jose Ramos-Horta and Prime Minister Taur Matan Ruak.
The agreements with Timor-Leste are an important part of China's diplomatic charm offensive in the Pacific, especially its plans to broker security arrangements with the island nations of the region. The years-long push, which culminated in the brokering of a security agreement with Solomon Islands last month, has stoked anxiety in the United States and Australia, prompting new Australian Foreign Minister Penny Wong to undertake a rapid tour of her own to the region.
Since its independence in 2002, Timor-Leste, like most of its neighbors in Southeast Asia, has developed close economic ties to China, and this seems unlikely to change for the foreseeable future. As the Sydney Morning Herald noted, the president's palace, the Foreign Ministry, the Defense Ministry and major shopping centers in the capital Dili have all been built with Chinese money.
During his inauguration speech on May 20, the 72-year-old Ramos-Horta pledged to forge closer relations with China, particularly in ways that will help develop Timor-Leste's $1.8 billion economy beyond the oil and gas sector. "It is our intention to expand bilateral cooperation with China," he said in his speech, as per Reuters. "Especially in the areas of sustainable, organic agriculture, small industries, trade, new technologies, renewable energy, connectivity, digitalization, artificial intelligence and urban and rural infrastructure."
But Ramos-Horta's recent comments suggest that like many of the other nations in Southeast Asia, Timor-Leste will avoid taking sides in the looming competition between the United States and China. In an interview with Sky News, he said that Dili has no plans to broker agreements of a military or security nature with Beijing, like the Solomon Islands pact that has prompted so much consternation.
His inauguration speech also praised the United States for its role in the development of Timor-Leste's infrastructure. In a later interview with the Sydney Morning Herald, Ramos-Horta also urged Canberra to "invest serious money in support of infrastructure in Timor-Leste."
"It's not only a one-way street in terms of only benefiting Timor," he said. "Timor-Leste should be part of the wider Australian strategic interest, to see a pro-Australia, pro-Western values Timor-Leste on Australia's doorstep."
All this suggests that the strategic meridian of Southeast Asia's youngest nation will be one of careful balancing.