Timor-Leste-China Relations: Where Does the Concern Lie?
President Jose Ramos-Horta's recent promise to expand bilateral relations with Beijing made headlines around the world.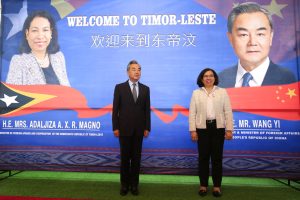 On May 20, Timor-Leste commemorated the 20th anniversary of its independence and celebrated the inauguration of its newly elected president Jose Ramos-Horta, who was beginning his second term in the office. In his inaugural speech, Ramos-Horta pledged to promote development and strengthen relations with other countries to ensure economic and commercial integration as well as advocating for greater cooperation in the defense and security sector. While Ramos-Horta's speech discussed the strengthening of cooperation with ASEAN countries, Japan, South Korea, and the United States, his particular line about expanding bilateral relations with China made news headlines.
Why is the question of relations with Beijing raising concerns now?
Timor-Leste and China have a long history of relations. China recognized Timor-Leste's declaration of independence on November 28, 1975 and it was the first country to establish diplomatic relations with Timor-Leste after its independence. Since then, the numbers of Chinese citizens arriving in the country and their economic engagement with it have increased. The official information on foreigner arrivals at the Dili National Airport shows that the number of Chinese arriving in the country increased from 2,659 in 2010 to 7,455 in 2019 – a 180 percent increase within a nine-year period.  Meanwhile, the total annual value of imports from China increased from $21.5 million in 2010 to $69.2 million in 2019.
However, the same data also indicates that the largest source of foreign arrivals in Timor-Leste in 2019 was Australia, with 10,562 arrivals (a 6 percent decrease compared to 2010). The second highest number of foreign visitors that year were Indonesian, with 9,183 visitors (an increase by 36 percent compared to 2010). Similarly, Timor-Leste's main import partners in 2019 were Indonesia, from which it purchased $189.2 million worth of goods and services, and Singapore, from which it purchased $70.1 million.
In terms of exports, in 2019, Timor-Leste earned a modest $59.6 million from exports to Singapore, $21.8 million from Malaysia, $19.6 million from Japan, $19.5 million from China and $4.1 million from the United States. This highlights Timor-Leste's trade engagement with multiple countries, but also exposes the country's extreme trade deficit: more money leaves the country than comes in.
Furthermore, data from the International Monetary Fund (IMF) indicates that Timor-Leste had a total external debt of $475 million as of mid-2020, of which loans from the Asian Development Bank (ADB) account for 57 percent, the World Bank 28 percent and the Japan International Cooperation Agency 15 percent. The amount of external debt will most likely increase given that the government continues to opt for external debt to finance infrastructure projects. The IMF puts Timor-Leste at moderate risk of overall and external debt distress due to its weak debt-carrying capacity and the breach of debt sustainability thresholds, among others. To date, Timor-Leste has not entered into any loan agreement with China.
Over the years, China has provided aid to Timor-Leste through construction of a series of public buildings, including the Presidential Palace, the Ministry of Foreign Affairs, and the Ministry of Defense. It has also offered technical assistance in the agriculture, health, and military sectors. However, foreign aid does not come from China only, but also from other countries, particularly Timor-Leste's close neighbor Australia, which has allocated $105.7 million in Official Development Assistance and bilateral allocations in the amount of $73.3 million for 2022-2023. This year, Timor-Leste is at the last stage to sign Millennium Corporation Challenge worth $420 million as part of the bilateral foreign aid agreement with the United States.
The concern about the prospects of closer ties between Timor-Leste and China reflects the recent situation in countries like the Solomon Islands, Sri Lanka, and Zambia. In late 2021, Solomon Islands experienced a conflict that was associated with the government's decision to establish diplomatic relations with the People's Republic of China. At the same time, the signing of a security agreement between Solomon Islands and China this year is believed to have changed the power dynamic in the Western Pacific. Currently, the economy of Sri Lanka is alleged to be in shambles after defaulting on the payment of foreign debt around $50 billion, of which a large proportion originates from the Chinese loans. In 2020, Zambia defaulted its $42.5 million Eurobond repayment, which also raises the concern over its ability to repay loans from China, which have been used to finance many of its infrastructure projects.
The experiences of Sri Lanka and Zambia are often claimed to be part of a "debt-trap" strategy devised by China, in which poor countries without the ability to repay hefty Chinese loans become vulnerable to pressure and control from China. However, others have called debt trap a myth given that Chinese development financing is heavily recipient-driven and that its financing system is too fragmented to pursue specific strategic objective. In the meantime, some have referred to the situation in Sri Lanka as the phenomenon of strategic-trap diplomacy due to the political, human rights, and military dimensions that come with the debt.
While it is tempting to direct the focus to external forces, there is the need to look at the countries' internal socio-economic conditions. For instance, it is reported that the national poverty rate of Solomon Islands stood at 12.7 percent in 2012, and it also has high youth unemployment rate – 46 percent as of 2016. Although only 4.1 percent of the Sri Lankan population lives below the poverty line and the country had a 5.9 percent unemployment rate as of 2020, there is an experience of unequal development by the fact that 80.9 percent of the country's poor people live in the rural areas. Likewise, according to the World Bank, 54.4 percent of population in Zambia lived below the national poverty line as of 2015, while the unemployment rate stood at 12.8 percent in 2020. Poverty is worst in the rural areas, since 76.6 percent of rural dwellers live in poverty.
Similarly, the Multidimensional Poverty Index (MPI) reveals that 45.8 percent of Timorese population were multidimensionally poor and 26.1 percent were vulnerable to multidimensional poverty as of 2016.  The latest National Census indicates that the youth unemployment rate stood at 12.3 percent as of 2015. Meanwhile, the country continues to face the challenge of development inequality considering the gap between urban and rural areas in terms of access to basic infrastructure and services. Given this situation, the most effective approach for the country like Timor-Leste is to improve its internal conditions (including political and economic conditions) to take advantage and absorb all the benefits that foreign aids and external debts can bring for its development. The process of development must be internally driven, while foreign aids and external financing play complementary roles.
In the post-independence era, Timor-Leste's foreign policy has been guided by the goal of collaborative and friendly relations with the immediate neighboring countries and those beyond to ensure its survival and development. While this foreign policy helps Timor-Leste position itself in the global political order, it also aligns with the Fundamental Principal of its Constitution, to "promote the establishment and the development of relations of friendship and cooperation among all Peoples and States."
Timor-Leste, nevertheless, must recognize growing China's influence in the country given the increasing presence of Chinese and Chinese-run businesses. It also needs to be attentive towards China's "going global" strategy, which encourages "Chinese citizens and Chinese enterprises, including both state and non-state-owned companies, to leave China and venture overseas" becoming "important economic intermediaries for China's economic development." While Chinese businesses provide jobs and correspond to the daily needs of the people, the country needs to think about its implications for the local businesses and long-term economic development.
In the end, as a sovereign nation-state, Timor-Leste has the autonomy to enter into investment agreements with any country that can help develop its economy. However, it must be wise to move forward with partnerships that actually respond to its needs rather than drawing it into the power plays of regional and world politics. While China's presence is visible, a continuously growing democracy, respect for the rule of law, a strengthening of democratic institutions, solid freedom of press and increasing cooperation for human resources development with Australia, New Zealand, the United States, Japan, and South Korea show who Timor-Leste looks up to and where its long-term priorities lie.