Japan Struggles to Understand the Abe Assassination
The shocking murder highlighted Abe's unique stature. But aside from the high-profile target, the killing fit a pattern of lone wolf attacks in Japan.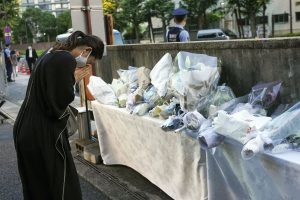 As I approached the Yamato-Saidaiji station in Nara, Japan, dozens of people were crowding next to the big plexiglass windows that line the side of the first floor. These windows overlook the place where the shots that killed former Prime Minister Abe Shinzo were fired.
"I walk through that same path every day," said Yuki, a 30-year-old who lives in this Nara residential neighborhood.
"It is shocking to lose someone who we thought would always be there," he added.
Just a couple hours before our conversation, Abe was standing outside, giving a talk to a small gathering of around 30 people. The speech on July 8 was part of his campaigning for Liberal Democratic Party candidates ahead of the upper house election on July 10. Abe had only scheduled a brief stop here in Nara the day before, and the information was available on the website of the Abe campaign.
The attacker was apparently fervently following that website. As a matter of fact, he told police he tried to execute his plan previously in Okayama, when Abe gave another speech there. That time the 41-year-old couldn't get pass security, as it was an indoor event.
Not much is known about the attacker, Yamagami Tetsuya, but details are starting to emerge. Yamagami told investigators that he did not have political reasons for shooting the former prime minister of Japan. Yet the attacker did declare that he had shot to kill.
The reason he gave was at once simple and surreal. He referred to a new religion, one that he assumed Abe was intimately connected to. That group had apparently swindled Yamagami's mother for financial gain. However irrational this sounds, it was apparently enough for the attacker to research how to build a firearm, buy all the material necessary to create his homemade weapon, and shoot Abe twice in the back.
The gun was a patchwork of tape and metal cylinders, into which the attacker inserted some sort of explosive to provide the detonating force behind his unorthodox bullets.
"The bang was so strange that I didn't even think it was a shotgun," said a 73-year-old man who witnessed the shooting. "He took it out from his side and drew it like it was a katana. It was all very quick."
Soon after the shooting, professional bodyguards wondered how a person who looked so obviously suspicious was allowed to get so close to Abe in the first place. In media footage taken just before the attack, Yamagami is clearly visible right behind the former prime minister.
The attack shocked many, given Japan's reputation as a country with low levels of violence. But in fact, there have been other lone assassins before this, who have gone on killing sprees in Japan. The difference is that previous attackers targeted random people, rather than Japan's most well-known politician.
Kato Tomohiro, 26, got into a truck on June 8, 2008, and ran over five people, leaving three dead and two wounded. Then he stabbed at least 12 people, killing four. It would go down in history as the Akihabara massacre.
On July 18, 2009, Aoba Shinji, 41, doused the studio building of Kyoto Animation with gasoline and lit a fire. The resulting arson attack killed 36 and injured 24, including the attacker.
These and other lone wolf attackers have some things in common. They are younger males, usually between 20 and 40, often unemployed or fearful of their job prospects, and seething with rage and resentment toward society. In the case of Abe's murder, Yamagami wanted avenge his mother for having been trapped in what he suggested was a financial scam on the part of "religious leaders."
"The motive? He was without any job, that's his motive!" said 53-year-old Hiroshi, who was holding hands with her 20-year-old daughter, both self-identified Abe fans. Hiroshi referred to the fact that the attacker was jobless after having spent three years in Japan Self-Defense Forces.
Yamagami's profile indeed resembles the tori ma, as they are called in Japan – sociopaths, alienated souls, who for some reason resort to violence. Isolated, they have little contact with friends or family. Life in a megalopolis can also act as a catalyst, as in certain cases it translates into the suspension of human relationships. There is no neighbor with whom one can exchange a few words; human relationships are frozen in a cold and impersonal "decorum." Isolation in a crowded city provides the perfect environment to feed conspiracy theories.
These factors are not unique to Japan; similar factors have resulted in mass murders in countries around the world. But Japan is not immune to these pathologies either.
Yes, Japan boasts such a tiny street crime record that experts almost need a microscope to make the calculations. It is a country where firearms are for deer hunters, and you still need 13 levels of clearance to get hold of one – and the permit only lasts three years. But this is also the country of the hikikomori syndrome, where some millions of people, often younger adults, choose to withdraw entirely from human contact, unable to cope with the social and economic pressures of life.
And on rare but horrific occasions, some choose not to withdraw from the world, but to kill instead.
It is no coincidence that after the 2008 global financial crisis, or what everyone in Japan calls the "Lehman Shock," there was an explosion of the hikikomori pathology. The era of shushoku-hyougaki had begun – "the ice age of hiring," the evocative expression that the Japanese use to describe the resulting period of economic stagnation.
Abe purposely made an effort to reset the economy and bring back a richer job market where more Japanese could find occupations. To some of the people I met in Nara, that was his biggest legacy.
"I remember most dearly that Abe brought about an economic change so people of my generation could prosper. He definitely raised the status of Japan in the world," said Ami, 28, who had been standing on the sidewalk near where Abe was shot, texting her friends and family members.
In her mind, Abe's other winning legacy was having convinced women like Ami to continue working after marriage through more family- and women-friendly policies.
Satoshi, 25, showed me on his phone photos of the moments just after Abe got shot and the arrival of the ambulance.
"I was standing right here," he said, a few meters from the site of the attack. "I had met him even a month ago, for another speech. For me and for those of my generation, speaking of the 'prime minister' meant talking about Abe, since he has been in charge of Japan for the longest," Satoshi added. There was exhilaration in his eyes as he talked about the late leader.
It is rare to see this level of heartfelt passion for a politician in Japan, especially in the young. Politics, like sex and religion, are taboo subjects, not often discussed – especially not with strangers. It's a testament to the unique status occupied by Abe in Japan, and the immense consequences his death will have as a result.