Amid Russia-Ukraine War, China Could Dominate the Value Arms Market
If Russian arms exports decline in the wake of its invasion of Ukraine, China stands to benefit – unless the U.S. moves to prevent it.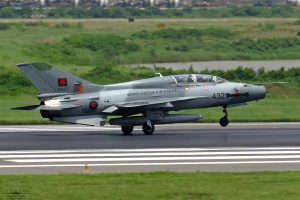 China may receive a boost in sales and arms diplomacy in the "value market" if Russian exports decline due to the Russian-Ukraine war. The "value market" is the arms market consisting of smaller transaction values of new and refurbished equipment. The market is dynamic: Some countries buy only "value market" equipment, others buy high-end equipment like fighter aircraft and shop in the value market for other equipment. For example, South Korea recently purchased 20 F-35As in the high-end market, but sold the value market F-50 light attack variant to Indonesia. Both aircraft are new, high-quality equipment but are representative of different costs and capabilities.
Russia was a major value market player for decades. Its participation brought financial returns, but more importantly was a foreign policy force multiplier. Russia President Vladimir Putin's use of arms sale diplomacy is reflected in diplomatic visits. Prior to the invasion of Crimea in 2014, which hurt Russia's diplomatic relations, countries importing Russian arms or exporting to Russia accounted for 65 percent of Putin's diplomatic visits in 2011, 47 percent in 2012, 70 percent in 2013, and 79 percent, in 2014.
However, due to the Russian-Ukraine War, internal defense sector inefficiencies, equipment loss and replacement, and the restrictive sanctions regime, Russia will lose relevance as a supplier to this market. As the United States and its allies do not participate in the value market because of small transaction values and human rights concerns regarding some clients, Russia's withdrawal provides China – the fourth largest global arms exporter from 2017-2021, exporting to over 50 countries – a major opportunity.
In the current era of great power competition, the U.S. is therefore faced with the conundrum of having friendly countries in the Global South whom it cannot supply with weapons. Moreover, the U.S. cannot prevent China from supplying arms to these partners, and thereby acquiring access to defense forces and policy elites. To resolve this problem, we argue the United States should create a multi-national defense complex of friendly countries that manufactures arms for the value market. The U.S. should also facilitate market access by leveraging economic and diplomatic ties and demonstrate commitment to sustainment of arms through collaborations with manufacturers.
Russia's Position in the Value-Arms Market
Russia inherited the use of weapons exports as a medium of foreign policy from the Soviet Union, which used exports to advance interests in developing countries and with pro-Soviet rebels. A unique characteristic of Russia's defense equipment exports is it simultaneously caters to two market segments: expensive, high-end equipment, where it competes with France, Britain, the U.S., and others, as well as the "value arms." Russia's defense cooperation is paralleled by investments in the energy and mineral sectors.
Sales in the value market amplify Russia's influence in sub-Saharan Africa far more than what Russia's economic clout would permit in comparison to China, the U.S., and European countries. Sales in Latin America extend Russia's influence beyond Cold War partnerships with Cuba, Peru, and Nicaragua to Venezuela, Bolivia, and Ecuador, as well as economic powers like Brazil and Argentina. Russia and Nicaragua's June 2022 declaration allowing the hosting of Russian troops revealed such diplomacy. Additionally, Russia wants to deploy troops and "military infrastructure" in Venezuela and Cuba.
Russia is also Southeast Asia's largest weapons supplier. However, according to a May 2022 report, regional sales declined since Russia occupied Crimea in 2014. Russia's dependency on China after the 2022 invasion may allow China to block Russian sales of equipment to rivals Vietnam and India, further reducing Russian sales.
Why China Is Poised to Take Over This Market
China is a major value market supplier, exporting lower cost items such as trucks, armored vehicles, human portable weapons, artillery, unmanned aircraft systems (UAS), air defense, naval vessels, and sensors. It is increasingly delivering higher end systems (such as 36 J-10C fighters to Pakistan and HQ-22 surface-to-air missiles to Serbia). China is a top five global arms exporter since 2012. Despite declines in annual sales during the period, China has the potential to expand its market presence.
China is either the top or second highest supplier to Russia's top three defense customers in sub-Saharan Africa – Angola, Nigeria, and Uganda. Similarly, excluding Chinese rivals India and Vietnam, China is now the top vendor for two of Russia's top three Asian clients, Myanmar and Bangladesh. Only in Indonesia were Russian exports supplanted by arms from South Korea, the U.S., and Britain.
China's sales strategy with the value market is two-fold: to be an alternate to manufacturers from the U.S. and its allies, but also to replace Russian supplies. China's reticence to take on Russia is due to China's own dependence on Russian high-tech defense imports, a hindrance that is diminishing.
China primarily exports to Asia, which accounted for 77 percent of its arms sales. Sales to Pakistan constitute 38 percent of China's exports in Asia, though China has diversified to Bangladesh, Myanmar, Thailand, and Indonesia. Pakistan's reliance on Chinese weapons and Chinese sales to Bangladesh entrench clients on opposite sides of regional rival India, a beneficial political dynamic. If China overcomes regional tensions and distrust, the market opportunity is substantial.
China increasingly exports to Africa, with Chinese arms sales to the continent experiencing 55 percent growth between 2012-2017, though Chinese exports are a small percentage of regional imports. More importantly, Chinese sales are concentrated in sub-Saharan Africa, which are typically undisclosed and for smaller financial amounts compared to lucrative North African deals. North Africa represents 88 percent and 86 percent, respectively, of U.S. and Russian African defense exports. Russian export troubles, consequently, may enable China to compete in North Africa while retaining volume base sales in sub-Saharan Africa.
China's Latin American market share is limited. Venezuela was the largest Chinese importer, signing agreements for a more than $500 million deal for armored personnel carriers and self-propelled artillery in 2012. Chinese sales in Argentina, Bolivia, and Peru range from ocean patrol boats to multi-role fighters (JF-17). Although Russia's arms sales to Latin America represented just 0.8 percent of Russia's total global sales from 2015-2019, Russian potential sales of aircraft and helicopters extend from Mexico to Argentina. Thus, while China struggles to export aircraft and high-end systems to the region, Russia's retreat may open market opportunities for China.
Despite current hurdles, China is positioned to expand regional arms exports and reap political and financial benefits that could have long-run security implications for the United States. Chinese economic influence in Latin America is already significant: It is the largest trading partner of the three largest economies, Brazil, Argentina, and Chile. Chinese K-8 and Y-8 aircraft and mobile radar systems exported to Venezuela are currently undermining U.S. efforts to restrict weapons acquisitions by regional authoritarian regimes. China could incentivize regional countries to "stay neutral" and deny access to the U.S.
Possible Policy Options for the United States
U.S. policies could emphasize the United States as a security partner and utilize its whole of government tool kit to prevent China from acquiring a dominant position in the value arms market. Its policies can (a) facilitate market access for products manufactured by partners and allies; and (b) support development of value market products by friendly countries.
Facilitating Market Access for Friendly Countries
Market access policies could encourage exports of affordable drone systems by partners and allies as alternatives for Chinese products. China is now the world's leading exporter of combat UAVs. Its customers include U.S. partners and allies like Egypt, Iraq, Saudi Arabia, UAE, Nigeria, Algeria, Pakistan, and Ethiopia. Encouraging these partners to buy from U.S. allies would avoid restrictions imposed by the Missile Technology Control Regime upon U.S. exports of combat drones, although recent loosening permits the U.S. to export the high-end, expensive MQ-9 Reaper drones.
Turkey could enter value markets with combat drones such as the Bayraktar TB2 and the new Akinci. India's private manufacturers are also increasing production of drones, which are used by Indian security forces. One report highlights the SWITCH drone by ideaForge, the Hermes 450 and 900 made by a joint venture of India's Adani Defense & Aerospace with Israel's Elbit Systems JV, and SkyDeck, a cloud-based software to enhance information collection and analysis by Asteria Aerospace.
Similar access to markets could be facilitated for South Korea's Black Panther main battle tank and the K9 self-propelled howitzers. Variants of the K9 are being exported to U.S. partners and allies like Poland, India, Turkey, Finland, Norway, Estonia, Australia, and Egypt. India is importing the K9 because it outperformed the Soviet-Russian 2S19 Msta, and India's Larsen and Toubro will be manufacturing 50 percent of the local variant K-9 Vajra.
Indian defense analyst Rohit Vats noted India is now manufacturing howitzers like the 155 mm Dhanush, a licensed improvement of the Swedish Bofors FH-77B with a longer range and higher caliber.  India's Kalyani Strategic Systems Limited is manufacturing several 155mm/39 caliber towed and truck mounted howitzers in alloy and steel versions as well as a 105mm/37 caliber soft-recoil truck mounted howitzer called Garuda.
Supporting Product Development and Sustainment
The U.S. should facilitate market access for partners and allies by signaling support for platforms and services. For example, Lockheed Martin's partnership with Korea Aerospace Industries to develop new upgrades for the KAI T-50 signals U.S. commitment to buyers. The U.S. can also signal support for maintenance and sustainment of aircraft such as India's Light Combat Aircraft with GE engines and the Czech-manufactured Aero L-39NG with a William International/Rolls Royce FJ44 engine. These aircraft are comparable to the Chinese Hongdu L-15, JF-17, and the Russian Yak-130. China's JF-17 was the closest competitor with India's LCA for competitions in Argentina and Malaysia.
On this note, one way to bypass strict onerous export controls to save time would be to export platforms stripped of export-controlled subsystems to friendly countries, which could then install indigenously manufactured subsystems for export variants of jointly manufactured products.
A hindrance to supplying the value market is many U.S. competitors enjoy government support. Domestic regulations preventing subsidization of weapons manufacturing – implying an unfair role of the government in picking winners, bringing the potential for corruption – is avoidable by allowing subsidization after an export customer selects U.S. products.