How Far Could the Quad Support Taiwan?
The Quad is supposed to help counterbalance China's rise, but it remains unclear whether the bloc would intervene in the event of a Taiwan Strait conflict.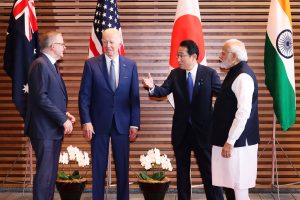 With Beijing stepping up its military clout in the Indo-Pacific, the geopolitical challenge has weighed heavily on regional countries, including Taiwan and the members of the Quadrilateral Security Dialogue (Quad): Australia, India, Japan, and the United States. Both Taiwan and the Quad have reasons to enhance ties with each other as China is pursuing regional hegemony and could pose a long-term challenge to the rules-based international order.
Indeed, there is a strong possibility of Beijing's overthrowing regional powers and establishing supremacy in the Indo-Pacific if regional stakeholders fail to address its aggression. For Taiwan specifically, China is far more likely to pursue threats and intimidation if leaders in Beijing view the Quad's reluctant response in counterbalancing China as a concession seeking to improve and stabilize the relationship between the group and China.
The Quad should remain cautious when it comes to predicting China's behavior. Essentially, it is unrealistic to anticipate any concession from China when it comes to its so-called core interests, with Taiwan at the forefront of that list. Chinese President Xi Jinping has asserted that "unification" with Taiwan "is a historic mission and an unshakable commitment of the Communist Party of China." Beijing's provocative actions in the Taiwan Strait, such as ramping up military aircraft incursions into Taiwan's air defense identification zone and having warships sail through the Taiwan Strait, are meant to showcase China's capability to project its military might abroad and forewarn regional powers about support for Taiwan.
Additionally, Russia's war against Ukraine could encourage China to pursue outright aggression. That possibility, though slim, should not be overlooked. Hence, the deep freeze between Taiwan and China will likely continue or even intensify, moving from a long impasse into confrontation or military conflagration, with little prospect for improving the bilateral relationship.
Since liberal democracy is one of the leading shared values among Quad members, the security of Taiwan, the top "full democracy" in Asia and eighth-ranked globally, according to the Economist Intelligence Unit, should be among the top concerns of the group. Reasonably, if Beijing is successful at taking Taiwan by force, the overthrowing of Taiwan's democracy would display the triumph of China's authoritarian model and possibly cause a Ukraine-like crisis in Asia. In essence, bolstering the security of Taiwan would help the Quad achieve its "promise" of supporting democracies in the Indo-Pacific and counterbalance China's aggression.
Fortified ties among the Quad members could make China rethink its intention of invading Taiwan. The grouping has enhanced ties within itself by strengthening diplomatic relations, facilitating trade expansion, and cooperating on an intelligence-sharing network among members. To "promote stability and prosperity" in the Indo-Pacific region, the bloc has sought to strengthen its surveillance capabilities of Chinese actions, notably with enhanced regional infrastructure and an updated maritime monitoring program. Following the latest attempts to bolster collaboration in "practical areas," such as COVID-19 vaccines, infrastructure aid and investment, maritime domain awareness, climate change, and critical technologies, the Quad has the potential to become a counterweight to Beijing's growing economic and military power.
Yet, there remain deficiencies in the Quad's efforts when it comes to the issue of counterbalancing China's coercion. Despite its branding as an informal framework for consultation and its commitment to become "a force for good" aimed at "bringing tangible benefits to the region," the Quad is not a formal alliance or an Asian NATO, as it lacks a worthwhile "muscular policy." Additionally, the Quad has drawn criticism from some observers who believe it is more symbolic than substantive, and China first referred to it as "sea foam" that would dissipate.
So, how far the Quad can support Taiwan in the event of a military crisis or conflict is worth exploring, especially as China has warned of serious consequences should U.S. House Speaker Nancy Pelosi forge ahead with a planned trip to Taiwan.
Will the Quad Be Willing to Back Taiwan?
The Quad's perceptions on support for Taiwan are far from united. In May, Japanese Prime Minister Kishida Fumio underlined that "peace and stability in the Taiwan Strait is critical not only for Japan's security but also for the stability of international society." He also urged a coordinated response from the bloc to oppose China's attempt to "change the status quo by force." Recently, Japan's 2022 Defense White Paper hailed Taiwan as Tokyo's "extremely important partner" while stressing that the security surrounding Taiwan "must be closely monitored with a sense of urgency."
On its part, U.S. President Joe Biden has pledged to defend Taiwan militarily if China were to invade Taiwan, despite the U.S. officially maintaining its stance on the "One China policy." Following the Taiwan Relations Act, the U.S. would most likely help Taiwan by at least granting it the "military means to defend itself." At the Shangri-La Dialogue, U.S. Secretary of Defense Lloyd Austin condemned Beijing's provocative activities near Taiwan, and underscored Washington's commitment to "resist any use of force or other forms of coercion that would jeopardize the security or the social or economic system of the people of Taiwan." And U.S. Navy warships have recently sailed through the Taiwan Strait to showcase its support for Taiwan and demonstrate Washington's "commitment to a free and open Indo-Pacific" region.
To express his support for Taiwan, Australian Prime Minister Anthony Albanese recently confirmed that "there is no change in Australia's position" with regard to Taiwan's security. In the forthcoming time, Canberra is likely to walk the talk. Ties between Australia and China have worsened, mainly due to China's economic coercion of Australia, leading to Canberra's closer engagement with the Quad and AUKUS, a security pact between Australia, the U.K., and the U.S. Meanwhile, there has been an increase in economic and trade ties between Canberra and Taipei alongside Australians becoming more in favor of Australia defending Taiwan. Yet, Australia's commitment to the "One China policy" may still act as a roadblock that could prevent Canberra from engaging militarily in a potential Chinese invasion of Taiwan.
And then there is India, the only member country that has yet to publicly endorse Taiwan to join the Quad. For India, Taiwan's importance is more economic than political. In the eyes of Indian leaders, New Delhi would be adversely affected if it abandoned its developmental partnership with China. Intrinsically, India and China – both members of the BRICS platform for developing powers as well as the Shanghai Cooperation Organization (SCO), an Asian security grouping – "advocate for the reform of global economic institutions" while sharing "a common vision for a multipolar global order." True to form, it is unlikely that India will support Taiwan verbally at the cost of undermining New Delhi's ties with Beijing.
Up to now, Taiwan is still far from the top item on the Quad's agenda. When the Quad does offer any support for Taiwan, it tends to be the consequence of deteriorating relations with Beijing. To the grouping, China's ascendance toward global power is likely more of a concern than Beijing's occupation of Taipei. Instead of an agreement-based standpoint, the Quad retains a broad-based outlook on the island. There is little real reason to hope to witness formal cooperation between the Quad and Taipei under a "Quad plus Taiwan" format.
Regardless, Taiwan has affirmed its pivotal role in the Indo-Pacific, both politically and economically. Besides serving as a democratic middle power in the Asia-Pacific and a strategic hub connecting the Indian and Pacific Oceans, Taiwan has risen to be a significant partner of the Quad, especially in terms of economic cooperation. As a major hub of high-tech manufacturing in the world, Taiwan could be a crucial part of the "Supply Chain Resilience Initiative" proposed by India, Australia, and Japan "to address supply chain disruptions in the Indo-Pacific region." Taiwan's vital role as a "critical node" within the global semiconductor supply chain is also of strategic importance to the Quad amid the grouping's deteriorating ties with China. Due to its strategically important role, the Quad has good reason to support Taiwan.
What Is Next for the Quad on the Taiwan Issue?
Given the importance of Taiwan in the regional theater, it is imperative for the Quad to treat China's intimidation of Taiwan as a catastrophic scenario that could affect the entire world rather than just the Taiwan Strait. Proactive actions should be taken by the four powers, including concerted attempts to turn the Quad into a legalized and institutionalized mechanism as well as develop concrete strategic synergy and defense cooperation with Taiwan.
In return, Taiwan should strengthen its self-defense capabilities and prove itself as a crucial diplomatic card in the region by astutely persuading the Quad to initiate dialogues and communications with the island democracy.  Additionally, Taiwan needs to play a proactive role in the Indo-Pacific, perhaps by leveling up its soft power engagement with regional countries through upgrading the current New Southbound Policy to the 2.0 version and enhancing ties with like-minded middle powers, such as New Zealand, Indonesia, Malaysia, and Vietnam.
Given these recommended actions for both sides, both the Quad and Taiwan would also be able to uphold the regional balance of power while preventing a "power vacuum," something which China could take advantage of to not only exert its coercive influence over Taiwan but also intimidate other relatively smaller Indo-Pacific nations. By and large, the security of Taiwan should not be taken for granted; a mistake would be a careless decision with massive consequences. Amid values-based and geostrategic divides between democracies and autocracies, both the Quad and Taiwan bear the responsibility of forging mutual cooperation to make deterrence relevant.