Imran Khan Pushing Hard for Early Elections
Pakistan's former PM is confident that free and fair polls would bring him back to power.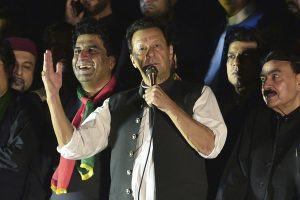 Pakistan Tehreek-e-Insaf (PTI) Chairman and former Prime Minister Imran Khan has been charged under the country's anti-terrorism act for making threatening comments against top police officials. He is also expected to appear before a court on August 31 to face contempt proceedings for threatening a female judge.
Besides, the Election Commission of Pakistan (ECP) has issued a show-cause notice to Khan in relation to his party receiving funds from prohibited sources and asked him to appear before the electoral regulator. If convicted under the anti-terrorism act, or in the contempt of court or prohibited funding cases, Khan could face disqualification from politics for life.
These cases are an indication that Pakistan's coalition government, with the support of state institutions, has decided to deal with the political challenge posed by Khan. Rejecting Khan's demands for an early general election, the Shehbaz Sharif government has made it clear that it will hold the election only as per schedule next year.
This is something that Khan is not ready to accept.
After charging his electoral base in the last few months with all sorts of hyper-nationalist and foreign conspiracy claims, Khan now believes that free and fair elections at this stage could bring him back to power. In his quest to get elections held soon, he has targeted anyone and everyone who he thought was trying to undermine his plans.
This stubbornness has got to a point where Khan is now trying to use his political capital to undermine the country's already battered economy to get early elections. Reports indicate that Khan has directed the PTI government in Khyber Pakhtunkhwa (KP) to stall the International Monetary Fund (IMF) deal. Ahead of the IMF's board meeting, scheduled for 29 August, which is expected to give the final note to the revival of Pakistan's stalled bailout package, KP Finance Minister Taimur Khan Jhagra has made it clear to the federal government that it "will be next to impossible" to provide a provincial surplus this year.
It is important to note that the requirement of a provincial surplus was a condition agreed upon with the IMF for the revival of the bailout program. A senior PTI leader Fawad Chaudhry has even explicitly said that PTI-run provincial governments will disrupt the IMF deal if fresh elections are not announced.
It is pertinent to mention that legal cases against Khan have started growing quickly after months of zero action. The cases have also coincided with arrests of PTI leaders, including Khan's chief of staff and pro-PTI media persons. This is perhaps an indication that all back channel efforts to keep Khan at bay failed to produce desired results. One of the reasons for that is that the PTI chairperson is not ready to trust those people who he believes were involved in throwing him out of power in the first place.
In the coming weeks, if Khan feels he is being isolated politically or legally, he may go one step further and dissolve the Punjab and KP provincial assemblies. A free and fair election in these two provinces would surely bring PTI back to power.
However, it is unlikely that Khan's party will get elections in these two provinces even if he decides to dissolve the assemblies. The ECP, if directed by powerful institutions, could come up with countless reasons to stall the electoral process. Moreover, the coalition government could end up finding some loopholes in the constitution to impose governor's rule while the courts could offer legal backing to any such effort.
If these efforts on the part of the PTI chairman fail to culminate in fresh elections, he can be expected to draw on his massive public appeal and take to the streets. All these moves will gain clarity in the coming four to five weeks as the country moves closer to November – the month when the next Army Chief will be appointed.
Pakistan appears only weeks away from a major political and constitutional showdown.