Pakistan to Hold General Elections in Late January
The announcement puts to rest speculation that the election, which was due to be held in November, would be indefinitely postponed.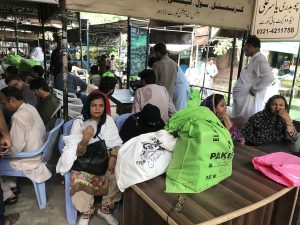 Pakistan's election oversight body announced on Thursday that it will hold the next parliamentary elections in the last week of January, delaying the vote that was to be held in November under the constitution.
However, the announcement by the Election Commission of Pakistan has ended uncertainty about the fate of the vote. Earlier, some political parties had feared that the election could be delayed for an indefinite period.
Pakistan has been in deepening political turmoil since April 2022, when then-Prime Minister Imran Khan was removed from office through a parliamentary vote of no confidence.
Khan was arrested in early August on corruption charges and imprisoned after a court convicted and sentenced him to three years in prison. Khan and his Pakistan Tahreek-e-Insaf (PTI) party have been demanding that the elections be held in November to meet a constitutional requirement.
On Thursday, Farrukh Habib, a senior leader from Khan's party, opposed the delay in the vote. Pakistan's president, a close ally of Khan, said earlier this month that elections should happen on November 6.
Pakistan's electoral map is being redrawn to reflect the latest census. In a brief statement, the Election Commission said a final list of constituencies would be published on November 30.
The Election Commission will announce the exact date of the vote later.
In August, Pakistan's President Arif Alvi on the advice of former Prime Minister Shehbaz Sharif dissolved parliament at the completion of its five-year term, normally the trigger to start the process of holding elections within 90 days. The vote was to take place in October or November but it was delayed after the Election Commission said it needed more time to redraw constituencies to reflect the recent census.
Sharif resigned last month when parliament completed its term.
Currently, caretaker Premier Anwaar-ul-Haq Kakar is running the day-to-day affairs of the government.
Kakar said Khan's PTI party had not been banned and it could field candidates in the election.
Since August, Khan, a highly popular 70-year-old former cricket star, has been held at the Attock prison in eastern Punjab province. He was convicted of concealing assets he amassed by selling state gifts and sentenced to three years in prison.
Khan himself will not be able to run in the election unless his conviction is overturned. Pakistan bars anyone with a criminal conviction from leading a political party, standing in elections, or holding public office.
Khan's political rivals, including the parties of former President Asif Zardari and former Premier Sharif, are likely to face a tough contest in the next elections. Sharif succeeded Khan after his removal in 2022 but failed to improve the ailing economy, though he was able to save Pakistan from a possible default.
Pakistan is currently facing one of the worst economic crises in its history, which has sparked anti-inflation protests.
On Thursday, thousands of followers of a religious political party, Jamaat-e-Islami, staged a sit-in in the eastern city of Lahore to protest against a recent increase in electricity and fuel prices, urging the government to reverse the move.
Pakistan is currently also facing a surge in militant attacks, mostly blamed on the Pakistani Taliban.
On Thursday, the military in a statement said troops killed eight insurgents in a pair of raids in the northwest bordering Afghanistan. It did not share the identity of the slain men, but most of the previous raids have targeted Pakistani Taliban who are a separate group but allies of the Afghan Taliban, who seized power in Afghanistan in 2021.
Authorities have warned that militants could target politicians during upcoming election rallies.