Yoon Suk-yeol Maintains the Status Quo on North Korea
South Korea's policies toward Pyongyang differ less from administration to administration than is often assumed.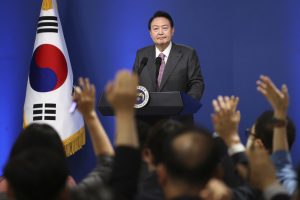 When Yoon Suk-yeol became the 20th president of the Republic of Korea, many onlookers predicted he would alter its approach to North Korea. These approaches, traditionally based on peaceful co-existence, denuclearization, and economic overtures, have endured since Roh Tae-woo became the first leader of the Sixth Republic. Yoon's speeches, so far, indicate that his government is likely to continue treading a similar path.
While campaigning for the South Korean presidency, Yoon was framed as a "hawk" who would emphasize deterrence and a security build-up to deter North Korea. Such assessments of Yoon fail to explain his many continuities with previous governments regarding North Korea, including his desire to interact economically with the North as a means of incentivizing denuclearization. Hints regarding Yoon's approach to North Korea were evident in his inauguration speech, where he suggested, "If North Korea genuinely embarks on a process to complete denuclearization, we are prepared to work with the international community to present an audacious plan that will vastly strengthen North Korea's economy and improve the quality of life for its people."
Further allusions to this approach were apparent when Yoon gave his first Liberation Day Speech as president on August 15. Instead of presenting a more aggressive policy regarding an increasingly belligerent North Korea, which has been testing many ballistic missiles this year, Yoon's speech closely mirrored what previous administrations had been promulgating.
The most well–discussed element of Yoon's speech was his vision of an "audacious initiative" that will improve North Korea's economy and North Koreans' livelihoods if Pyongyang ceases "the development of its nuclear program and embarks on a genuine and substantive process for denuclearization." If this occurs, Yoon pledged that South Korea would implement a
large-scale food program; provide assistance for power generation, transmission and distribution infrastructure; and carry out projects to modernize ports and airports for international trade. We will also help enhance North Korea's agricultural productivity, offer assistance to modernize hospitals and medical infrastructure, and implement international investment and financial support initiatives.
Such statements will undoubtedly raise eyebrows for anyone supportive of continued sanctions against the Kim Jong Un regime.
North Korea's response is also unsurprising, given the Kim regime has never seriously considered abandoning its nuclear weapons. Kim Yo Jong, Kim Jong Un's sister, gave a statement that rejected Yoon's proposal, including telling the South Korean president to "keep his mouth shut."
However, do not expect Yoon to change tack any time soon. Attempting to entice North Korea's denuclearization with economic carrots has been a norm of South Korean governments for decades. Acknowledging this position, rather than being surprised by speeches, would be more beneficial for analyzing South Korean policymaking.
Regardless of their ideological underpinning, South Korean leaders have been telling anyone who would listen that North Korea's denuclearization will lead to economic cooperation and South Korea's eventual economic integration with the North. This has been a primary goal in developing peaceful co-existence on the way toward unification.
In previous President Moon Jae-in's first Liberation Day speech, in 2018, he noted, "When peace is established on the Korean Peninsula along with complete denuclearization, economic cooperation can be carried out in earnest. When the dreams of a peace-based economy and economic community are realized, our economy can take a new leap forward." Furthermore, the Moon administration promoted a policy strategy based on "Reconciliation and Cooperation between the two Koreas and Denuclearization of the Korean Peninsula." Included in this was realizing a "New Economic Map" and the economic unification of the Korean Peninsula.
The previous two conservative governments also presented similar ideas. Park Geun-hye's 2016 Liberation Day Speech noted, "North Korea has yet to take up our repeated offers to engage in dialogue, and is undermining peace and running counter to the cause of integrating the two Koreas. North Korea is threatening our security and that of the international community by continuing to develop its nuclear capabilities and launching cyber-attacks." Even while showing a penchant for a harsher critique of the northern regime, Park added, "If, however, North Korea chooses the path of dialogue and cooperation, it will be able to seize an opportunity to improve the lives of its people and lift up its economy."
In the aftermath of North Korea's attack on the ROKS Cheonan, a South Korean corvette, in 2010, Lee Myung-bak noted the following in his Liberation Day Speech that year:
In order to achieve that goal, the two Koreas first need to form a peace community that assures security and peace on the peninsula. What is most important in this connection is the denuclearization of the peninsula. The next step is to carry out comprehensive inter-Korean exchanges and cooperation with a view to developing the North's economy dramatically. The result will be an economic community in which the two will work for economic integration.
Going further back in South Korean political history, Kim Dae-jung and Roh Moo-hyun helped develop and then opened the Kaesong Industrial Complex and the Mount Kumgang Tourist Region in hopes of attracting change in North Korea. One of the desired changes was, of course, the denuclearization of North Korea.
South Korea's North Korean policies are much less divisive from administration to administration than is expressed in many studies. Continuity rather than change is what colors policy decisions, with any noticeable changes mainly being based on leaders placing emphasis or importance on particular decisions vis-à-vis North Korea. In other words, North Korean policy changes less than expected.
Yoon's North Korean policy is neither particularly hawkish nor novel. Instead, it should be viewed with an eye to South Korean political history. When considered in context, it is evident that his policy decisions represent continuity with the past, showing that the Yoon administration is treading a well-known path. Understanding that denuclearization will spill-over into economic interactions has support in the discourse of the Korean left and Korean right and are essential when trying to understand South Korea's policy choices regarding North Korea.