History Overshadows Japan-South Korea Rapprochement
Why are Japan and South Korea, both U.S. allies and East Asian democracies, continuously at odds over everything from their territorial dispute to wartime labor compensation?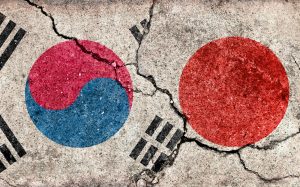 Japanese Prime Minister Kishida Fumio and South Korean Prime Minister Han Duck-soo agreed Wednesday that the two nations need to "restore healthy ties" as part of what is called "funeral diplomacy" after the state funeral of former Japanese Prime Minister Abe Shinzo in Tokyo.
The latest move came just one week after Kishida and South Korean President Yoon Suk-yeol agreed in New York that the two nations are important neighbors that need to deepen their cooperation to deal with North Korea's growing missile and nuclear threats. They also pledged to continue discussions toward an early resolution of the long-standing thorny issue of compensation for forced labor during Japan's 1910-45 colonial rule of the Korean Peninsula.
Having a very limited amount of time to meet in both New York and Tokyo, the leaders of the two nations apparently avoided going into detail on how to resolve the issue of wartime forced labor this time around. But the devil is in the details: The more negotiations progress, the more challenging it is.
Relations between the two nations dropped to their lowest point in decades during the administration of Yoon's predecessor, Moon Jae-in, after South Korean courts ordered in 2018 that two Japanese companies – Nippon Steel and Mitsubishi Heavy Industries – must pay compensation for wartime forced labor.
The Japanese government refused to comply with the South Korean court rulings, arguing that all compensation issues were resolved under the 1965 basic treaty that normalized ties between the two nations. The treaty included a payment of $500 million from Tokyo to Seoul, which was about 1.5 times South Korea's national budget at that time, a lump sum supposed to cover all compensation stemming from historical issues.
To solve this intractable issue, Seoul is now reportedly considering compensating up to 300 South Korean victims by paying each 100 million won ($70,000) through the Foundation for Victims of Forced Mobilization by Imperial Japan, a public service corporation established by South Korea's government in 2014. Japanese and South Korean companies are expected to contribute some funding to the foundation voluntarily, but it is unclear whether the Japanese government and Japanese companies accept this idea.
South Korean steelmaker POSCO invested 6 billion won ($4.2 million) in the foundation because it had benefited from Japan's economic assistance based on the 1965 bilateral agreement on the provision of financial aid to Seoul, known as the 1965 Japan-Korea Claims Agreement in short.
The liberal opposition Democratic Party of Korea (DPK), which holds a majority in South Korea's 300-member National Assembly, takes a hard-line stance against Japan on historical issues. It was the ruling party during Moon's administration. So the Yoon administration is trying to use the existing legal framework involving the foundation to avoid having to pass any special law for compensation amid powerful opposition.
One of the biggest problems in the case of wartime labor conscription is that most South Korean liberals tend to regard the basic treaty of 1965 and the accompanying Claims Agreement as an "unequal treaty" that was concluded under strong pressure from the United States to form a united front against communism. In addition, they think Seoul started negotiations with Tokyo at a disadvantage as there was an overwhelming gap in national power between the two nations at the time.
Since South Korea has been steadily gaining confidence in national power over the past 57 years, they have a sense of dissatisfaction that the nation has yet to "revise" the unequal 1965 treaty, including the issue of the claims of former forced laborers.
Meanwhile, many Japanese, especially those on the right wing, think then-South Korean President Park Chung-hee – and not Tokyo – should be blamed for the lack of financial compensation for individual victims. The Park administration received huge sums in reparation money from Tokyo. If that money never made it to the victims, many Japanese think Seoul has nobody to blame but Park, who disrespected the rights of the individual during his military dictatorship.
But there is more to this history on Japan's side as well. Japan's efforts to deal with the past got off to a bad start soon after World War II. The U.S. occupation forces quickly absolved Emperor Hirohito of responsibility for the war, especially any personal moral responsibility as wartime head of the nation. This was a calculated ploy to better control the Japanese. Otherwise, postwar Japan would have become just like Iraq after the Iraq War, with the U.S. being dragged into a quagmire by guerrilla warfare.
Moreover, when Washington began to "reverse course" toward Japan, now caring more about countering communism, the United States released from Sugamo Prison many suspected war criminals, including political and business leaders. Among those released were the godfathers of Japan's right-wing, Sasakawa Ryoichi and Kodama Kiyoshi, as well as Kishi Nobusuke, who served as minister of commerce and industry during Tojo Hideki's militaristic administration.
Kishi, who became prime minister in 1957, was the grandfather of Abe Shinzo, who was assassinated on July 8. Pro-U.S. conservative prime ministers such as Yoshida Shigeru, Kishi, Sato Eisaku, Nakasone Yasuhiro, Koizumi Junichiro, and Abe were all strongmen for the U.S., staying in office longer than usual under the tutelage of Washington. By contrast, pro-China premiers such as Tanaka Kakuei, Hashimoto Ryutaro, and Hatoyama Yukio remained in office for much shorter periods of time.
Thus, for Japan to seriously probe past wrongs would lead to criticism of previous policies of the United States, Japan's one and only ally, and undermine the legitimacy of the imperial family. For any Japanese journalist to touch upon the emperor's war responsibility requires extraordinary courage, indeed. One so daring would have to be ready for attacks from fanatical right-wing groups.
Moreover, many Japanese feel that they have already repeatedly apologized and expressed regret. In addition, although South Korea, China, and others waived war reparations and Tokyo has no legal obligation to compensate war victims, including forced laborers and comfort women, more than a few Japanese have tried to make efforts to compensate in some way for their ancestors' crimes.
For example, under the 2015 Comfort Women Agreement, which was reached by then-Japanese Foreign Minister Kishida Fumio and his South Korean counterpart, Yun Byung-se, the Japanese government provided 1 billion yen ($7 million) to a Reconciliation and Healing Foundation established by the South Korean government. The foundation provided financial support to 35 out of the 47 former comfort women who were alive at the time of the agreement, and to the bereaved families of 64 out of the 199 former comfort women who were deceased at the time, according to Japan's foreign ministry. But in 2018, the Moon administration unilaterally announced it would dissolve the foundation by saying the 2015 agreement had failed to properly reflect the wishes of the victims and could not lead to a true resolution of the issue.
With both Kishida's and Yoon's approval rates plummeting, dogged by one domestic scandal after another, their administrations may have little political maneuvering room to push ahead with the forced labor issue. History continues to overshadow Japan-South Korea rapprochement.