Is China Breaking With Russia Over Ukraine?
China's position has subtly shifted since the Russian invasion began, but the partnership with Russia is too important for Beijing to truly abandon its ally.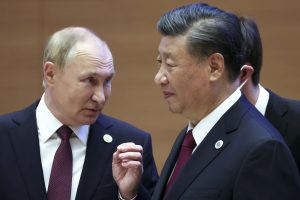 During Chinese President Xi Jinping's first trip abroad since January 2020, the most closely watched development was not his interactions with officials from his host countries, Kazakhstan and Uzbekistan. Rather, the world's attention was on his meeting with Russian President Vladimir Putin on the sidelines of the Shanghai Cooperation Organization summit in Samarkand – the first in-person meeting between the two since Russia's large-scale invasion of Ukraine began on February 24.
The last time Xi and Putin shook hands was on February 4 in Beijing, where Putin was attending the Opening Ceremony of the Winter Olympic Games. Back then, their joint statement famously declared that "friendship between the two States has no limits."
Much has changed since the first week of February. Most notably, Russia is actively at war with Ukraine after sending masses of troops across the border just three weeks after the Putin-Xi meeting in Beijing – and the war is going badly for Moscow. Meanwhile, Russia is under unprecedented sanctions from the U.S., European Union, Japan, Australia, and others, and China's perceived support for Putin is taking a steep toll on Beijing's image in Europe.
Given that, how has Xi's rhetoric in his meetings with Putin shifted?
One thing has not changed: Xi and Putin are still positioning their countries as close partners. "In the face of changes of the world, of our times and of history, China will work with Russia to fulfill their responsibilities as major countries and play a leading role in injecting stability into a world of change and disorder," Xi told Putin, according to the Chinese Foreign Ministry readout. As my colleague Catherine Putz noted, Xi and Putin are aligned in seeking to replace the U.S.-led world order with a new, more "democratic" and "just" one. This basic interest has not changed, and there is no explicit indication of Chinese displeasure with Russia in the Chinese summary of the meeting.
That said, what is not said is instructive. Gone are the explicit mentions of Russia and China working together to reshape the current international system – cooperation on "the development of the international order and global governance towards a more just and reasonable direction," as Xi put it in his June 15 phone call with Putin. China still undoubtedly wishes to redirect the evolution of the global order, but has decided not to trumpet that it is working with Russia to do so (at least for now).
In that context, returning to Xi's quote from above, we can read it as a subtle critique: When Xi said  "China will work with Russia to fulfill their responsibilities as major countries and play a leading role in injecting stability into a world of change and disorder," he may be implying that Russia is not currently fulfilling its responsibility as a major country or contributing to global stability. That's debatable, of course, but it is notable that this time around Xi refrained from explicitly mentioning Beijing and Moscow's joint efforts to reshape the world order to their liking.
In the same vein, the September 15 meeting is largely quiet on strategic cooperation between China and Russia. While Xi acknowledges "effective strategic communication" between the two, that is a qualitative shift from his promise back in June that "China is willing to work with Russia to continue… deepening their strategic coordination." Instead, in this week's meeting Xi pointedly emphasized more anodyne fields of cooperation, like sports exchanges and people-to-people relations. The only fields where he specifically said China is seeking to "deepen practice cooperation" are "trade, agriculture, connectivity, and other areas," with "other areas" left to the imagination.
Compare the deep silence on strategic cooperation to this quote from their February 4 meeting: "China and Russia have stayed committed to deepening strategic coordination of mutual support… The two countries have never and will never waver in this choice."
Xi did emphasize that "China will work with Russia to extend strong mutual support on issues concerning each other's core interests," which could be read as a reference to Ukraine. But the only "core interest" that is explicitly named is Taiwan and the One China principle, with Russia restating it is "firmly committed to the One China principle and condemns the provocative moves by individual countries on issues concerning China's core interests," an obvious reference to U.S. engagement with Taiwan in recent weeks. There is no corresponding statement of support from China on Ukraine, not even oblique references to "Russia's legitimate security concerns" that featured in previous conversations.
To the contrary, the Russian readout of the Putin-Xi meeting referenced China's "balanced position in connection with the Ukraine crisis." Tellingly, according to the Kremlin transcript, Putin then told Xi, "We understand your questions and your concerns in this regard."
The admission from Putin that China has raised "questions and concerns" regarding the war in Ukraine is telling. But equally notable is that China did not mention those concerns  itself. Instead, China prefers to pretend the war is not happening – Ukraine was not mentioned at all in the official readout from the Chinese Ministry of Foreign Affairs.
In the readout of the June 15 Putin-Xi call, by contrast, China's Foreign Ministry noted that "The two heads of state also exchanged views on the Ukraine issue. Xi emphasized that China has always independently assessed the situation on the basis of the historical context and the merits of the issue, and actively promoted world peace and the stability of the global economic order."
And in a call on February 25, the day after the invasion began, Xi told Putin that "China determines its position concerning the Ukrainian issue on its own merits. It is important to reject Cold War mentality, take seriously and respect the reasonable security concerns of all countries and reach a balanced, effective and sustainable European security mechanism through negotiation."
Taken together, from February to June and now to September China has subtly backed away from its already nuanced support for Russia's position. The calls also show a common pattern: Russia is willing and ready to explicitly condemn U.S. actions on Taiwan, the first of China's "core interests." China, however, is increasingly unwilling to do the same when it comes to Ukraine. The impression is that Russia fully has China's back, while China is noncommittal.
Sergey Radchenko, a professor at the Johns Hopkins School of Advanced International Studies specializing in Chinese and Russian foreign policies, concluded from the readouts of the latest meeting that "Putin looks desperate. Xi looks like he is calling the shots. The whole relationship is rapidly becoming very, very lop-sided."
But that observation contrasts sharply with recent reports following Li Zhanshu's visit to Russia earlier this week. Li, the chairman of China's National People's Congress (NPC) Standing Committee and China's number three leader, did reference "strategic coordination" between China and Russia, which he said had "reached an unprecedented level," according to China's state news agency, Xinhua.
Again, the Chinese summary of Li's trip did not mention Ukraine. But the Russian readout did – to explosive effect.
According to Russia's State Duma, Li told Russian legislators that "China understands and supports Russia on issues that represent its vital interests, in particular on the situation in Ukraine."
"We see that the United States and its NATO allies are expanding their presence near the Russian borders, seriously threatening national security and the lives of Russian citizens. We fully understand the necessity of all the measures taken by Russia aimed at protecting its key interests, we are providing our assistance," the readout continued, again quoting Li.
"On the Ukrainian issue, we see how they have put Russia in an impossible situation. And in this case, Russia made an important choice and responded firmly," Li concluded.
This marks a level of support China has never before offered Russia over the Ukraine issue – at least not publicly. China has not said that it "supports" Russia on Ukraine, only that it understands (and, implicitly, sympathizes with) Russia's position. China has also strongly denied offering "assistance" to Russia's war efforts in Ukraine, so Li's apparent assertion to the contrary raised eyebrows around the world.
It's clear from the fact that China did not mention Ukraine at all in its readout that Beijing would rather not highlight this aspect of Li's visit. Moscow, however, did so eagerly, desperate to show support from a major global power. But that explicitness may have angered China, which very much does not want to be seen as fully in Moscow's quarter.
In that light, Putin's reference to China's "questions and concerns" about Ukraine may be a sort of mea culpa. Russia went too far in broadcasting China's support after Li's meeting; the penalty is having to underline China's reservations after the Putin-Xi summit.
Importantly, though, we should not read the change in language as signaling an imminent break with Russia over the Ukraine issue. Whatever doubts China may have about the war, they were not enough to dissuade Beijing from sealing an "all-weather comprehensive strategic partnership" with Belarus, Russia's partner in the Ukraine war, the day after Xi's meeting with Putin.
Ultimately, Russia is simply too important to China as an ally against the U.S. for Beijing to offer even tepid criticism. Instead, China is trying – to very limited success – to erect a firewall between its relationship with Russia and Putin's war in Ukraine.
To quote Putin from his meeting with Xi: "[T]he world is undergoing multiple changes, yet the only thing that remains unchanged is the friendship and mutual trust between Russia and China. The Russia-China comprehensive strategic partnership of coordination is as stable as mountains." Xi gave no indication that we should doubt that assessment.