'Look at Ukraine': Russian Commentator Threatens Kazakhstan
Kazakhstan is, indeed, looking at Ukraine carefully and thinking seriously.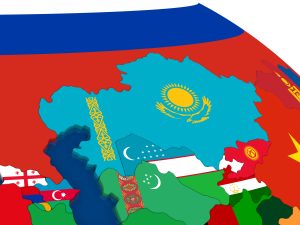 Kazakh Foreign Ministry spokesman Aibek Smadiyarov said in a statement published via the ministry's Telegram that Russian commentator Tigran Keosayan may be banned from entering Kazakhstan following comments the ministry deemed "offensive."
A Russian filmmaker and TV presenter, Keosayan is married to Margarita Simonyan, the editor-in-chief of RT and Rossiya Segodnya. An ardent supporter of Russian President Vladimir Putin, Keosayan in a recent YouTube video appeared to threaten Kazakhstan, saying: "Look at Ukraine carefully, think seriously."
Keosayan's comments came in response to a Kazakh decision to not hold the traditional Victory Day parade this year. The states of the former Soviet Union inherited the May 9 "Victory Day" holiday, on which the surrender of Nazi Germany is commemorated, often with military parades. Kazakhstan has not held a Victory Day parade since 2019, having cancelled the 2020 and 2021 editions on account of the pandemic. The Kazakh Defense Ministry did not give an immediate explanation when it made its announcement on April 13, but later clarified that the parade would not be organized on account of budget considerations and the need to "solve other problems."
Keosayan called the people of Kazakhstan "ungrateful" and suggested that relations between Russia and Kazakhstan would be damaged.
Smadiyarov characterized Keosayan's comments as poisoning "the atmosphere of good neighborly relations and play into the hands of the opponents of the strategic partnership."
"Perhaps his statement reflects the views of a certain part of the Russian public and the political establishment," Smadiyarov's statement noted. "[B]ut it in no way corresponds to the spirit and content of cooperation between our countries and existing agreements at the level of heads of state."
Indeed, Keosayan's comments are old hat, tapping into a nasty sentiment that questions the validity of modern Kazakhstani sovereignty and is built on a racist dismissal of Kazakh political history and culture. Most famously, back in 2014 Putin was asked a question about the role of nationalism in Kazakhstan and the effect on relations with Russia. As Casey Michel observed for The Diplomat at the time, the question positioned then-Kazakh President Nursultan Nazarbayev as a "restraining factor" tempering Kazakh nationalism and asked if there was any reason to expect "a Ukrainian scenario upon Nazarbayev's departure."
Putin first heaped praise on Nazarbayev, but then turned on Kazakhstan sharply, as Michel wrote:
Following his compliments toward Nazarbayev, a certain dog-whistle chauvinism ran through the rest of Putin's response. He highlighted Kazakhstan's large-sprawl emptiness, blatantly underestimating Kazakhstan's population. He offered a slanted comment about how Kazakhstan must remain within the Russian world, which is part of the "global civilization" – noting, by turn, that Kazakhstan's culture is apparently not.

Most notably, though, Putin offered that, prior to Nazarbayev, "Kazakhs had never had statehood." Not Kazakhstanis, the citizens of the country sharing Russia's longest border, but Kazakhs. The titular ethnicity of the most prosperous nation in Central Asia, apparently unfamiliar with the intricacies and turnings of statehood. Requiring a Russian hand to guide – especially upon Nazarbayev's departure.
Fast forward to 2022: Nazarbayev is out of power and Russia is engaged in a blatant invasion of Ukraine. Nazarbayev resigned back in 2019, passing the reins to Kassym-Jomart Tokayev, a trusted ally. But in early 2022, something happened in the opaque milieu of elite Kazakh politics that dovetailed with public protests and exploded into violence. Tokayev was unnerved enough to request (and receive) a deployment of troops from the Collective Security Treaty Organization (CSTO). In the end, the CSTO troops, mostly Russian, made a brief appearance in Kazakhstan before leaving without firing a single bullet. Tokayev retained his position, but the Nazarbayev network came under serious pressure. Most recently, Kazakh lawmakers are considering revoking Nazarbayev's status, and presumably attendant perks, of being "elbasy" or "leader of the nation."
If Putin believed he'd bought Tokayev's support with the CSTO deployment, he was mistaken. Although Kazakhstan has not gone as far as to condemn and sanction Russia, it has stuck to an ardent neutrality. Nur-Sultan has pledged to not help Russia circumvent sanctions while also opening the door to Russian business looking to jump ship. As Kristoffer Rees noted in an article last month, Tokayev's Kazakhstan appears "much less in sync with Russia."
Within this context, Keosayan's comments take on an even more troubling tone. 
Of course, Russia's military efforts in Ukraine are not progressing as the Kremlin likely envisioned. I do not want to minimize the blood spilled or the crimes committed, but Russia is not achieving its military objectives and its invasion is actively working against its own stated political objectives. NATO is reinvigorated; Ukraine is more pro-European. The war, which began on February 24, has now dragged into a third month. Opening a second front on the long Kazakh border seems logistically unlikely, not to mention deeply unwise. And continuing to air such sentiments as Keosayan's may have the opposite effect as intended: Rather than frightening Kazakhstan into more strongly supporting Russia, they just serve as evidence for why Kazakhstan deserves better friends than Russia.
Kazakhstan is, indeed, looking at Ukraine carefully and thinking seriously.