Shifting World War II Memory in East Asia Signals Newly Emerging Global Alliances
With tensions rising in the Indo-Pacific, Beijing's new triumphalism takes aim at one-time ally U.S., while Washington and its regional partners embrace former foe Japan's historical revisionism.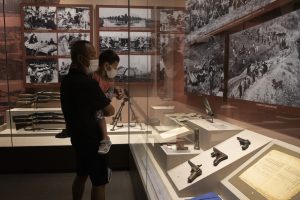 Summer is a busy time for World War II remembrance in East Asia. 
Every year on August 6 and 9, the Japanese commemorate the nuclear bombings of Hiroshima and Nagasaki, which killed 200,000 civilians during the final days of World War II. On August 14, people across Asia recall the sufferings of the wartime sex slaves – euphemistically called "comfort women" – that fell victim to Japanese military abusers. On the following day, on which in 1945 Imperial Japan announced its unconditional surrender, North and South Korea celebrate National Liberation Day as Japanese cabinet leaders make ritual offerings at controversial war shrines to mourn their war dead.
Tomorrow, the People's Republic of China will commemorate victory in what it calls the "Chinese People's War of Resistance against Japanese Aggression." The annual celebration on September 3 is one of two recently established official holidays in China commemorating its World War II struggle.
As nations and their leaders revisit the past, they revise and refocus their memory to align with present needs and concerns. And with geopolitical tensions approaching boiling point, East Asia's murky memoryscape has recently seen several remarkable shifts that outline the newly emerging alliances in a looming conflict. 
Beijing's New Triumphalism
In China, one of the most telling shifts has been to depict World War II as a critical moment of national unity triumphing over foreign aggressors – in a theater that Beijing claims started first, lasted the longest, and saw the highest death toll of any in the war – rather than a symbol of national victimhood and suffering.
My recent research on Beijing's diplomatic discourse and domestic propaganda has detailed the comprehensive campaign launched under Xi Jinping to convince global audiences that China was a principal victor of World War II and a key architect of the post-war global order, and to ingrain into domestic audiences the belief that China's great triumph – and the spirit of national unity and resistance in which it was forged – would not have transpired without the Chinese Communist Party's foresight. 
Put simply, Beijing's new reading of World War II marks a shift away from recalling past trauma to anticipating the imminent "rejuvenation" of the Chinese nation, united under the CCP's leadership, and the important tasks ahead for the Chinese people on the path to this final victory.
This trend continues in this year's commemoration events. On August 15, the Museum of the Chinese People's War of Resistance Against Japanese Aggression in Beijing – the country's national war memorial – launched a new exhibition showcasing the CCP's "history of leading the country to the victory." Visiting the museum and reviewing the past, Chinese experts say, can help the Chinese people to "better understand responsibilities they need to shoulder." 
The U.S. as Antagonist
Beijing feels that it is being held back in its attempts to restore national greatness by global powers that see China's rise as a threat to their position. As I have articulated elsewhere, a key point of Beijing's recent strategic messaging and new use of historical statecraft has been to call out and denounce all external forces that attempt to undermine China's great mission of national rejuvenation. 
While Japanese right-wing militarism might remain one of these hostile foreign forces, Tokyo has recently all but been supplanted by Washington – China's one-time ally in World War II – as the new principal "other" in Beijing's official discourse.
This does not mean that Japan is no longer a target of official criticism and populist vitriol; in fact, anti-Japanese sentiment in China has been on the rise again lately. But this apparent continuity must not conceal the changes in the nature and motives of such grievances, which are now neither Tokyo's onetime role as fascist aggressor in World War II nor the prospect of its military prowess in the region per se, but above all its perceived complicity as Washington's regional vassal in ongoing joint efforts to disrupt the region and thwart China's rise.
Russia as Beijing's New Memory Partner
In mobilizing memory to oppose U.S. hegemony and "war-mongering under the guise of democracy," Beijing has reached out to Moscow, another former World War II ally. This trend predates the current leadership but really took off in 2015, when Xi attended Russia's Victory Day on May 9 and Russian President Vladimir Putin reciprocated during China's September 3 celebration, and the two states exchanged guards of honor to participate in each other's national military parades.
In recent years, Beijing and Moscow have redoubled their efforts to overcome the historical trust deficit between their peoples and build a memory partnership. Two years ago, the Chinese and Russian ambassadors in Washington published a joint article on a U.S. defense community platform to reflect on the 75th anniversary of V-J Day, in which they urged their former ally to honor the history and spirit of the war and move away from Cold War-like "zero-sum" thinking and unilateralism. 
The Ukraine crisis has only reinforced the convergence of Chinese and Russian narratives. In the months following the Russian invasion, Beijing frequently echoed Moscow's complaints about NATO expansion. In warning the United States and its allies against trying to build a version of NATO in the Indo-Pacific as part of a strategy of containing China and sustaining U.S. hegemony, Xi's "wolf warrior" diplomats continue to instruct the U.S. to give up its "practice of making enemies" and to not "mess up Asia and the whole world after messing up Europe."
Tokyo's Historical Revisionism
Meanwhile, it is not only authoritarian regimes that have been busy revising and mobilizing the memory of World War II in recent years.
Abe Shinzo, Japan's longest-serving prime minister who was brutally murdered this year, used his time in office to reconstruct history with the help of public relations firms and amateur historians. Rowing back on Murayama's 1995 war apology and Kono's 1993 apology to wartime sex slaves, Abe aggressively advanced a new historical narrative that portrayed Japan as a victim in World War II and as a proactive contributor to global peace and prosperity in the post-war era. 
Abe's successor, Kishida Fumio, is continuing this unapologetic, nationalistic line. His first remembrance speech last month was almost a copy of Abe's 2020 address. Employing vague language to refer to the "tragedy of the war," it made no mention of Japanese imperialism and World War II aggression across Asia or the victims of this aggression.
Washington's Counter-Offensive
After initial hesitation, the United States essentially accepted its former enemy's revisionist narrative. Having snubbed Beijing's invitation to the September 2015 victory celebration, then-President Barack Obama joined Abe a year later in a service at the Hiroshima Memorial Peace Park, where he lauded their countries' friendship as an "alliance of hope for the world."
Strategic motives have prompted successive U.S. administrations to endorse Tokyo's retelling of World War II history and not that of Beijing, even though the latter (significant gaps notwithstanding) has never been more historically accurate than today. While Washington thus continues to shun China's historical contribution to the Allied effort in World War II, it has now embarked on a counter-offensive of "memory diplomacy" in which it not only deliberately omits but strategically targets its "forgotten ally" of World War II.
At a carefully orchestrated, high-level international memorial service in Solomon Islands last month, U.S. Deputy Secretary of State Wendy Sherman, accompanied by senior government and military officials from Australia and New Zealand, and also Japan, commemorated the 80th anniversary of the Battle of Guadalcanal – the first Allied offensive in the Pacific to check the Japanese advance – as a decisive moment in ensuring the victory of freedom and democracy. Notably, the battle took place far from China, without Chinese troops participating. 
It was an awkward gathering for more than one reason, especially with the envisaged host, Solomon Islands Prime Minister Manasseh Sogavare, refusing to attend. The intended presentation of the U.S. and its allies as one "Pacific family" in their pushback to China ended up with Sherman rebuking Sogavare, whose government switched recognition from Taiwan to the PRC and recently concluded a controversial security pact with Beijing.
Emerging Memory Alliances
With tensions rising in the Indo-Pacific in the aftermath of U.S. House Speaker Nancy Pelosi's visit to Taiwan early last month, a growing number of "like-minded" governments in the region are now following Washington, Canberra, and Wellington's recent example of bowing to Tokyo's selective remembering of World War II. 
On August 15, in his first speech marking Japan's World War II surrender and the end of its colonial rule over the Korean Peninsula, South Korea's new prime minister, Han Duck-soo, made a rare offer of reconciliation to Tokyo. Despite his government expressing "deep regret" over Kishida paying tribute at the controversial Yasukuni Shrine, Han vowed to overcome historical disputes with Japan and improve bilateral relations in view of their shared values and "common threats" to global freedom.
Recent war remembrance in Taiwan, meanwhile, has seen a shift away from competing with Beijing over who deserves credit for resisting Japan in World War II to effectively de-remembering the history of Japanese aggression under incumbent president Tsai Ing-wen's Democratic Progressive Party. In 2015, then President Ma Ying-jeou of the Kuomintang marked the 70th anniversary of V-J Day with an unprecedented display of homegrown weapons. Just five years later, under a DPP administration, public commemoration of World War II on the island has virtually disappeared. Today there is dissatisfaction in some quarters that Tsai's government is doing too little to preserve the memory of Taiwanese women who were sexually abused by the Japanese military.
These ongoing shifts in World War II remembrance show us that the past is not a mere encumbrance but rather a productive resource for global actors, who make selective use of the past as an instrument for articulating values, striking alliances, and furthering policy agendas. As Beijing commemorates its World War II triumph tomorrow, it is worth keeping in mind that official memory can reveal more about strategic aims and intentions than any policy paper.