Sri Lankan President Visits India, Highlights Close Relations
Last year's economic crisis crippled the island nation, but it also provided India an opening to offset some of the inroads that China has made in Sri Lanka.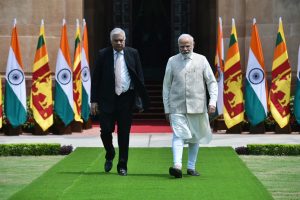 Sri Lankan President Ranil Wickremesinghe made an official visit to India last month. It was his first trip to India since taking over as president of the Indian Ocean island state. Wickremesinghe came to power amid social and political upheaval as Sri Lanka went through its worst economic crisis last year.
During the visit, Wickremesinghe met with Indian President Droupadi Murmu, Prime Minister Narendra Modi, and other senior Indian officials. Announcing the visit, the Indian Ministry of External Affairs (MEA) said in a press release that Sri Lanka remains "an important partner in India's Neighborhood First Policy and Vision SAGAR [Security and Growth for All in the Region]" and that the visit is a reflection of the "the longstanding friendship between the two countries." 
As Sri Lanka wrestled with its unprecedented economic and political crisis, it was India that stepped up and offered emergency financial assistance. This was at a time when its citizens were faced with severe shortages of essentials including food, medicine, and fuel. During the crisis, India is reported to have provided financial support of approximately $4 billion. Wickremesinghe in his remarks during the visit expressed his "profound appreciation for the solidarity and support rendered to Sri Lanka in what was undoubtedly the most challenging period in our recent history."
Recently, Sri Lanka's Parliament Speaker Mahinda Yapa Abeywardena too appreciated India's assistance, saying that India has remained a "close associate" and "trustworthy friend" of Sri Lanka and that without India's assistance, "there would have been another bloodbath for all of us." India, along with Japan (as members of the Paris Club group of creditors), and China were instrumental in securing Sri Lanka the critical assistance of about $3 billion from the International Monetary Fund (IMF). 
Wickremesinghe's visit to India was seen as an opportunity to expand the areas of India-Sri Lanka cooperation including "for enhanced connectivity and mutually beneficial cooperation across sectors." According to Indian media reports, the visit also offered an opportunity to make some progress on many bilateral initiatives, including in the energy and connectivity sectors. The two countries signed five memoranda of understanding relating to specific areas, which included a cooperation memorandum on the economic development of projects in the Trincomalee District, one on renewable energy, an energy permit for a solar power project, an agreement for UPI (United Payments Interface) acceptance, and an agreement on animal husbandry. 
The two leaders visualized the "development of Trincomalee as an energy hub with the support of India" and plan to "elevate Trincomalee as a hub for industry and other economic activities." And they are exploring the possibility of constructing a multi-product petroleum pipeline from southern India to Sri Lanka that will provide for a steady supply of energy resources to Sri Lanka. Modi and Wickremesinghe spoke about reviving air connectivity between Chennai in South India and Jaffna in northern Sri Lanka. 
Wickremesinghe also met with Indian industrialist Gautam Adani to explore the possibilities of cooperative projects in Sri Lanka. In a tweet, Adani mentioned that the two discussed the "continued development of Colombo Port West Container Terminal, 500 MW wind project, and extending our renewal energy expertise to produce green Hydrogen." In 2022, the Adani Group won approval to begin wind power projects, one 286MW plant in Mannar and a second 234 MW plant in Pooneryn, in northeast Sri Lanka with an investment to the tune of $500 million. These investments are in addition to the Adani Group's investment in the Colombo Port's Western Container terminal. 
India-Sri Lanka relations have gone through some tumultuous times, even in recent years. Former Sri Lankan President Gotabaya Rajapaksa was seen in New Delhi as having a China tilt, which caused concerns in India. This continued even after Wickremesinghe came into office. In fact, immediately after his taking over, a Chinese ship, the Yuan Wang 5, docked in Hambantota. China called it a scientific research vessel, but India was deeply concerned and called it a spy ship. 
Nevertheless, last year's economic crisis crippled the island nation and provided India an opening to offset some of the inroads that China has made in Sri Lanka. India's timely assistance to Sri Lanka made Colombo recognize the reliable nature of India as a neighbor and a partner. In fact, Wickremesinghe has continued to be a long-standing voice for stronger India-Sri Lanka relationship. 
Earlier last month, while speaking to the India CEOs Forum, Wickremesinghe made a case for stronger engagements, saying that "It is crucial to recognize that the relationship between our countries is not solely driven by governments but by our people, who are moving forward at rapid pace. We must adapt to the changing world, avoiding the pitfalls that come with government intransigence. Hence we must foster a long-term relationship between our two nations, transcending individual leaders or political parties. Together India and Sri Lanka possess immense potential, and it is our path forward." Whether these sentiments will be reflected in continued closer India-Sri Lanka ties remains to be seen.