The Potential for Japan-South Korea-US Trilateral Cooperation Through IPEF
Both Seoul and Tokyo are part of the U.S.-lead economic initiative. Can it help break the ice between the two?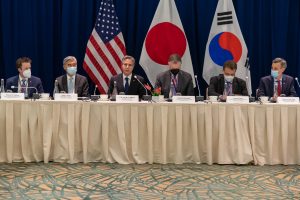 Earlier this year, U.S. President Joe Biden introduced the Indo-Pacific Economy Framework (IPEF) as a new approach to connecting transpacific economies and that goes beyond traditional free trade agreements to fill the gap left by the U.S. exit from the Trans-Pacific Partnership. IPEF could also serve as a potential platform for strengthening trilateral cooperation between the United States, South Korea, and Japan.
South Korea and Japan were early signatories to IPEF that continue to be closely involved in its ongoing negotiations, and all three play key roles at different levels of vital supply chains and are sensitive to global economic disruptions, most notably those impacting the automobile and digital technology industries. As the United States confronts these challenges, IPEF is its latest bid to use international economic collaboration to address key points of failure in the market. Through this opening, the framework's "resilience" pillar provides a potential path for deep and sustained cooperation, particularly between Washington, Seoul, and Tokyo. Given ongoing challenges and past failures of conventional approaches, converging supply chain interests may be able to support extended cooperation for broader Indo-Pacific growth. From the South Korean perspective, IPEF presents the opportunity for trilateral leadership that is not stalled by the pitfalls of traditional engagement.
The COVID-19 pandemic intensified the demand for digitally-integrated products that facilitated safe engagement, which overloaded supply chains across many technology-reliant industries. In particular, shortfalls in the output of semiconductors continue to pose challenges that may last long into the future. The Russian invasion of Ukraine further exacerbated supply shortages, causing delays at all levels of production and transportation. The economic costs of disruptions, namely inflation, reveal the vulnerability of current supply chains.
South Korea faces pressures on the production side as a key player in semiconductor and EV battery supply chains, encountering higher prices and bottlenecks in securing critical materials for manufacturing. The previous Moon administration responded to early issues by creating a task force to address and fund offsets with the goal of mitigating damage to local manufacturers and companies.​​ President Yoon Suk-yeol has maintained these programs, but appears to be expanding its efforts to the international sphere. Pinning its hopes on IPEF to manage disruptions through a wider range of trading partners and suppliers, South Korea sees deeper cooperation with the United States as a way to construct "supply chain alliances" that can rebuild capacity, secure strategic materials, and facilitate multilateral dialogue.
Wanting to establish itself as a rule maker within the framework, Seoul is eyeing a driving role to support Korean interests and lead IPEF and regional collaboration alongside the United States. However, Washington's newly passed Inflation Reduction Act (IRA), which aims to curb inflation through deficit reduction and expanding U.S. productive capacity to lower costs in the medium term, complicates these efforts. Providing tax credits to EVs manufactured in North America at the expense of Korean manufacturers, the IRA will undermine major Korean corporations and will further limit supply sources. As South Korean and U.S. officials negotiate a resolution amid immediate calls for revision, the need for international coordination is apparent. The multilateral nature of IPEF may support the United States and its partners in avoiding future inconsistent policy steps like the IRA and instead promote mutually beneficial development.
Japan and the United States, too, face supply chain insecurity given their high dependence on the import of critical goods. As industries struggle to rebuild capacity, bottlenecks have exposed the vulnerability of semiconductor and high-capacity battery supply chains. Like South Korea, the Japanese government began targeting these threats by turning to the international sphere to bolster supply chain diversification. Japan's interest in a leading role in IPEF has led to early talks with ASEAN nations over IPEF's development, strengthening links with input supplier countries. Fulfilling both U.S. demand for critical consumer goods and Korean demand for critical inputs, Japan's involvement presents the potential to link partner economies. Seoul and Tokyo's alignment on supply chain recovery and leadership with the United States may facilitate trilateral initiatives in both the Indo-Pacific framework and region.
Adding a geopolitical dimension to prospective economic cooperation, South Korea and Japan have begun to pursue diversification away from China. Both nations have demonstrated interest in reducing their heavy reliance on critical materials from China by building domestic capacity and strengthening engagement with other economies. This points to a shift in South Korean economic diplomacy that looks toward strengthening ties with not only the United States, but Japan as well. Historical legacy issues impede the Japan-South Korea relationship even today, with the ongoing trade dispute just one example of retaliatory policies that restrict both nations' growth. Working through IPEF's multilateral and flexible framework, negotiations may continue without running into the roadblocks that have often obstructed bilateral and trilateral talks in the past. This may facilitate more frequent dialogue and collaboration in areas of need and presents unprecedented potential to kick start trilateral collaboration in the region.
As IPEF member nations continue preliminary discussions, it is still unclear whether the United States, South Korea, and Japan will all sign on to the "resilient economy" component of IPEF. Ultimately, a converging interest in boosting supply chain resilience may draw the nations' interest toward the resilient economy pillar, but success is dependent on subsequent agreements. The question remains whether all three parties' overlapping economic interests will result in sustained cooperation. With established South Korea-U.S. and Japan-U.S. collaboration on supply chains, IPEF may bridge Japan-South Korea relations and set the foundation for stronger, sustained trilateral commitment as well as more comprehensive Indo-Pacific economic security and stability.