Challenging Malaysia's Moral Authority on Myanmar
Deportations of Myanmar asylum seekers and the failure to act on Rohingya death camps are disheartening.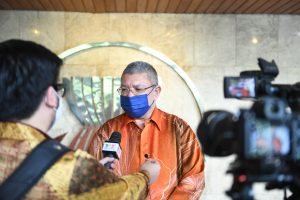 Malaysia has long sought to bolster its diplomatic stocks by exerting its religious credentials through the Organization of Islamic Cooperation, and, closer to home, within ASEAN, where it has forged a troika with fellow Muslim countries Indonesia and Brunei.
The troika is an admirable club that emerged after the military in Myanmar, or Tatmadaw, inflicted an ethnic cleansing and alleged genocide against that country's Muslim Rohingya community in 2017, resulting in more than 1.4 million of them now living in squalid camps in neighboring Bangladesh.
It's a group that also rescued the moral credentials of the Association of Southeast Asian Nations (ASEAN) at its recent foreign ministers' summit in Phnom Penh signaled by pushing for a much harsher stance against the Tatmadaw in the wake of the atrocities it has committed since seizing power through a coup d'etat in February of last year.
That might include opening direct negotiations with the opposition National Unity Government (NUG), feeding resources to its armed wing, the People's Defense Force, expanding safe havens, and providing direct aid to civilians.
But Malaysia's authority on Myanmar deserves to be kept in check given its own treatment of Rohingya asylum seekers, which has been far from flattering and smacks of hypocrisy.
New York-based Human Rights Watch recently noted that Malaysia has sent back more than 2,000 Myanmar nationals, including military defectors, without assessing their asylum claims or other protection needs. More than half were repatriated in the past two months.
Shayna Bauchner, Asia researcher at Human Rights Watch, said Malaysia put activists, dissidents, and persecuted minorities back into "the crosshairs of the repressive junta" and urged it to grant the United Nations refugee agency immediate and unfettered access to asylum seekers.
More than 100,000 ethnic Rohingya Muslims are registered with the U.N. High Commissioner for Refugees (UNHCR) in Malaysia.
Of them, at least 17,500 people are held in 21 immigration detention centers, including some 1,500 children, in conditions described by the UNHCR as "dire."
As noted previously in this publication, the deportations do seem to contradict Malaysia's often touted "active approach" to resolving the crisis in Myanmar.
The deportations also followed claims by the Southeast Asian human rights group, Fortify Rights, that it had obtained a copy of a report by the 2019 Royal Commission of Inquiry (RCI) into mass graves and death camps, discovered four years earlier.
The report was not released after being classified as "a state secret."
The RCI was charged with investigating 29 illegal detention camps and 139 graves of people believed to be Rohingya who were victims of human trafficking. They were discovered in the jungles north of Wang Kelian on the Malaysia-Thai border.
Matthew Smith, chief executive officer of Fortify Rights, said significant numbers of Rohingya were murdered as well as bought and sold for profit on Malaysian soil.
"In response to the RCI's findings, and to give Rohingya victims and their families a measure of justice, the Malaysian government must provide reparations and prosecute officials implicated in the horrendous crimes in Wang Kelian.
"The only secrets surrounding this report relate to official complicity in the trafficking camps, and the next steps should involve prosecutions," he said.
The West has looked to ASEAN and its approach to Myanmar as a means of gauging how to react to the atrocities committed by Tatmadaw but has grown tired of ASEAN's weak-kneed and divided response.
Thus, Malaysia's next steps will be critical as Indonesia takes over the rotating ASEAN chair in 2023 from Cambodia, where Prime Minister Hun Sen had a difficult year with his ambitious but ultimately failed attempts to negotiate with Senior Gen. Min Aung Hlaing.
Typically, just three days before the latest scheduled emergency meeting to discuss the conflict, as many as 80 people were killed by air strikes – including singers and musicians – attending a concert in the country's north.
The attack was reminiscent of the executions of four pro-democracy activists on the eve of the ASEAN foreign ministers' meeting in August and the junta's failure to release the Australian economist, Sean Turnell, as promised following Hun Sen's initial visit to Myanmar earlier this year.
Attitudes are shifting and the prospect that ASEAN and Western countries will begin earnest negotiations with the NUG is a real prospect with Indonesia, backed by Malaysia and Brunei, well-positioned to assert the troika's demands on Myanmar.
But it would help if Malaysia responded at home in the same way it has preached abroad.