US Warns North Korea: Nuclear Attack Will End Kim Regime
In the 2022 Nuclear Posture Review, the United States reiterated its firm stance over North Korea's nuclear and missile threats.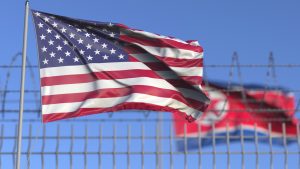 On Thursday the U.S. Defense Department published the "2022 National Defense Strategy" report that consisted of three divided reports covering the national defense strategy, nuclear posture review, and missile defense review.
In the 2022 Nuclear Posture Review report, the United States reiterated its firm stance in the case of North Korea using its nuclear weapons against Washington or its allies.
"Any nuclear attack by North Korea against the United States or its allies and partners is unacceptable and will result in the end of that regime," the report said. "There is no scenario in which the Kim regime could employ nuclear weapons and survive."
Since its first nuclear test in 2006, North Korea has consistently developed its nuclear weapons. In the sixth nuclear test in September 2017, North Korea claimed that it successfully tested "a two-stage thermonuclear device" that could fit on its intercontinental ballistic missile (ICBM). It is believed that North Korea has acquired a capability to target the U.S. mainland with its ICBMs.
Five years after its nuclear and ICBM test in 2017, North Korea is now accused of being ready to conduct its seventh nuclear test, based on satellite imagery capturing restoration activities at Punggye-ri nuclear test site and the analysis of Seoul's spy agency.
It is unclear what nuclear device North Korea might test in its seventh nuclear test. Given Kim's ambition to complete his nuclear forces by strengthening tactical nuclear capabilities, however, the North may test a miniaturized nuclear device that can fit on its short-range ballistic missiles. The spate of North Korean short-range ballistic missile tests from September 25 to October 9 was conducted by "tactical nuclear operations units" of the Korean People's Army, according to state media. In keeping with that recent focus, North Korea may test a nuclear device that can be deployed in the frontline units near the inter-Korean border.
Seoul has publicly stated several times that North Korea is ready to conduct a nuclear test whenever Kim Jong Un decides. South Korean President Yoon Suk-yeol said on Tuesday that North Korea had completed preparations for the seventh nuclear test. Given the North's recent activities to legitimize the use of its nuclear weapons, including the codification of a law to support it, Seoul's Defense Minister Lee Jong-sup called for shifting the South's defense strategy regarding North Korea to "deterring" the use of nuclear weapons.
Since Yoon took office in May, he has reinvigorated joint military exercises with the United States in a bid to take a firm military readiness posture against North Korea. The joint military drills between the two countries had been scaled back during the peace process initiated by then-South Korean President Moon Jae-in and then-U.S. President Donald Trump. For its part, North Korea used the extended joint military drills between the South and the U.S. as the main rationale for its recent missile tests.
On Friday, South Korea's Joint Chiefs of Staff (JCS) said that North Korea fired two short-range ballistic missiles toward its eastern waters sometime between 11:59 a.m. to 12:18 p.m. KST from the Tongcheon area of Gangwon Province. The missiles flew about 230 km with an altitude of 24 km. Today's missile test was carried out as the South Korean military wrapped up its annual Hoguk exercise, which kicked off on October 17.