Sworn in, Anwar Gets to Work as Malaysia's Prime Minister
Anwar said he would submit his government to a vote of confidence on December 19.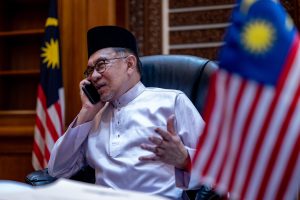 Veteran opposition leader Anwar Ibrahim has been sworn in as Malaysia's 10th prime minister before King Al-Sultan Abdullah, ending a 30-year quest which had too often reduced his country's political landscape into a nasty grudge match.
His nemesis, Mahathir Mohammad, who served a total of 24 years as leader, could only snipe from the sidelines as Anwar's progressive bloc cobbled together a coalition capable of delivering the 75-year-old the top job.
Just days before the November 19 election, Mahathir proved incapable of disguising his distaste for the man he once mentored, saying: "He imagines that the people love him, but actually, they don't. This is why he has never succeeded in his attempt to become the prime minister."
Mahathir was wrong. His problem has always been Anwar's popularity, which has held up despite the litany of dirty tricks deployed to thwart his political ambitions, including a decade behind bars for corruption and sodomy.
The details that emerged from his court cases in regards to sexual preferences that were splashed across the daily newspapers were as lurid as they were unnecessary, and a national embarrassment.
To suggest those charges were not politically motivated is to insult the intelligence of ordinary Malaysians who twice believed Mahathir, in the 1990s and again in 2018, when he led this country with promises to hand power to Anwar.
Mahathir reneged, concocting all sorts of excuses to justify his treatment of a man he once called a friend and who served as his deputy. But Anwar survived and his platform of reform and appeals for unity among Malaysia's deeply divided ethnic groups struck most of the right notes.
"This you need to learn from Anwar Ibrahim – patience, wait a long time, patience," he told reporters outside his home.
Anwar's Pakatan Harapan coalition won the most seats in last Saturday's vote with 82, but fell short of the simple majority – 112 seats – needed to form a government.
Muhyiddin Yassin's Perikatan Nasional bloc, which relies on conservative ethnic Malay Muslims for support, won 73 seats, while the once long-ruling Barisan Nasional coalition won just 30 seats, its worst performance since independence in 1957.
Anwar now has to begin the arduous and messy task of negotiating with other political parties to form a government and find that unity he has long campaigned for, amid an electorate that is still recovering from a corrupt and inept decade under the now jailed Najib Razak.
He has promised to form a unity government comprising of the three main coalitions – Pakatan Harapan, Barisan Nasional, and Gabungan Parti Sarawak – and has not ruled out including Perikatan Nasional.
"As a prime minister representing all Malaysians, all races … I am open to accepting the rest of the parties to make this country united," Anwar told his first press conference as prime minister, adding Malaysia was now witnessing a "major change."
He has also called for a vote of confidence in parliament on December 19 to test whether or not he can command a majority in the lower house, a move which has been welcomed but also carries its own risks.
As for Mahathir, he lost his seat and even failed to win the 12.5 percent of votes required to get back his electoral deposit. And after decades of dishing out the tongue lashings, the 97-year-old found himself on the wrong end of the vitriol.
As one Anwar supporter wrote on their Twitter feed: "What a year. Najib goes to jail. Mahathir loses his deposit and now Anwar is PM. Historic would be an understatement."