China's Bet on Intelligent Electric Vehicles
After a decade of continuous investment, China is now poised to take on global leadership of the IEV industry.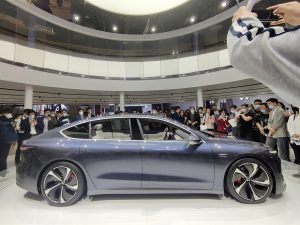 In the past two decades, the real estate sector has been an internal engine of China's economic growth. In 2021, real estate investment reached 14.8 trillion RMB, accounting for 27 percent of China's fixed asset investment. However, this overextended sector has lost steam and caused systematic economic problems.
Realizing its overreliance on the real estate sector, in the past decade, China has made a huge bet on the intelligent electric vehicle (IEV) industry, in the hope that this sector, along with its fast-growing ecosystem, will be the new engine for China's economic growth. As a result, China has gained a competitive advantage in the IEV industry, as the Chinese government has acted as a technological incubator.
In 2021, the global automotive industry enjoyed a market size of $2.86 trillion from car sales alone, but only 10 percent of the market belonged to IEVs. That leaves tremendous room for future growth. Historically, European, U.S., and Japanese car makers have dominated the internal combustion engine (ICE) automotive market, both economically and technologically. Today's rapid transition from ICE cars to IEVs presents a once-in-decades opportunity for newcomers, similar to the rise of smartphone manufacturers and the fall of feature phone manufacturers in the 2010s.
Technologically, the IEV industry has been evolving through three stages of development: electrification, intelligence, and ecosystem. Electrification is the process of powering the vehicle by electricity, with battery technology and supply chains as the key enabler. Upon the foundation of electrification, intelligence, such as autonomous driving, can be infused into IEVs to make the driving and riding experiences more convenient and enjoyable. Computing chips, AI talents, and data are key enablers of intelligence. Powered by intelligence and enormous computing capability, an application ecosystem can be developed for IEVs, similar to how mobile applications drive the sale and evolution of smartphones. With an IEV ecosystem developed, many usage scenarios as well as business opportunities beyond mobility will emerge.
Since China became a member of the World Trade Organization (WTO) in 2001, China has been a major global supplier of electronic components, especially battery production. Many Western economies moved battery production, considered a high-pollution industry, overseas, and China became a perfect destination due to its low labor costs and relatively high tolerance to high-pollution industries back then. This reshaping of the global electronics supply chain led to the rise of Chinese battery companies such as ATL, CATL, and BYD.
In the 2010s, the ubiquitous proliferation of smartphones gave Chinese battery companies another push. Particularly, fierce competitions to get into the iPhone supply chain forced these Chinese battery companies to elevate their investments in technology and product quality. Having benefited from globalization and incubated in the smartphone era, Chinese battery companies, exemplified by CATL and BYD, are already dominating the global battery market as the IEV era dawns. China's advantage in electrification sets the stage for Beijing to bet on the IEV industry.
Building upon a mature electrification supply chain, the Chinese government has committed an enormous amount of financial resources and played a crucial role in incubating China's IEV industry through providing incentives for both the supply and consumption of IEVs. To boost IEV consumption, since 2010 the central government has initiated a consumer subsidy program, which covered over 40 percent of the costs of IEVs. Since 2014 all IEV sales have been exempt from purchase taxes.
To encourage the supply of IEVs instead of ICE cars, China has instated a "dual-credit policy" since 2018. Under this policy, automotive manufacturers are assessed in terms of fuel consumption and EV production in order to qualify for new energy credits. As a result of these efforts, China not only owns the most sophisticated IEV supply chain but is also the biggest IEV market in the world. The natural next step for China's IEV industry is globalization, as exemplified by NIO's recent effort to enter the European market, and BYD's success in the ASEAN market. Due to their superior products, we can expect Chinese IEV brands will soon become global brands.
The IEV industry is the crown jewel of the broader automation sector, which includes service robots, industrial robots, delivery robots, autonomous drones, etc. The automation sector can potentially ease China's dual problems of an aging population and a labor shortage, and have a much greater impact on the global economy.
A subtle implication of the rise of China's IEV industry is that many IEV technologies and supply chains can trickle down to fuel the development of various types of autonomous machines. This is a natural move for any IEV company. For instance, recently Tesla announced Tesla Bot, a conceptual general-purpose robotic humanoid that can act as a home service robot or an industrial robot. Tesla Bot was made possible by Tesla's mature AI technologies as well as its manufacturing supply chain. China's XPeng made a similar move to utilize its technologies and supply chain to produce a robot pony for delivery tasks.
In summary, globalization equipped China with a sophisticated manufacturing supply chain, especially in electrification. After a decade of continuous investment, China is now poised to take on global leadership of the IEV industry. Assuming IEV technologies and supply chains trickle down to the broader automation sector, China is creating an economic growth engine for decades to come.
Nonetheless, before China's bet pays off, there are a few caveats. First, China today still relies on external suppliers for semiconductors, one core technology in the IEV supply chain. Thus, any embargo on chip supply will be devastating to China's IEV industry. Second, due to the current geopolitical situation, many countries may ban Chinese IEV products over data privacy and national security concerns, similar to how the United States and many of its allies ban Huawei's products.