Japan's Ruling Coalition Approves Counterstrike Capability
The long-debated move comes alongside increased defense spending amid worries about Japan's security environment.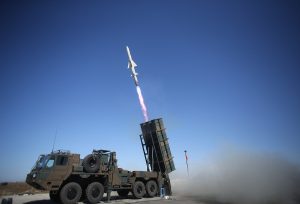 On December 2, Japan's ruling coalition of the Liberal Democratic Party (LDP) and its junior partner, the Komeito, approved Japan possessing the capability to strike enemy bases that are preparing to attack. This change will be reflected in the three defense documents that are expected at the end of this year: the National Security Strategy, the National Defense Program Guidelines, and the Mid-Term Defense Program. 
Though there had been questions about how the pacifist Komeito would respond to the suggestion that Japan acquire counterstrike capabilities, it ultimately did not pose much of a roadblock. North Korea's repeated missile launches, Russia's invasion of Ukraine, and increased tension over Taiwan appear to have been sufficiently dramatic to convince the Komeito that the changes were necessary for Japan's defense. 
Furthermore, Komeito's concerns about whether a counterstrike before Japan was attacked was possible without it being confused for an illegal, preemptive attack were assuaged with the agreement that the same conditions requiring Diet approval for the use of force for self-defense would also be applied to counterstrikes. The Diet would approve the use of force for self-defense only when an armed attack threatened Japan's survival, there are no other appropriate means to repel the attack, and the use of force will be kept to the minimum necessary. 
In tandem with this decision, the Japanese Defense Ministry is considering development of at least 10 types of missiles, an impressive mix of hypersonic and glide missiles that can be launched from land, sea, and air. While the development of these new technologies might take time, in the interim, Japan is seeking to bolster its counterstrike capabilities by buying up to 500 U.S.-made Tomahawk cruise missiles by fiscal year 2027. In addition, the government plans to construct about 130 new ammunition depots, which will also store conventional ammunition but are intended mainly to store long-range standoff missiles for Japan's counterstrike capabilities, as well as to launch a network of 50 small satellites to enable counterstrikes. 
Another change being considered is the creation of a group within the Ground Self-Defense Force (GSDF) to defend the Nansei island chain, which includes Okinawa prefecture and parts of southern Kyushu. Currently, the 15th Brigade headquartered in Camp Naha has about 2,000 personnel, including an infantry regiment, an anti-aircraft artillery regiment, and a reconnaissance unit. The proposed change for a new Okinawa defense group would add another infantry regiment to the brigade and increase the personnel of the consolidated group; though exact numbers have not yet been published, some media accounts speculate that this will bring its strength to about 3,000 members. 
The Okinawa defense group, if established as envisioned, would allow the GSDF to deploy more flexibly and promptly from Okinawa to remote islands, ideally enhancing deterrence. It will also be responsible for handling evacuations and combating misinformation. The defense of the Senkaku Islands would fall under this group's area of responsibility. Other proposed changes include upgrading the highest rank from major general to general, so that the Japanese leader would be on equal footing to the commanding general of the U.S. Marine Corps' III Marine Expeditionary Force in Okinawa. 
Another indicator of how seriously Japan is concerned about a Taiwan contingency is the fact that Yonaguni Island held its first evacuation drill – prompting the 1,700 residents of the island to simulate the appropriate response to ballistic missile strikes – on November 30. Yonaguni Island is Japan's westernmost island, only 110 kilometers from Taiwan. 
None of this will be cheap, of course. Current government estimates come out to 40 trillion to 43 trillion yen (around $293 to $314 billion) in defense spending over five years starting from April 2023. This is far greater than the approximately 28 trillion yen Japan is spending in the current five-year program, and also still less than the 48 trillion yen that the Defense Ministry wanted. 
Whether this increased spending will be covered by government bonds, spending cuts, or tax increases is still undecided and will likely fuel intense debate. In a Yomiuri poll, of the 51 percent of respondents who supported the government's plans to increase defense spending, 38 percent supported issuing government bonds, 30 percent supported cuts in other budget items such as social security, and 27 percent supported tax increases.