Japan, US Discuss Longer Range Missiles to Counter China
At a defense ministers' meeting, Japan gets U.S. support to bolster its defenses with "counter strike capabilities."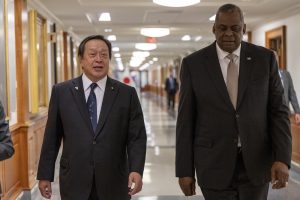 Japan's Defense Minister Hamada Yasukazu met his U.S. counterpart Defense Secretary Lloyd Austin at the Pentagon on September 14, where both sides said Japan and the United States are planning to integrate defense strategies in response to worsening regional tensions over Taiwan.
From Washington, D.C., Hamada stated that Japan is considering "counterattack capabilities" to strengthen its defense capabilities as a part of a revised National Security Strategy. The Japanese defense minister is advocating for a drastic overhaul of Japan's defense posture in the wake of five Chinese missiles landing in Japan's Exclusive Economic Zone (EEZ) last month during Chinese military exercises around Taiwan.
During the 90-minute meeting, Austin expressed "strong" support for Japan's plans. He stated that "China's coercive behavior in the Taiwan Strait and the waters surrounding Japan is provocative, undermines stability and is unprecedented."
Japan is surrounded by increasingly unfriendly nuclear-armed neighbors, namely North Korea, China, and Russia. Against that backdrop, there are concerns Japan can no longer defend itself by only intercepting incoming missiles. Hamada outlined Japan's intention to procure long-range, standoff missiles, which are said to be capable of striking enemy forces beyond their radar systems.
There is also debate whether the procurement of longer-range missiles, which have the capacity to strike enemy bases, especially missile launch sites, is a violation of the constitution. Japan is restricted by its pacifist constitution to an exclusively defensive stance. Constitutionally, Japan's Self-Defense Forces are allowed to preemptively attack if an enemy is preparing to launch an attack on Japan. But the precise definition of an "anticipated armed attack situation" could leave Japan on the sidelines at the critical moment.
Japan plans to double military spending to 2 percent of GDP over the next five years – on par with NATO member states. Japan's Defense Ministry is requesting $40 billion next fiscal year, putting it on track to become the world's third largest military spender after the U.S. and China. But China's military spending has risen for 26 consecutive years and is almost 200 times higher than Japan, at $229 billion in fiscal year 2022.
China also possesses operational hypersonic missiles that fly at five times the speed of sound. Japan and the U.S. will need to play a game of catchup as China's hypersonic missile technology is thought to be decades ahead. During the defense ministers' meetings, Japan and the U.S. agreed to cooperate on intelligence gathering and joint technological research to intercept hypersonic missiles.
The Japan-U.S. alliance provides Japan with extended deterrence but Japan also hopes procuring longer-range missiles will also serve as a deterrent. Some experts in Japan have expressed concern at to whether the U.S. is a reliable ally. Austin reaffirmed the United States' "unwavering commitment to the defense of Japan." He added that Japan is also backed by a "full range" of U.S. nuclear and conventional defense capabilities.
Japan's post-war pacifist constitution outlaws "war as a means to settle international disputes involving the state." This year, the ruling Liberal Democratic Party (LDP) has been stepping up its efforts toward constitutional revision and aims to push the issue for wider public discussion. A Mainichi Shimbun opinion poll conducted in May showed that two-thirds of the public are in favor of Japan acquiring "counter-strike" abilities.
On August 29, a month into his tenure as defense minister, Hamada stated that the "international community has entered a new crisis phase that presents the greatest challenge since World War II." China's threats to take over Taiwan by force also gives the ruling LDP more scope to persuade the public to consider Japan's security realities rather than focusing on constitutional principles.