Why Japan Chose Britain and Italy for Its F-X Fighter Program
5 reasons why Japan decided to jointly develop a next-generation fighter with the U.K. and Italy, not the U.S.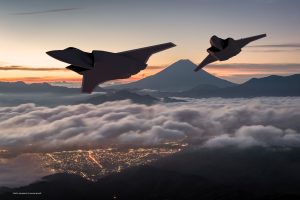 Many of the Japanese ships that defeated the Russian fleet in the Battle of Tsushima in 1905 had been built in Britain and Italy. One hundred and seventeen years later, Japan is now turning to these two European nations to jointly develop and build a new stealthy next-generation fighter jet.
In a joint leaders' statement issued on December 9, the prime ministers of Japan, the United Kingdom, and Italy announced the new Global Combat Air Program (GCAP), which will field a sixth-generation fighter by 2035, by integrating their F-X and Tempest future combat aircraft programs.
Considering the close Japan-U.S. alliance in the post-war period, it is extremely rare for Tokyo to form a partnership with any other nation for a major national defense project like this. The GCAP thus marks a historic collaboration for Japan.
Why did Japan choose Britain and Italy instead of the United States? There are five main reasons, based on both a pre-press briefing held on December 8 by a defense official in charge of the program at Japan's Acquisition, Technology & Logistics Agency (ATLA), and information from other defense and diplomatic officials.
1: The Timeline 
First, the ATLA official said that Tokyo chose Britain's BAE Systems as a collaborative partner over Lockheed Martin because the developmental timeframes of both the F-X and Tempest programs aligned with each other.
"F-X and Tempest share the same schedule, facilitating collaboration between Japan, Britain, and Italy," the official said.
"Meanwhile, for the U.S., the timing of the development of Japan's next fighter is off," the official added.
In Japan, the F-X fighter aircraft program is being led by Mitsubishi Heavy Industries (MHI) as the single prime contractor, together with seven subcontractors, namely IHI, Kawasaki Heavy Industries (KHI), Subaru, Toshiba, NEC, Fujitsu, and Mitsubishi Electric. The future fighter jet is expected to replace the Japan Air Self-Defense Force's (JASDF's) existing fleet of 91 MHI F-2 multirole fighter aircraft by 2035.
On the European side, the Tempest is being developed as part of the Future Combat Air System (FCAS), which includes plans to work with a fleet of unmanned aerial vehicles (UAVs). The program is undertaken by four primary industry partners – BAE Systems, Leonardo, Rolls-Royce, and MBDA. BAE Systems is heading up development for the U.K., with Leonardo for Italy.
2: Required Performance
Second, the three nations share common tactical requirements for the future fighter. In order to ensure air superiority as a maritime nation, both Japan and the United Kingdom plan to acquire a large multi-role stealth fighter with a long cruising range and twin engines with excellent missile loading capacity.
The defense official at ATLA said that through the GCAP Tokyo aims to "manufacture a more superior fighter at lower costs and in a more efficient way."
"We will build a fighter that exceeds the performance of the United States' F-35 and Europe's Eurofighter, particularly in terms of sensor and networking capabilities," the official envisioned.
3: Cost and Risk Reduction
Third, Japan, the U.K., and Italy, which are virtually middle powers, can reduce development costs and technological risks by working together. The cost of developing new fighter planes is so huge that it can hardly be covered by a single country alone.
In Europe, apart from the Tempest, three European countries, namely France, Germany, and Spain, are already jointly developing the New Generation Fighter (NGF) that sits at the core of the wider the Franco-German-Spanish Future Combat Air System (FCAS/SCAF) project. For this reason, Britain singled out Japan as a partner in East Asia, going beyond European borders. The U.K. may think of Tokyo as being well funded.
4: A Degree of Freedom in Future Modifications
Fourth, the United States' and Lockheed's refusal to share confidential technological information such as the source code has made Tokyo look to Britain for joint development. Tokyo is seeking access to the new fighter's source code to allow the JASDF to introduce independent and localized upgrades. Without such access, the JASDF cannot introduce its desired modifications freely – a bitter lesson for Tokyo that has affected its F-2s and F-15s.
By contrast, the U.K. offered to cooperate in joint research and basic design of the engine and radar, both areas where Japan had been restricted during the development of the F-2. For this reason, there have been high expectations within Japan's Ministry of Defense that Japan could become an equal partner with Britain, unlike the United States.
5: Exports
Finally, it is thought that Japan, Britain, and Italy are looking to increase the number of production units through efficient and effective joint development, reduce the unit cost of mass production, and sell their fighter to overseas markets in the future. The U.K. and Italy are expected to export to the European market, while Japan is expected to export to Asian markets such as Southeast Asia.
In conjunction with the fighter's development, the Japanese government is considering easing its restrictions on the export of defense equipment. According to Japan's "Three Principles on Transfer of Defense Equipment and Technology," exports to countries that don't jointly develop arms with Japan are limited to equipment for rescue, transport, warning, surveillance, and minesweeping missions.