Beyond the Quad: Booming Security Cooperation Efforts in the Indo-Pacific
New defense and security cooperation efforts are springing up across the Indo-Pacific, between some Quad members and those outside the grouping.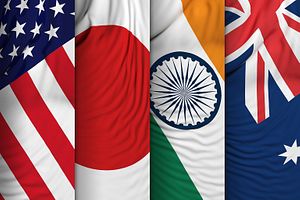 Quad partners are becoming much more serious about security cooperation in the Indo-Pacific. They are coming up with bilateral and other agreements among themselves but also bringing in other countries from Europe, such as France and the United Kingdom, who have an interest in the region. This is not designed to supplant the Quad itself but rather to supplement it.
Nevertheless, there is a danger that the Quad as a group could be left behind as these other agreements become more widespread and more in-depth in their focus on security cooperation. 
Most recently, Japan and the U.K. signed a defense agreement that would facilitate deployment of troops in each other's countries. A Japanese Ministry of Foreign Affairs statement on the signing of the Japan-U.K. Reciprocal Access Agreement said that the agreement is meant to "simplify procedures when implementing cooperative activities, such as port calls of vessels and joint exercises between the two countries and further promote bilateral security and defense cooperation." A U.K. government press release said that the agreement "will also cement the UK's commitment to Indo-Pacific security, allowing both forces to plan and deliver larger scale, more complex military exercises and deployments."
The Japanese statement noted the current international security context, where the international order is being challenged by Russian aggression of Ukraine as well as [Chinese] "attempts to unilaterally change the status quo by force in the East and South China Sea." Amid those developments, the Foreign Ministry said, Japan and the U.K. are stepping up their security and defense cooperation to "new heights" with the broader goal of realizing a "free and open Indo-Pacific."
British Prime Minister Rishi Sunak remarked that in an "increasingly competitive world, it is more important than ever that democratic societies continue to stand shoulder to shoulder as we navigate the unprecedented global challenges of our time."
As highlighted by the press release, the reciprocal agreement comes in the backdrop of an agreement among Japan, Italy, and the U.K. "to develop the next generation of air fighter jets under the new Global Combat Air Program" signed in December. Japan and the U.K. also kickstarted a new bilateral digital partnership to augment their bilateral cooperation in cyber resilience, online safety, and semiconductors. 
Japan has been particularly proactive in beefing up its security, given the threat it faces from China. Clearly, China has got the message. In responding to a question on the Japan-U.K. defense agreement, Chinese Foreign Ministry spokesperson Wang Wenbin commented that the region is "an anchor for peace and development, not a wrestling ground for geopolitical competition" and that "China is a cooperation partner for all countries and poses no challenge to anyone." The spokesperson added that defense agreements "should not target any imaginary enemies, still less replicate the obsolete mindset of bloc confrontation in the Asia-Pacific." 
The Japan-U.S. 2+2 meeting earlier this week was another important indicator of Japan's changing security approach. Japanese Foreign Minister Hayashi Yoshimasa and Japanese Defense Minister Hamada Yasukazu were in Washington for Security Consultative Committee talks with their counterparts, Secretary of State Antony Blinken and Secretary of Defense Lloyd Austin. Both sides reiterated the importance of their relationship in the context of an assertive China, Russian invasion of a fellow U.N. member country, and North Korea's pursuit or nuclear weapons along with the delivery systems.
With deterrence as the centerpiece, the joint statement issued at the end of the 2+2 meeting said the U.S. and Japan agreed "to advance bilateral modernization initiatives to build a more capable, integrated, and agile Alliance that bolsters deterrence and addresses evolving regional and global security challenges." There was also a focus on building up their capabilities in a number of mission areas, including integrated air and missile defense, anti-surface warfare, anti-submarine warfare, mine warfare, amphibious and airborne operations, intelligence, surveillance, reconnaissance and targeting (ISRT), logistics, and mobility. Additionally, Japan and the U.S. will step up their cooperation for "effective employment of Japan's counterstrike capabilities in close coordination with the United States."
Emerging and critical technologies, including space, cyber, and information security, found mention in the statement, with the goal "to strengthen mission assurance, interoperability, and operational cooperation, including through enhanced collaboration in space domain awareness." The four ministers also reiterated that "the Alliance is stalwart in the face of these challenges and steadfast in support of shared values and norms that underpin the international rules-based order. They renewed their commitment to oppose any unilateral change to the status quo by force regardless of the location in the world." 
Japanese Prime Minister Kishida Fumio also visited Washington for a meeting with U.S. President Joe Biden on January 13.
Japan and Australia, also fellow Quad members, on January 6, 2022, signed an agreement similar to the one signed with the U.K., one that would facilitate "reciprocal access and cooperation" between the militaries of the two countries. While signing the agreement, then-Australian Prime Minister Scott Morrison reportedly said that "Japan is our closest partner in Asia as demonstrated by our special strategic partnership, Australia's only such partnership — an equal partnership of shared trust between two great democracies committed to the rule of law, human rights, free trade and a free and open Indo-Pacific."
Further, Japan and Australia inked a new bilateral security agreement that covers military, intelligence and space and cybersecurity cooperation. The new agreement is an upgraded version of the Joint Declaration on Security Cooperation, which was signed in 2007 when China was less of a threat. 
The AUKUS treaty among Australia, the U.K., and the U.S. is another important new security agreement in the Indo-Pacific involving two of the Quad partners. AUKUS was, of course, a lot more important than the other agreements because it relates to Australia's plans for acquiring nuclear-powered submarines. 
Meanwhile, India is also stepping up its defense and security arrangements with other countries. For instance, it has signed military logistics and reciprocal agreements with a number of countries, including Australia, Japan, the United States – the Quad countries – as well as with France, Singapore, and South Korea. However, these do not appear to represent as deep a security cooperative agreement as the other ones mentioned.
Although India has moved up to deepen its security cooperation with its partners, New Delhi may find that the Quad and its other bilateral security agreements are being rapidly outpaced by these new arrangements springing up in the Indo-Pacific.