Citing Taliban, Australia Nixes Afghanistan Cricket Series
Instead of being supportive, Australia is taking away Afghans' only reason for happiness, an Afghan cricketer said.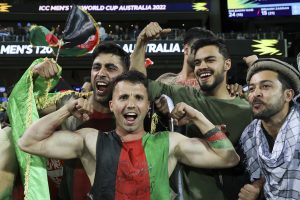 Afghanistan cricket officials blasted Australia's decision on Thursday to cancel their men's one-day international cricket series. Cricket Australia cited recent heavier restrictions on women's rights in Afghanistan by the Taliban government for axing the three ODIs in March in the United Arab Emirates.
The Afghanistan Cricket Board said it was "extremely disappointed and saddened by the pathetic statement" from Cricket Australia and it would complain to the International Cricket Council.
It accused CA of prioritizing political interests over fair play and sportsmanship, undermining the integrity of the game, and damaging the relationship between the two countries.
"Cricket has played a significant role in promoting unity and national pride in Afghanistan," the board said. "After years of war and conflict, cricket has helped to bring people together and provide a sense of normalcy to the country. It has also been an important source of hope and inspiration for all Afghans, particularly young people."
It said it would rethink the participation of Afghan players in the Big Bash League if the decision was not reversed.
Afghan fast bowler Naveen ul Haq Murid called scrapping the series "childish" and accused Australia of taking away Afghans' only reason for happiness instead of being supportive.
When Kabul fell to the Taliban in 2021, women were banned from playing sports on the grounds that doing so would contravene Islamic laws requiring their hair and skin to be covered.
Recent Taliban restrictions on women's and girls' education, employment opportunities and their ability to access parks and gyms were cited by Cricket Australia for dropping the men's ODIs following consultation with the Australian government and other groups.
"CA is committed to supporting growing the game for women and men around the world, including in Afghanistan, and will continue to engage with the Afghanistan Cricket Board in anticipation of improved conditions for women and girls in the country," CA said.
Australia gave similar reasons for axing a one-off test match against Afghanistan in Hobart, Australia, in November 2021.
In December, the Taliban banned women from completing higher education, having prohibited attendance at gyms and parks a month earlier.
Women are also banned from attending school beyond the sixth grade and working most jobs outside of their homes.
In November 2021, the ICC formed a working group aiming to support and review women's and men's cricket in Afghanistan but more than a year later, the country remains the only full member of the ICC without a fully operational women's team. Afghanistan is also the only full member not represented at the Under-19 Women's T20 World Cup in South Africa starting this week.