How Does The Myanmar Crisis End?
The military junta's possible handover of power to a quasi-civilian "transition council" could create complications for the country's resistance forces.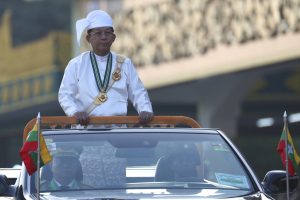 Since Moscow's full-scale invasion of Ukraine 11 months ago, armchair and frontline pundits alike have mused whether Vladimir Putin, Russia's president, should be offered an "off-ramp" so he can withdraw his forces with some sort of deal to trumpet as a success. That would bring the conflict to an end quicker, advocates say, and reduce the risks of escalation. Critics contend that it simply rewards Putin for an illegal invasion, and if the terms of that off-ramp are decided by Ukraine's partners, it would deny Kyiv any chance of reclaiming the territory it says it can win back militarily.
Give ear to recent comments made by a senior Indonesian official about what seems a suggestion about an off-ramp for Myanmar's military junta, which stole (limited) power through a coup almost two years ago. The comments by Luhut Panjaitan, Indonesia's coordinating minister for maritime affairs and investment, suggest this is a matter of debate within Jakarta, which holds the ASEAN chairmanship this year. "There are so many militaries in charge of government[s], but if you are not qualified, why should you be president?" Luhut said, seemingly referring to the junta leader Min Aung Hlaing, during a discussion at the World Economic Forum in Davos this month. "Let someone else who is qualified manage this country like what happened in Indonesia."
Here in The Diplomat, Sebastian Strangio did a good job of deconstructing Luhut's suppositions, not least the inaccuracy of the Indonesia analogy. Yet the fact he's thinking out loud so publicly warrants attention. Note that he doesn't explicitly call for the junta to be removed; only for it to voluntarily give away power. And one doesn't want to put words into Luhut's mouth, but what he seems to be insinuating is an off-ramp: Myanmar's military essentially retains backroom power but delegates more cabinet offices to competent, non-military officials. Moreover, it appeared directed at Min Aung Hlaing himself. One question that's worth considering is whether ASEAN and the rest of the world would react differently if the junta chief resigns (or is pushed out). If history was to repeat itself and Min Aung Hlaing is replaced by a more moderate or even non-military figure (much as the Myanmar military did in the 2010s), would this be a first step toward the international community accepting the coup as irreversible?
On January 31, the state of emergency proclaimed after the coup in February 2021, and twice renewed since, will expire. The State Administration Council (the junta's formal title) could undergo a name change. Although Hlaing is expected to retain control, The Irrawaddy recently cited sources saying that a "transition council" is being formed and more power will go to Acting President Myint Swe, another military figure but one who was acting president (albeit for only nine days in March 2018) before the coup. It's possible that more civilians will get into power in a reshuffle.
Would I be wrong to imagine certain Southeast Asian officials are privately informing their junta counterparts that ASEAN would be a lot more forgiving if this apparent "transition council" is more non-military and civilian in nature? (Perhaps Luhut had this in mind when he made his comments earlier this month?) And all this precedes a general election the junta says it will hold this year, likely in August. It claims that it will respect whatever result the people return, although there's no chance of a real democratic challenger being allowed to run, nor it being conducted in a free and fair fashion. It will create a "genuine, discipline-flourishing multiparty democratic system," Hlaing lied earlier this month.
Mary Callahan, writing in Frontier Myanmar, argued that "Whatever else this theatrical undertaking [the election] turns out to be, it does not appear to be either an 'exit strategy' for senior military officials or an attempt to achieve peace." It's true that the military's proxies lost the 1990 elections and responded with brutal forces afterward to assert its authority (that could happen again this year). And, as Callahan wrote, Min Aung Hlaing will be wary of a repeat of 2010, when the military-backed USDP won but a "small number of handpicked ex-military generals and admirals went on to…steer it in an unexpectedly reformist direction."
However, would a slightly less militarized "transition council" propped up by a fraudulent election be an acceptable off-ramp in foreign eyes? The junta clearly hasn't achieved its principal goal of orchestrating a coup and then taking nationwide power within a month or two (just as Putin failed to capture Kyiv within days). Maybe Min Aung Hlaing will have to take up a symbolic role. Maybe the newly-named junta will be less militarized.
Although Jakarta pledges to take the Myanmar crisis more seriously and face up to the junta with more resolve, that's all noise and speculation for now. Granted, there's some movement in this direction. Earlier this month, Indonesia's foreign minister, Retno Marsudi, formed a new office of the ASEAN special envoy on Myanmar. Yet Indonesia (and Malaysia) will find it very difficult to break down the desire of other member states to ignore what's happening in Myanmar. And they may find that intransigence more difficult to dissolve after a "transition council" and August election, which some Southeast Asian governments will want to rush to condone. If ASEAN, and sections of the rest of the international community, have the deciding say over the narrative about Myanmar, it's possible that the junta will find some success from these two developments: Luhut's evocation of a military government without so much military (perhaps the "transition council" will take that form), and the junta's fantasy of legitimacy after a rigged election.
As I've argued in the past in this column, the crisis likely ends with either outright victory for the junta or outright victory for the anti-junta forces, the National Unity Government (NUG) and its various aligned ethnic rebel groups. There's no going back to the status quo ante bellum. The NUG and some of the civil disobedience movement see it as a "revolution," a battle between the forces of tyrannical order (the military) and of democratic peace (the NUG). The military must be reformed root and branch (in a very different way from the way Indonesia's military was reformed in the late 1990s), the state needs to be federalized, and everything must be done to ensure that no further coup can happen in the future. This, indeed, would be revolutionary.
I don't know the answer, but an important question is who benefits from a protracted conflict. We're now approaching the second anniversary of the post-coup conflict. Myanmar has had ethnic civil wars for decades. Cambodia, a better historical analogy than Indonesia, experienced a three-decade civil war in the late 20th century. On the one hand, the NUG is getting better at diplomacy, has new ways of raising funds, and will likely gain more support internally as the economy continues to deteriorate under the junta's control. It could also stir up more anti-junta activity around the rigged election process.
On the other hand, the economy hasn't been totally destroyed. The IMF projects economic growth of 2 percent in 2022 and 3.3 percent this year, after a contraction of 18 percent in 2021. That's still going to make the economy 13 percent weaker than it was in 2019, but at least it's growing. The foreign businesses that haven't left over the past two years aren't likely to do so now; Myanmar might also expect new investment from a reopening China. It's difficult to see what new sanctions Western governments can impose on the junta, which is well accustomed to protracted conflicts in which it lacks popularity. At the same time, the NUG's fortunes depend on its ability to work with the various ethnic armed groups, most of which are lukewarm on the shadow government's program. It would be under more pressure if some ethnic minority parties, with grievances against the ousted National League for Democracy (NLD), choose to contest the rigged elections.
The NUG doesn't have any off-ramp; it's either outright victory or nothing. Can one imagine the NLD publicly accepting the coup as irreversible, Aung San Suu Kyi lobbying for a pardon, and returning to the polls? So the junta has more options. Min Aung Hlaing could resign, step back from the frontlines, or be forced out of office. A "transition council" could offer just enough bait for ASEAN to accept its narrative of another episode of "democratic transition," though mainly because the rest of ASEAN is desperate to get Myanmar off the agenda. And if ASEAN budges, it's difficult to see the United States and European Union going against the bloc and acting alone. Neither of them wants Myanmar to become a proxy contest; Beijing will probably accept the results of the election. The Myanmar people would likely continue their resistance, but they'll face even greater odds if ASEAN and Western democracies tacitly accept the junta's off-ramp.