Japan Ups Profits for Its Defense Industry
With the domestic industry struggling to stay afloat, Japan's defense ministry will increase profit margins for defense contractors to a max of 15 percent.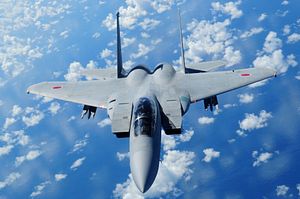 In a rare move, Japanese Defense Minister Hamada Yasukazu has announced a new policy of increasing profit margins of the nation's defense contractors to a maximum of 15 percent in efforts to support them financially and enhance the defense industrial base.
Speaking at the Budget Committee of the House of Representatives on January 30, Hamada said the Ministry of Defense in Tokyo will introduce a new profit margin calculation method in order for the nation's defense companies to secure an operating profit ratio of up to 10 percent. On top of this, he said the ministry will add up to 5 percent to account for fluctuations in procurement costs. This new policy will be implemented from fiscal year 2023, which starts in April, he said.
"Domestic industry is defense capability itself, and there is an urgent need to strengthen its foundation," Hamada said in the Diet.
His announcement came as the country's defense manufacturers continue to struggle to turn a profit and as the administration of Prime Minister Kishida Fumio pledges to fundamentally reinforce Japan's defense capabilities.
"In order to ensure that the defense industry can play this significant role, Japan will reinforce the bases, including the entire supply chain," according to Japan's new National Security Strategy approved by the Japanese government on December 16.
More than 100 domestic companies have withdrawn from the defense business in the past 20 years, mainly due to low profitability. Notably, in 2021 Mitsui E&S withdrew from naval and government shipbuilding operations, selling the division to Mitsubishi Heavy Industries (MHI).
A year earlier, Japan's major chemical producer, Daicel, decided to pull out of the production of emergency ejection systems for aircraft pilots. In 2018, the country's top construction equipment maker Komatsu stopped developing new models of its Light Armored Vehicle (LAV) for the Japan Ground Self-Defense Force (JGSDF), citing slim profit margins, although the company's LAV was deployed by the JGSDF in the Iraq War.
According to the Ministry of Finance, the operating profit margin for defense equipment is 7.07 percent as of fiscal year 2020. However, this profit margin is only an assumption at the time of the contract. The actual profit margin is said to be 2-3 percent on average, due to soaring material costs after receiving orders as well as other unexpected cost increases.
In contrast, the profit margins of Western defense equipment makers are said to be around 10 percent, with Lockheed Martin of the United States, for example, boasting an operating profit ratio of more than 10 percent.
Given the lack of financial incentives involved, defense equipment accounts for a small portion of many of Japanese defense contractors' overall operations. Even Mitsubishi Heavy Industries, Japan's largest defense company, generates only 10 percent of its revenue from defense-related operations.
To expand overseas sales channels for defense equipment and support defense companies, the Japanese government is now considering revising the guidelines in the so-called Three Principles of Transfer of Defense Equipment and Technology. Under current guidelines, finished products that can be exported are limited to "rescue, transport, vigilance, monitoring and minesweeping."
Attention is increasingly turning to how far the government will relax its export rules to allow for defense equipment sales abroad to reduce development costs and boost the domestic defense industry.
Another focal point is how to secure the financial resources needed to strengthen the defense industrial foundation. The MoD earmarked 40 billion yen ($307 million) for the creation of a fund to promote export of defense equipment in its fiscal 2023 budget. Also, the government now plans to increase defense spending to 43 trillion yen ($330 billion) from fiscal year 2023 to 2027.
Amid strong public opposition to the government's policy of increasing taxes to fund the increase in defense spending, Kishida told the Diet on January 30, "We will do our best to implement administrative and financial reforms, and if that is not enough, we will ask for tax measures."
Kishida will need to earn public understanding before any tax increases.