Kazakhstan: Impunity Persists After Torture During Bloody January 
The legal battle for justice for those arbitrarily detained and those who were brutally tortured during Kazakhstan's Bloody January imploded before it started.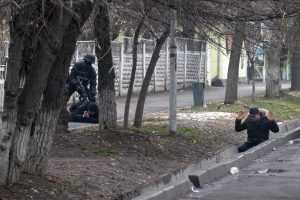 A year has passed since the events of Qandy Qantar, or Bloody January, rocked Kazakhstan. Thousands and thousands of Kazakhstani citizens still live with the trauma they suffered during the weeks that followed New Year 2022. For the relatives of at least 238 people, it is now the sad anniversary of a year since their loved ones died. 
On January 10, 2022, mere days after order and the internet were restored across the country, and while cities and citizens were still tending their wounds and trying to comprehend what had happened, President Kassym-Jomart Tokayev estimated the cost of damage to goods and property of Qandy Qantar at $2-3 billion. Many were appalled that estimations of financial losses preceded any attempts to identify the scores of civilians who had lost their lives during those violent days. 
The official list of casualties (including civilians) was issued seven months later — in August 2022. But the Kazakhstani authorities released a list of initials and last names, without sufficient detail to allow adequate cross-referencing of the list with real people. Activists and civil society have worked tirelessly since January 2022 to establish the names of the deceased and disappeared, to chronicle what happened to them. 
In January 2022 it was extremely challenging for people on the ground not only to understand what was happening, but also to find out the whereabouts of missing loved ones. The internet was shut off country-wide for several days, rendering it difficult to communicate. Besides the officially estimated 238 people who lost their lives, thousands of people were arbitrarily detained — according to the Instagram page of the Ministry of Internal Affairs by January 11, some 9,900 persons were in detention.
Some of these people were, obviously, among the rioters and protesters who resorted to violence. But the vast majority were peaceful protesters, bystanders, regular citizens, or in one case even a Kyrgyz jazz musician on his way back to Bishkek. These people were arbitrarily detained. Slowly, as individuals were released, stories of systematic and horrific torture began to surface across Kazakhstan. Activist Sergey Shutov from Atyrau testified about a torture room in a sports stadium owned by the police in the city. There, he alleges, he was brutally ill-treated and tortured, along with many other men. 
In a disturbing number of cases, law enforcement officials forcibly removed injured people from hospitals and clinics. Security forces searched for people with injuries that they considered consistent with having participated in the demonstrations — bullet wounds, for instance. Footage appeared on the internet of half-dressed people being dragged out of medical facilities, often with their catheters and bandages dangling. Many of these people were allegedly then tortured.
An upcoming joint report by IPHR, the Kazakhstani Coalition Against Torture, Kazakhstan International Bureau of Human Rights and Rule of Law, and the World Organization against Torture details that only in a handful of cases did medical personnel object against security personnel taking the sick from hospitals. This is concerning: The failure of medical personnel to act could constitute at least a severe breach of the Hippocratic Oath and other internationally recognized medical ethical standards or violate the legal prohibition of torture and other ill-treatment.
In February 2022, the Kazakhstani government pledged to investigate allegations of torture. Tokayev addressed the issue during an interview on national TV, where he announced that he had given "specific instructions to the Ministry of the Interior and the Prosecutor General's Office" to investigate allegations of torture and ill-treatment and that "a public commission has already begun its work [to this end]." 
However, our upcoming report highlights that of the torture cases registered in Kazakhstan's Unified Register of Pre-Trial Investigations (UPRD), over 97 percent of cases (72 cases out of 74) have been closed to due to a reported lack of physical evidence. 
There are many reasons for this, including victims fearing reprisals and thus failing to lodge complaints immediately, meaning that the physical signs of torture are less visible on victim's bodies. In addition, cases were closed due to unsubstantiated claims and insufficient grounds that were the product of ineffective investigation procedures; investigations into torture were not thorough and the investigators far from persistent, instead largely drawing on victims' testimonies to bear all burden of proof. 
Since September 2022 the first trials of perpetrators of torture have begun in Almaty and Taldykorgan. The extent of the impartiality and fairness of these trials will be a key indication of the Kazakhstani authorities' genuine political will to address the extraordinary and indiscriminate use of force against the civilian population in January last year. So far, the first trials do not give much cause for optimism, as reports of pressure against victims of torture, and biased judicial practices, abound. 
In a trial we monitored in Taldykorgan, for instance, five police officers were charged with torturing 24 individuals. The trial was marred by procedural violations, including reports of re-traumatization and intimidation of victims during the hearings, with relatives of the police officers on trial being allowed to protest outside the courtroom. This negatively impacted the impartiality of the trial.
In December 2022, a memorial was unveiled near the epicenter of the protests on New Square in Almaty. A number of rectangular stone slabs were erected, but according to locals, the memorial is inappropriate as it fails to list the names of victims or display any other connection with the Bloody January events. Furthermore, victims of the violence and families of the deceased are unhappy that they were not invited to the opening of the monument, which took place on the morning of December 23 and was only attended by state media and officials. That's perhaps an ominous sign for Kazakhstan and Tokayev's pledges of reforms "for the sake of the people."