Karim Massimov, Former Kazakh Intelligence Chief, Sentenced to 18 Years on Treason, Coup Charges
Massimov's supporters say the case against him was politically motivated, an incident of clear scapegoating.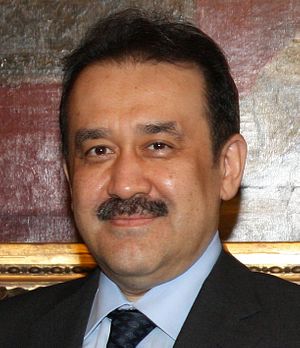 Karim Massimov, the former head of Kazakhstan's National Security Committee (KNB), has been sentenced to 18 years in prison following a classified trial in Astana on charges of high treason, attempting a coup, and abuse of power. Three of his former deputies — Anuar Sadykulov, Daulet Yergozhin, and Marat Osipov — were handed sentences between three and 16 years.
Massimov was arrested on treason charges in January 2022, after being dismissed by Kazakh President Kassym-Jomart Tokayev. 
Massimov served as chairman of the KNB, an intelligence agency in independent Kazakhstan established to replace the Soviet-era KGB, from 2016 until January 5, 2022 when he was dismissed amid the violent unrest unfolding across the country. Three days later, he was under arrest.
Massimov twice served as prime minister (2007-2012, 2014-2016) in addition to other top positions, including as head of presidential administration (2012-2014). He was naturally viewed as a close ally of Kazakhstan's first president, Nursultan Nazarbayev, and his first deputy at the KNB was Nazarbayev's nephew, Samat Abish. Abish was dismissed from his post but not arrested; in June 2022 he was reportedly a "person of interest" in an unspecified criminal case but not in custody.
Massimov's arrest — and that of his deputies in the weeks after the January events — belied the initial government narrative in Kazakhstan that the violent unrest was orchestrated by external actors. Instead, Massimov's arrest on treason charges hinted at the opaque intra-elite competition which many analysts have suggested lay at the heart of the violence in January 2022.
In October 2022, a month before Massimov's trial began, the U.N. Human Rights Council's Working Group on Arbitrary Detention responded to a petition regarding Massimov that his arrest and pretrial detention were arbitrary, and lacked a legal basis — despite the Kazakh government's contestations to the contrary. The working group expressed serious concern about the secrecy surrounding Massimov's case.
Although Tokayev promised a fair investigation into the "tragic January events," which many have come to call Qandy Qantar, or "Bloody January" in Kazakh, and international partners have stressed the need for a transparent investigation, Masismoiv's case was classified and the trial took place behind closed doors.
In January 2023, Kazakhstan's Prosecutor General Berik Asylov gave remarks to the country's parliament, the Majilis, in which he laid out the government's allegations that the unrest in January 2022 was essentially an "attempted coup." Asylov said the coup was "secretly prepared for the whole of 2021." His explanation merged narratives that pin blame on external actors with an explanation predicated on internal instigators.
"Organized criminal groups were among the perpetrators," Asylov said. "Some of them underwent radical training. They recruited people, garnered weapons, bought walkie-talkies and cars. The investigation established that some individuals working in law enforcement were in charge of this subversive work."
It was left unsaid what the motive for this grand conspiracy was, but in Kazakhstan — a country with a tremendously constrained political space, there are few possible culprits. Nazarbayev has been little mentioned, a detail that looms large for its absence.
One interpretation is that underneath the organic swell of protests in the streets, Kazakhstan's elite political circles made a move: Massimov's quick arrest on treason charges suggests that whatever power play was attempted failed, and he was left holding the proverbial bag.
Massimov's supporters say the case against him was politically motivated, an incident of clear scapegoating.
And so, even as Massimov's trial ends in the same secrecy in which it occurred, much remains unclear. How did protests sparked by a rise in fuel prices in Kazakhstan's west, which then morphed into protests across the country airing a litany of political and socioeconomic grievances, transition into shocking violence in the country's largest city, Almaty? If there were nefarious actors moving behind the scenes, Astana has done a poor job of explaining who, why, and how. Understanding of the events as they unfolded was hampered by internet shutdowns in Kazakhstan and conflicting government statements. Mass arrests after the unrest further clouded efforts to understand precisely what had happened.