Nazarbayev Nephew Subject of Bloody January 'Abuse of Power' Investigation
Since the violent unrest of January 2022 in Kazakhstan, Samat Abish has remained in the shadows of various investigations. He's now a target.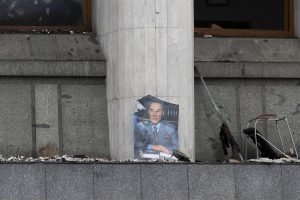 On September 19, Kazakhstan's General Prosecutor's Office announced that Samat Abish, once a deputy in the security services and the nephew of former President Nursultan Nazarbayev, was under investigation for "abuse of power" during the January 2022 unrest. The announcement stressed that the "investigation involves the study of a significant amount of secret documentation," which does not bode well for transparency.
The announcement nevertheless marks another twist in the convoluted path toward truth and justice regarding what happened in January 2022.
The events of January 2022, widely called Qandy Qantar, or Bloody January, left at least 238 people dead. What began as protests in western Kazakhstan on January 2, 2022 over fuel price increases spread across the country and grew in scope. The largely peaceful demonstrations took a violent turn after January 4 when police in Almaty, Kazakhstan's largest city, began to forceful disburse crowds with tear gas and stun grenades.
On January 5, President Kassym-Jomart Tokayev asserted himself. He announced that he had replaced Nazarbayev as head of the Security Council , and then dismissed Karim Massimov, head of the National Security Committee (KNB) and a close ally of Nazarbayev. In addition, without naming him directly, Abish, a deputy under Massimov, was replaced, too. 
That same day Tokayev appealed to the Collective Security Treaty Organization (CSTO) for assistance, painting the spiraling unrest as instigated by foreign forces in order to justify an intervention, despite the emerging narrative of the violence as rooted in an opaque elite struggle for power. The next day, Massimov was arrested on treason charges.
In the almost two years since, Abish has remained in the shadows of various investigations, sometimes referred to as a "person of interest" but not, until now, a suspect. Even as Massimov, and his other deputies, were found guilty and handed long prison sentences in April of this year, Abish remained untouched. To date, no member of the vast Nazarvbayev family network has faced charges directly linked to the January unrest. Some, such as the husbands of Nazarbayev's daughters, have resigned from cushy posts. Qairat Satybaldy, Abish's brother, was sentenced in October 2022 to six years on embezzlement charges. But the investigation against Abish marks a potential turning point. 
The precipitating event for the announcement of the investigation into Abish may have been comments made by Ruslan Iskakov, one of Abish's former KNB subordinates, in a preliminary hearing of a trial that just began in Almaty targeting a wide-ranging group of 42 people for their alleged involvement n the January violence. The trial involves figures like Arman Dzhumageldiyev, described often in the media as a crime boss with the nickname "Wild Arman." During a September 18 hearing, however, Iskakov took top billing. He touched off a flurry of attention after saying, "They are trying to stop me from saying that I carried out Abish's orders."
The next day, the investigation into Abish was announced. 
On September 21, as RFE/RL reported, Iskakov's trial was moved behind closed doors.
In the aftermath of the January 2022 events, the silence from Nazarbayev was deafening. He spoke up two weeks after the dust had settled, on January 18, with a video address (posted to the now defunct Elbasy website, available thanks to the Wayback Machine here). In his statement, Nazarbayev expressed his condolences and issued an endorsement of Tokayev: "President Kassym-Jomart Tokayev has full power. He is the chairman of the Security Council. Soon the president will be elected chairman of the Nur Otan party. Therefore, there is no conflict or confrontation in the elite. Rumors on this topic are absolutely groundless."
It was a curious statement then, and an even more telling one now. Perhaps there was "no conflict or confrontation in the elite" because Tokayev had clearly come out on top, and the conflict was over. 
Tokayev pushed Nazarbayev out of the Security Council amid the early days of the unrest. It was a move for which there was no technically legal basis. Under the laws of the time, Nazarbayev was entitled — as Elbasy — to a lifetime post heading the council. (That law was scrapped in January 2023.) And while Nazarbayev had stepped down from heading the ruling party, then named Nur Otan, in December 2021 and on January 28 Tokayev became its head, Tokayev first renamed the party and then stepped down.
Since, aside from likening Massimov to Judas (and by default casting himself in the metaphor as Jesus) when asked about his former ally while voting in November 2022, Nazarbayev has stayed out of the spotlight, as have much of his family. At least one expert interviewed by Eurasianet suggested some kind of agreement between Tokayev and the Nazarbayevs.
The announcement of the investigation into Abish stated that he was located inside Kazakhstan and was barred from leaving the country, but not everyone believes that. One activist, Bakytzhan Toregozhina, told RFE/RL, "As far as we know he is in the United Arab Emirates, not in Kazakhstan. If that is the case, then [the prosecutor-general] will look ridiculous."
The Abish case, given that it is likely to be hidden behind closed doors, will be difficult to follow. But its outcome is important for what it can tell us about what actually happened in January 2022.