Philippines' Marcos Seeks Foreign Minister Talks With China on Maritime Disputes
The Philippine president said Manila will continue to push back against China, despite his proposal for higher-level talks to rapidly address future conflicts at sea.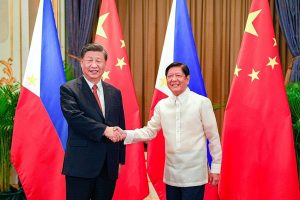 Philippine President Ferdinand Marcos Jr. said Monday he has proposed to China that the two countries hold talks between their foreign ministers to quickly resolve any new conflicts in the disputed South China Sea, and blamed Chinese actions for the disagreements.
Marcos told Philippine TV networks in an interview that Chinese President Xi Jinping agreed to his proposal in their talks in Beijing early this month and the two sides are ironing out the details of such an arrangement.
There was no immediate reaction from Chinese officials.
China and the Philippines, along with Vietnam, Malaysia, Brunei and Taiwan, have been locked in an increasingly tense standoff over their overlapping claims in the busy and resource-rich waterway, which is regarded as a potential Asian flashpoint.
In 2017, the Asian neighbors launched regular diplomatic talks called the Bilateral Consultation Mechanism to discuss incidents in the disputed waters and prevent any escalation while discussing other aspects of their relations.
Despite the talks, conflicts have persisted, including a recent incident reported by Filipino fishermen who accused the Chinese coast guard of driving them away from Philippine-occupied Second Thomas Shoal, which Beijing also claims, and then shadowing their vessel as it left the disputed area on January 9.
The incident occurred a few days after Marcos made a visit to China and met Xi.
The Philippine coast guard said it deployed more patrol ships to protect the Filipino fishermen after the incident.
Marcos said he proposed to Xi in their meeting in Beijing that their top diplomats lead the Bilateral Consultation Mechanism, which is currently handled by mid-level diplomats, to allow a more rapid response to future conflicts in the disputed sea.
"My proposal is that we bring that bilateral group to a higher level," Marcos said, adding that he would also ask the Philippine ambassador to China to be part of the higher-level talks. "I guarantee you that if there is any decision that needs to be made, either of those gentlemen can pick up the telephone and talk to me and within five minutes we will have a decision."
Marcos said Xi agreed to his proposal and asked the Chinese foreign minister to discuss the new arrangement with Philippine officials.
"I think that if the president, President Xi, puts out an order that 'we will not do that anymore, we will do something else,' then I think it will be. I think the chain of command is fairly solid," Marcos said. "We will be able to report any violation of whatever agreement we come to."
It remains to be seen whether China will ease its increasingly aggressive actions in the disputed waters and back off in any fresh conflict. Beijing has dismissed and continues to defy a 2016 ruling by a U.N.-backed arbitration tribunal that invalidated its vast territorial claims on historical grounds in the South China Sea.
Marcos suggested that China needs to change its actions to prevent future conflicts. "I think the actions that are needed are really from the Chinese side because we do not send coast guard boats into what we consider their waters or international waters. They stay within Philippine waters."
"What they do is they shadow our fishing boats," he said.
The Philippines, he added, will continue to exercise its right to file diplomatic protests against China despite his proposal for higher-level talks that aim to rapidly address future conflicts at sea.