Space Is Going Commercial in Asia, but There's a Rocky Road Ahead
Space commercialization is creating opportunities for businesses, headaches for governments, and confusion for Asia-Pacific consumers.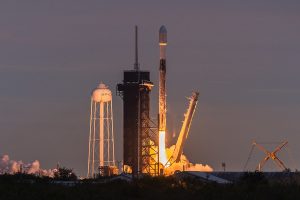 Space is commercializing faster than ever and creating opportunities for businesses in what is expected to become a trillion-dollar industry. The global space-related economy expanded to nearly $470 billion in 2021, with the commercial space domain growing more than 6 percent since 2020 and the world witnessing more than 1,000 new spacecraft in orbit during the first half of 2022 alone. This growth has implications for international business, international security, and the environment. The space ecosystem is gravitating to the Asia-Pacific as several regional countries make breakthroughs in the space domain.
Australia is enlarging the space ecosystem in South Australia, and Japan is operationalizing commercial transactions of space resources. Notably, both countries coordinate with U.S.-led initiatives such as the Indo-Pacific Strategy. In addition, another U.S. ally, South Korea, continues to make headway in the space race as Seoul develops its capabilities. Last year, in a first, South Korea demonstrated success with a homegrown rocket deploying multiple satellites into orbit.
Also, in the region, India is instituting a new space policy to enable activities by non-government entities in the space sector. India is hosting an exciting space technology start-up drive, expecting an investment of over $300 million in 2023.
While space is creating opportunities for businesses and governments to realize their objectives, it is also rapidly developing headaches for governments and policymakers because it is largely ungoverned. International organizations and mechanisms such as the U.N. Committee on the Peaceful Uses of Outer Space (COPUOS) and Inter-Agency Space Debris Coordination Committee (IADC) provide guidelines for nations to utilize their policies and frameworks to inform their national space-related policies. However, these guidelines are non-binding. It is important to note that developing even non-binding guidelines such as COPUOS can take over a decade.
In the meantime, state government-driven domestic institutions are following up, including the Australian Space Agency (ASA), established in 2018. However, the global trend indicates that risk-taking and entrepreneurial "NewSpace" private entities are more likely to spearhead the launches and take place in the position of a significant player in the space race. For example, U.S. company SpaceX is aiming for about 42,000 satellites to create Starlink's "mega constellation" with a publicized objective to provide internet service to remote areas, and multiple companies are offering services in the space tourism industry.
Furthermore, there are changing power dynamics with China's Tiangong permanent space station compared to the collaborative U.S.-led International Space Station. There are also emerging data-related concerns with the deployment of Hewlett Packard Enterprise's Spaceborne Computer-2 data center-level computing in space in 2021, which increased the stakes in considering space as the next big thing for data centers.
Putting all these recent developments together, several serious risks emerge.
In addition to risks generated at the orbit level, there is a significant increase in risk on Earth at the surface level, with more regular reporting of space debris crashing down. On this note, there needs to be more clarity among consumers concerning space-linked products and services. Some space services are already available to the public, from space travel tickets from Virgin Galactic costing about $450,000 to Starlink internet service, with discount setup kit retailing for less than 500 Australian dollars with a monthly fee of A$139 in Australia.
Yet consumers who are concerned about the environment are likely to encounter confusion on whether their space-enabled purchases benefit the future of humanity or make the planet even less livable. For instance, Starlink operations are already causing worries among radio and optical astronomy communities. Furthermore, it is essential to note that one rocket launch is likely to produce up to 300 tons of carbon dioxide into the upper atmosphere, and current projections indicate the worrisome negative impact of space tourism flights on the environment.
Considering the rise of services such as space tourism that only selected individuals could afford and products such as new internet services that may be targeted to a larger consumer market, it is vital to address the environmental impact, especially as climate disasters regrettably become routine for many on Earth.
Immediate interdisciplinary efforts are required to make fragmented, interconnected, and multi-level information on space commercialization and space governance available to assist the policymakers and public globally in enhancing their understanding of complex space-related interlinked issues. In addition, there are critical accountability areas and imminent implications that policymakers, top management teams in profit-making organizations, entrepreneurs, and the global community must address following the realities of the international business and international security environment.
In doing so, just as space has never been more accessible and affordable to space-faring nations, it is also critical to democratize related knowledge and encourage broader participation in the consequential second space race.