Why and How Italy and Japan Are Upgrading Their Partnership
Prime Minister Kishida Fumio's recent visit to Italy highlighted the growing convergence between the two countries.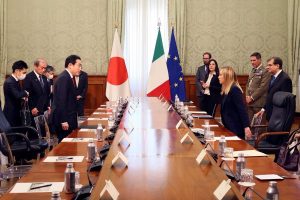 On January 10, Japan's Prime Minister Kishida Fumio arrived in Italy for his first official visit, meeting new Italian Prime Minister Giorgia Meloni for a working lunch at Palazzo Chigi. This was also the first bilateral meeting between the two leaders.
Kishida's visit is part of an extended tour of the G-7 countries undertaken by the Japanese prime minister, given that Japan is serving as this year's G-7 chair. Kishida is also visiting France, the United Kingdom, Canada, and the United States, where the tour will conclude with a meeting with U.S. President Joe Biden at the White House on January 13.
Speaking to journalists, Kishida and Meloni announced that Japan and Italy have decided to elevate their relations to the status of "strategic partnership," a step that implies "strengthening contacts at every level and the opening of new perspectives for citizens and companies." The two countries will soon launch a bilateral foreign-defense consultation mechanism – a 2+2 format – expected to meet for the first time this year.
This step is particularly important. Japan already has similar consultation mechanisms with other major European countries such as the United Kingdom, France, and Germany. As noted by Alice Dell'Era, despite being positive overall, strategic relations between Italy and Japan have for years been less developed, particularly if compared to the ties Japan had with other European countries. By elevating the relationship to a strategic partnership, and introducing this consultation mechanism, this picture is now changing.
Two drivers can help make sense of this upgrade. Over the past few months, Japan went through a major revision of its security posture. On December 16, Japan released its new National Security Strategy, which was significantly amended from its first version produced in 2013. The Russian war of aggression in Ukraine has clearly played a major role in this strategic rethink. When meeting former British Prime Minister Boris Johnson in May 2022 for the joint signing of the Reciprocal Access Agreement (RAA), a defense cooperation pact, Kishida clearly correlated this Japanese move with the shifting reality of the international system caused by the war in Ukraine.
In Kishida's words, "Ukraine might be tomorrow's East Asia." He noted that Russia's invasion "is not just a problem which concerns Europe. The international order encompassing the Indo-Pacific is also at stake," adding that "we cannot allow a one-sided show of force in the Indo-Pacific." As such, deepening relations with Rome serve the logic of Tokyo becoming a more proactive actor on defense and security issues, and also help strengthen its capacities and outreach.
Indeed, these announcements followed the Japanese decision to join Italy and the U.K. in a major defense project. The strengthening of Japan-U.K. defense relations, embodied by the RAA, anticipated the launch of the unprecedented "minilateral" alliance between Italy, the U.K., and Japan for the development and construction of a sixth-generation supersonic jet called Tempest. Envisioned to replace the Eurofighter Typhoon (the result of a collaboration between Italy, the U.K., Germany, and Spain), the new jet should be operational in 2035, while its development phase should start in 2024.
For Japan, a number of motivations explain why Tokyo opted for this project, including more consistent developmental time frames, common tactical requirements, cost concerns, technological risk reduction, and greater freedom for future modifications and greater access to technology – something not guaranteed in its partnership with the United States. There is also a geopolitical aspect linked to this project: It helps connect the Euro-Atlantic and Indo-Pacific quadrants.
For Italy, this is a crucial factor. Having Japan join this project necessarily involves being more exposed to dynamics in Asia and the Indo-Pacific, thus representing a major step for Italy in that direction. Until now, Rome has usually developed its approach to the Indo-Pacific in the context of the broader EU approach. Rome lacks a structured and significant presence in that quadrant, setting it apart from other European countries such as France and the U.K.
To give a sense of how important a step this is for Rome, for the first time in history, the announcement on this trilateral project was made by the Presidency of the Ministerial Council, proof of how this decision is considered to be "systemic."
The latest Italy-Japan bilateral meeting, and the importance of the decisions announced, are thus extremely significant. This significance is even higher if analyzed in the light of the confusion that had plagued the Italy-Japan bilateral relationship recently.
Meloni and Kishida were supposed to meet in Indonesia on the margins of the G-20 summit held last November in Bali. This meeting was then canceled, and Meloni held a bilateral meeting with Xi Jinping, the leader of China, instead.
The China Factor
Initially, the bilateral meeting with the Chinese delegation was surprisingly announced by the Italian delegation and was set to be held at the beginning of the G-20 summit. That plan was allegedly canceled amid the alarming news arriving from the Poland-Ukraine border that day, which sparked an emergency huddle by the G-7 partners. The Meloni-Xi meeting was rescheduled – and ultimately replaced the meeting with Kishida, as reported by journalist Giulia Pompili, one of Italy's most important observers on Asia.
The fact that Xi agreed to this meeting was surprising, and in Italy it was seen as an anomaly in the Chinese diplomatic protocol. Usually, the Chinese leader tends to avoid sitting at the table with newly elected heads of government; they are considered less predictable by officials close to Xi, as they have not had previous occasions for dialogue.
As a result of this meeting, Meloni accepted Xi's invitation to visit China and expressed her government's interest in promoting mutual economic interests, with a view to increasing Italian exports to China, historically a major obsession for Italian politicians across the entire political spectrum.
So, this Chinese behavior begs the question: Why was China so amenable to Meloni? It's particularly curious considering that the new Italian prime minister is exceptionally well viewed in Taipei. She is considered a staunch supporter of Taiwan, which she considers a priority; Meloni met with Taipei's representative in Italy during the electoral campaign. Her ruling coalition also includes parties that are particularly vocal about supporting Hong Kong, such as the League.
The reason for this soft position on the side of China could be Beijing's relief at the end of Mario Draghi's government. Under Draghi, the relations between Italy and China became extremely complicated. Draghi was a staunch Euro-Atlanticist supporter. Unlike many elected politicians in Italy, he had no obsession with Chinese investments, nor with strengthening Rome's presence in the Chinese market. He was well aware of the political cost and the non-commercial barriers and complications existing to achieve these goals.
On the contrary, under Draghi, the extensive use of Golden Powers blocked several Chinese initiatives in Italy. Draghi also announced a re-assessment of Italy's presence in the Belt and Road Initiative. As such, it is not surprising that Chinese media welcomed the news of Draghi's resignation in July with satisfaction.
For Beijing, even a government led by a politician considered close to Taipei, and in which specific parties have a vocal anti-Chinese attitude, is better than Draghi's government. The current leaders – despite their ideological and geopolitical leanings – are more sensitive, for electoral and business reasons, than the outgoing technocratic prime minister to the cards that China regularly use to lure Italian politicians in "looking at Beijing": the promises of major investments in Italy and greater market access to Italian products.
However, looking at the Meloni-Xi meeting from the angle of Italy-Japan relations, the circumstance inevitably triggered Tokyo's disappointment. Although China-Japan relations are not (yet, at least) characterized as being a zero-sum game, at the same time every step taken in one direction must be assessed in light of the impact it can have on the relationship with the other party.
Italy knows this well. Already in 2019, when Italy, to the surprise of many, announced it was formally joining China's Belt and Road initiative, Rome took a number of steps to moderate the impact of this decision on its relations with Tokyo. Only one month after signing the Memorandum of Understanding to formally join the BRI, Italy welcomed the late Japanese Prime Minister Abe Shinzo, announcing Italy's formal endorsement of the Japanese-led project for a Free and Open Indo-Pacific Region.
In Italy, this move was seen as an attempt by a number of actors in the populist government of that time – namely Luigi Di Mai, the technocratic foreign minister, which was partially marginalized in the negotiations for the MoU led by the then minister of economic development – to rebalance its Asian policy after giving the impression that the BRI decision signaled a shift in Italy's historical alliances.
However, while Italy has been careful to strike a balance in its Asian approach between China and Japan, the announcements made at the latest bilateral meeting suggest that Rome and Tokyo are now ready to bring their relationship to a new level. Their cooperation on the Tempest sixth-generation supersonic jet represents the cornerstone of this enhanced liaison. These ties are thus set to strengthen on a number of other levels, making the Italy-Japan relationship more comprehensive and stronger from the point of view of political, security, and defense cooperation – elements that were somehow sidelined in the past.