Focus on Human Trafficking Shifts From Cambodia to Myanmar
Interpol proves its worth in cross-border rescue operation in the country's east.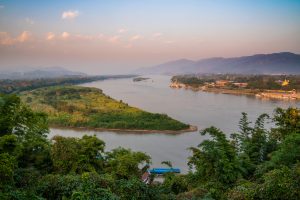 Cambodian authorities were disbelieving when persistent reports began emerging early last year that Chinese organized crime syndicates had established a network of human trafficking operations based largely out of the southern port town of Sihanoukville.
Several foreign embassies – all of them Asian – warned their citizens of the risks associated with traveling to this country and the United States dropped Cambodia to the lowest ranking on its annual Trafficking in Persons Report for failing to "meet the minimum standards for the elimination of trafficking."
Many of those scam operations were established by Chinese criminals who decided not to return to the People's Republic amid the great exodus as the COVID-19 pandemic was erupting in early 2020.
Instead, they stayed and traded in human misery by luring unsuspecting job seekers with false promises of well-paid work into slave compounds where they were forced to conduct a range of fraudulent telecom scams. And the traffickers prospered.
But as the pandemic ebbed and borders opened, traffickers set their sights on greener, less complicated pastures inside Myanmar.
Their victims are now seemingly being flown to Yangon, Bangkok, and onto other transit points, primarily Mae Sot, northwest of Bangkok, and Chiang Rai in the far north close to the Golden Triangle, a region notorious for drug production and other illicit trades.
Once across the border, the human cargo is transported to compounds in Shan and Karen states, where casinos have mushroomed alongside illegal and online gambling, and investment scams that primarily deal in cryptocurrencies.
Last Friday, sources say, 10 people – Indonesians, Indians, and Nepalese – were freed from a compound in territory controlled by the United Wa State Army in Shan State with the help of foreign-based NGOs.
It was an unusual operation that involved police from Indonesia and Wa State, and Interpol from ASEAN, Indonesia, India, and Myanmar. "It was an inter-agency operation – which also means the rescue took place without any involvement from the military junta," said one source.
Their passports were retained, and workers given 12 hours a day to meet quotas. Shortly after Christmas, they began receiving physical threats. Then beatings followed, with security tightened by company managers who carried guns.
The company owners were arrested by Wa State police, operating independently from the Myanmar military, which highlights the lack of control that the military exerts in these areas while the civil war continues in other parts of the country.
"They are irrelevant because they don't have any influence or the ability to physically go into those areas as a military force," said a Bangkok-based NGO source working with the rescue operation.
A report by The Telegraph in London found the "scamdemic" had resulted in thousands of crypto investors being duped by "liquidity mining" and a tactic known as "pig butchering" – where victims are emotionally manipulated and their bank accounts fattened before being drained.
It said Divya Gadasalli, 25, from Texas, had lost her family fortune of $8 million, in the largest single fraud to date, noting that many of the scammers were also victims trafficked by armed gangsters and left fearing for their lives in vast industrial compounds.
Those compounds, as was already known, were located in "special economic zones" in Cambodia and Laos but the report also said human trafficking and scam compounds were increasingly shifting to Myanmar's border with Thailand.
It aptly described it as a lawless area, one that "appears to be ruled by Chinese triads and insurgent groups, empowered by the pandemic and a 2021 military coup that caused deep turmoil."
That shift should provide some respite for Cambodian authorities who say they had received 707 human trafficking complaints over the past year. Of those, 229 cases were closed due to inaccurate information, including locations that could be not tracked.
Another, 445 cases were investigated that involved 1,045 foreigners with 120 suspects of four nationalities arrested for legal proceedings. The results of any legal action will be keenly watched and no doubt have an impact on Cambodia's human trafficking ranking.