Moscow Multilateral Security Dialogue: Regional Consensus Elusive on Afghanistan
Pakistan skipped the meeting, while Russia has proposed a new effort to build "regional consensus" – a G-5.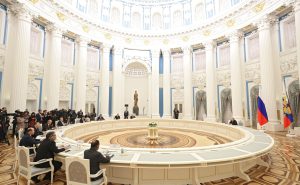 Afghanistan under the Taliban continues to raise security concerns among regional powers, yet there is little sign of any movement toward a unified regional approach to meeting the growing threat. The two-day Moscow Multilateral Security Dialogue held on February 8-9 yet again proved that reality.
The dialogue, which was the fifth meeting of the secretaries of security councils or national security advisors (NSAs) of the regional countries, was attended by representatives of Russia, China, India, Iran, Kazakhstan, Kyrgyzstan, Tajikistan, Turkmenistan, and Uzbekistan. Alleging that the meeting is an Indian initiative, Pakistan chose to skip it. 
Pakistan's foreign ministry spokesperson said that the decision was based on the "consideration" that it "can make a better contribution in formats and forums which can contribute constructively to peace in Afghanistan." Unidentified officials have told the media that Pakistan would not be a part of any India-led initiative on Afghanistan. Islamabad also skipped the third iteration of the meeting in New Delhi in 2021.
Islamabad, however, affirmed that it will continue to remain a part of the "Moscow format consultations," which was launched in 2017 as a dialogue forum for special envoys of Russia, Afghanistan, India, Iran, China, and Pakistan.
The India-Pakistan rivalry in and regarding Afghanistan has a fairly long history, with Islamabad terming New Delhi a spoiler and India alleging that Pakistan is pursuing a damaging policy of finding strategic depth in Afghanistan. Even after the Taliban takeover in August 2021, both countries have found little reason to set their differences aside and cooperate with one another. The rivalry, in a way, is symptomatic of the all-pervasive regional disunity that curtails the prospects of a unified approach toward Afghanistan.
India's NSA Ajit Doval, taking a swipe at Pakistan, said no country should be allowed to use Afghan territory to export terrorism. He also restated New Delhi's commitment to stand with the Afghans. In spite of negligible evidence, thus far, that Taliban rule in Afghanistan has affected India's security circumstances in any manner, the threat of terrorism emanating from Afghan soil remains New Delhi's primary concern.
Interestingly, Pakistan has similar allegations against the Taliban. On September 24, 2022, speaking at the U.N. General Assembly, Pakistani Prime Minister Shehbaz Sharif had pointed at the "threat posed by the major terrorist groups operating from Afghanistan."
Russia, which remains concerned about the Islamic State's Khorasan Province (ISKP) building its strength in Afghanistan, has proposed the creation of a new regional approach for Afghanistan. In a media interview after the Moscow Dialogue, Russian Special Envoy for Afghanistan Zamir Kabulov said that Moscow has proposed a "G-5" format including India, Pakistan, Iran, China, and Russia to "build regional consensus," "implement it," and "let the current rulers of Afghanistan know that they should listen to us."
Although Russia claims to have China's support behind the proposal, it is not clear how the "G-5" format would be different from the "Moscow format consultations" and if there is any need to launch this separate format of dialogue. 
Iran's approach to the issue remains unknown. Along with China, it has urged the Islamic Emirate to stop discriminating against women. At the same time, Tehran continues to engage the Taliban diplomatically. On January 23, the new Iranian ambassador to Afghanistan held consultations with Taliban Foreign Minister Amir Khan Muttaqi in Kabul on the expansion of relations and Iran's water share from the Helmand river. Earlier in January, Iranian Foreign Minister Hossein Amir Abdollahian held a phone conversation with Muttaqi.
While terrorism is perceived to be the common threat by regional states and the Taliban regime is yet to be formally recognized by any country, most regional countries have found it useful to maintain official contact with the Islamic Emirate, by either allowing Taliban representatives to occupy the Afghan embassy in their country or keeping their own embassies  in Kabul functional. China has planned extensive economic investment, including the proposed extension of the China Pakistan Economic Corridor (CPEC) into Afghanistan. 
This firming up of national priorities, for all practical purposes, recognizes the Taliban as an entity that can deliver along expected lines. Notwithstanding the repeated efforts to build a regional consensus, it undercuts other countries' ability to form a united approach and bargain hard with the Taliban. Processes such as the Moscow Multilateral Security Dialogue are most likely to end up as ineffective and futile exercises without clearly identified unified goals that will help in the long-term stabilization of Afghanistan.