Why Was India's SCO Summit Virtual?
India's quiet SCO summit speaks loudly enough as to the group's potential, or lack thereof.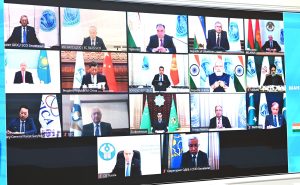 This week the members of the Shanghai Cooperation Organization (SCO) met virtually for their annual summit. The gathering marked Iran's newly minted membership but was ultimately dampened by tensions inside, and outside, the group.
The SCO originated with the Shanghai Five. Formed in 1996, the initial group — including China, Kazakhstan, Kyrgyzstan, Russia, and Tajikistan — sprung from border talks between China and the former Soviet republics. In the ensuing years, its regular summits expanded in scope to encompass a wider range of issues. In 2001, the SCO was formally launched with the inclusion of Uzbekistan and a shift in focus to regional security, with an eye on Afghanistan and counterterrorism.
It wasn't until 2017 that India and Pakistan joined the group, further broadening its scope but inviting into the organization ever more complicated bilateral dynamics. This year, Iran was inducted into the SCO and Belarus is on the path to membership; it is expended to accede to the group next year.
The disruptions of the COVID-19 pandemic yielded a virtual summit in 2020 and a hybrid event in 2021. The event returned to normal last year, with an in-person summit in Samarkand, Uzbekistan. But this year's host — India — decided to shift to an online format, announcing that change only in May. New Delhi did not explain its decision, but there's no shortage of available motivations.
Often noted first is the awkward positioning of India between Russia and the West amid Moscow's continued war in Ukraine. In March, the International Criminal Court (ICC) issued an arrest warrant for Russian President Vladimir Putin, which signatories of the Rome Statue are, in theory, obliged to execute should Putin pass through their territory. Although India has not signed the Rome Statute, the presence of Putin could serve as an irritant in India's relationships with the United States and European countries. 
New Delhi has maintained a middling position on the Ukraine conflict, taking great advantage of cheap Russian oil while also pursing a deeper relationship with the United States. In late June, Indian Prime Minister Narendra Modi was warmly received in Washington, D.C. for a state visit; back in December 2022, Modi did not attend the annual India-Russia summit, hosted by Moscow, due to "scheduling issues."
A perhaps more important set of dynamics motivating India's decisions are its difficult relationships with China and Pakistan. Three years after the deadly Galwan Valley clash between India and Chinese forces, a renewal of the conflict remains distinctly possible and diplomatic efforts at improving the relationship are stilted if not stalled. Although both Chinese leader Xi Jinping and Modi attended the Samarkand SCO summit last year, they did not hold a bilateral meeting on the sidelines (Modi did, however, meet with Putin). 
Meanwhile, at the SCO foreign ministers meeting in May, held in-person in Goa, Indian External Affairs Minister S. Jaishankar faced off with Pakistan Foreign Minister Bilawal Bhutto Zardari. The latter mentioned "weaponizing terrorism for diplomatic point-scoring" in his remarks, after which Jaishankar fired back, accusing Bhutto Zardari of being a "justifier [and] spokesperson of a terrorism industry."
It was not clear after that exchange, only a month before the SCO leaders summit, whether Pakistani Prime Minister Shehbaz Sharif would attend. The same applied to Xi; it was hotly debated whether the Chinese leader would make the trek to New Delhi. Indeed, the pair's virtual attendance was only confirmed in the media a few days in advance of the July 4 summit. 
India's differences with China made a direct appearance in the concluding declaration. For the bulk of the declaration, the member states speak as one, whether reaffirming that "the SCO is not directed against other states" or pledging to pursue "a policy that excludes bloc, ideological and confrontational approaches" to addressing international issues. The members emphasized "that the principles of mutual respect for sovereignty, independence, territorial integrity of states, equality, mutual benefit, non-interference in internal affairs and non-use of force or threats to use force, are the basis of sustainable development of international relations." They also reaffirmed their "strong commitment to fighting terrorism, separatism and extremism."
But when it came time to endorse China's Belt and Road Initiative (BRI), India checked out of the conversation (and not for the first time).
It's not difficult to find cracks in the declaration. The words look pretty on the page, but they're almost meaningless.
In his remarks, Putin stressed that it was "important that all members of the [SCO] agree in their assessments of the situation in world politics, security, social and economic spheres." So much for independence or foreswearing bloc thinking. He then went on to endorse a "truly just and multipolar world" before spiraling, explaining his core conspiracy as to what's happened in Europe. According o Putin, "external forces" made Ukraine into a hostile, anti-Russian state, over the course of eight years (that is, in the eight years since Russia annexed Crimea) all to hold Russia back. 
Meanwhile, Xi spent his remarks urging members to not get distracted: "Facts have shown that as long as the SCO member states bear in mind the larger picture, shoulder their responsibilities and remain undisturbed by all sorts of distractions, they will be able to protect and promote their security and development interests." He also lambasted "protectionism, unilateral sanctions and the overstretching of national security" and urged members to "reject the moves of setting up barriers, decoupling and severing supply chains." These are invariably references aimed at the United States, which has sought to pursue what it terms "friendshoring" by shifting supply chains for critical goods to partners and allies, and away from China. 
That's all a tall order for the SCO, which contains multitudes. Ultimately, India's quiet SCO summit speaks loudly enough. Its members can't even manage to get into a room together. Stay tuned for the 2024 edition, to be hosted by Kazakhstan.